Posted on October 1, 2020 at 3:59 PM, updated October 20, 2020 at 11:00 AM Print
Appointed for nine-year term by Governor Mike DeWine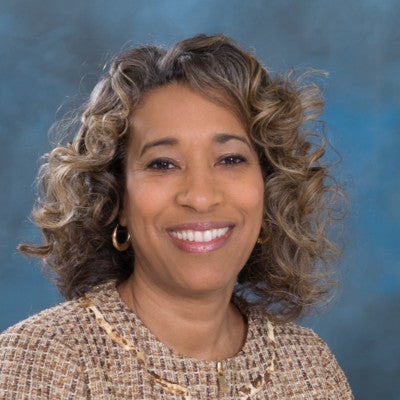 ​​​​​​​CLEVELAND, Ohio (October 1, 2020) – Vanessa Whiting has been appointed to the Cleveland State University's Board of Trustees by Governor Mike DeWine for a nine-year term beginning September 30, 2020. Whiting is President of A.E.S. Management Corp., a Popeyes Louisiana Kitchen franchisee, which employs more than 350 Cuyahoga and Summit County residents at its sixteen Popeyes Louisiana Kitchens locations, well known for its ongoing commitment to providing second chances to community members.
Whiting also has a wealth of experience as a top attorney in Cleveland, recognized by Northern Ohio Live as one of this area's top 100 lawyers for the impactful work she has done in economic and community development.
"I am very pleased to welcome Vanessa to the Board and am looking forward to working with her at this pivotal time to enhance the role of Cleveland State University as an anchor institution committed to driving innovation and growth in our city and our region," says David Gunning, chair of the CSU Board of Trustees. "She has the expertise, insight and deep commitment to the community that will help us expand our efforts as a national leader in urban higher education".
"We are so thrilled that Vanessa Whiting is joining our Board and becoming part of our team," adds Harlan Sands, CSU president. "I have had an opportunity to get to know Vanessa during my time here at Cleveland State, and her advice, counsel, and leadership – now as a Trustee – will help us build upon our work to educate the next generation of future leaders who will drive our city and region."
Whiting, who founded her own law firm, has practiced law for more than 30 years, also working at firms in St. Louis and Cleveland. She earned a B.S. in public policy from Duke University, a M.S. in urban affairs and public policy from Southern Illinois University and a J.D. from the University of Illinois, Urbana-Champaign.
She currently serves as the Chair of the Board of Trustees of The MetroHealth System and is a member of the Tri-C Foundation Board of Trustees, the Cleveland United Way Board of Directors and the Olympic Steel Board of Directors. Whiting also serves on Governor DeWine's Business Advisory Committee for Covid-19 and is a member of the Restaurant Advisory Committee for Covid-19.
Whiting is a Life Member of the NAACP, and a member of Alpha Kappa Alpha Sorority, Inc. She was named the Black Professional of the Year for 2019 by the Black Professional Association Charitable Foundation.
To learn more about Cleveland State University's Board of Trustees, go to https://www.csuohio.edu/board-of-trustees/board-of-trustees
###
 
About Cleveland State University
Founded in 1964, Cleveland State University is a public research institution that provides a dynamic setting for Engaged Learning. With nearly 16,000 students, ten colleges and schools and more than 175 academic programs, CSU was again chosen for 2020 as one of America's best universities by U.S. News & World Report. Find more information at www.csuohio.edu.