Posted on May 3, 2023 at 12:50 PM, updated May 3, 2023 at 12:58 PM Print
Pawsitive Thoughts During Finals: It's Rune & Thor to the rescue when things get… ruff
With finals week on the horizon, it's common to see students cramming for tests and burning the midnight oil, but they are also figuring out how to keep their stress levels in check. 
Thanks to two furry friends on campus, the latter comes a little easier.

Therapy dogs Rune and Thor, the most popular "tag team" on campus, made their exciting debuts to the Cleveland State University world last April to much fanfare and have since served as an outlet for students needing a smile or a break from the daily grind.
Research has shown that something as simple as petting a dog has been shown to help boost mood, self-confidence while relieving stress and reducing blood pressure. For students, it can aid in reducing loneliness and increase feelings of social support.

Currently, CSUPD and nearly 300 other law enforcement agencies around the country utilize the services of therapy dogs.

Closer to home, their presence has made a major impact.

"Rune and Thor both make their rounds around campus with their handlers for the sole purpose of giving love and support to the CSU community," said CSU Police Chief Beverly Pettrey. "They are sometimes specially called to places to help; a little while ago, a student was involved in an accident, and the officer responding to this incident requested Rune to respond to help destress a student [and] it was a huge success."

Rune's handler, Officer Toni Jones, says she has seen first-hand the joy he brings to the students they encounter. Entire days have been made due to his presence.

"When we are working with our community members, there is no judgment, just unconditional love, and support [and] I have watched as loneliness is reduced, social support, and mindset changed to a positive," said Jones. "When students, faculty, and staff come up to us, they light up; tears are wiped away with hugs, and a sense of calmness takes over [and] students will tell you their 'jitters' are gone, or their 'anxiety' was through the roof, but is now manageable."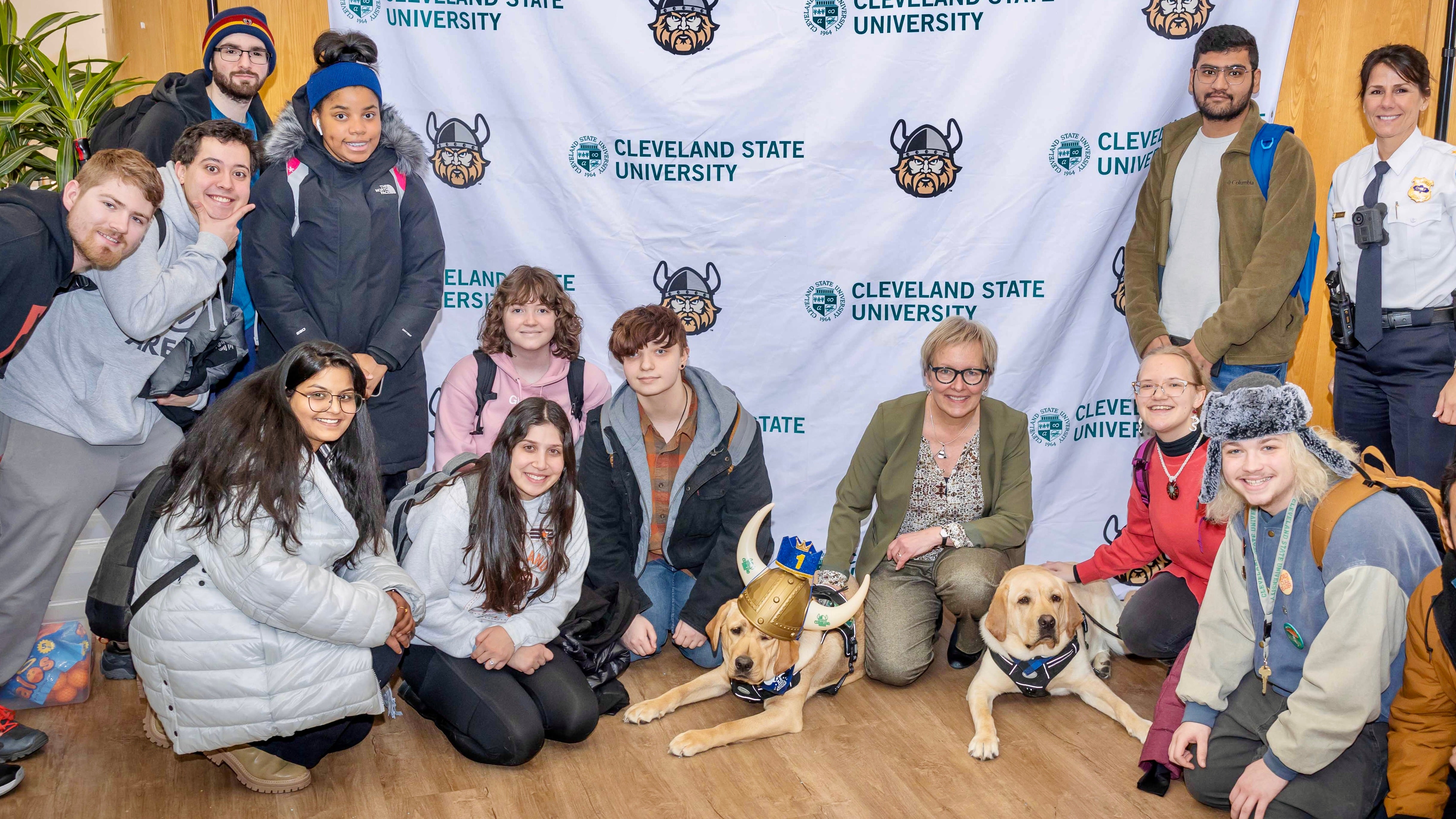 Pettrey agrees, saying she also has been there when students tell her that their day gets immediately better whenever they have a chance to see them. She added, "Watching how students' moods improve immediately improves my mood; it is contagious!"

Jones and Rune work during the day and are often spotted walking around campus and appearing at events. Jones says students get excited when they spot him, which is fun. That's because it can be anytime, anywhere!

"We can be found just about anywhere on campus," said Jones. "Our days consist of random or planned classroom visits, office visits, [walking the] Innerlink, athletic practices, and common areas (to ease those exam jitters), and we also drop into miscellaneous events that pop up throughout the week."

Ditto with Thor, whose handler, Officer Thomas Lear, says he still has a remarkable impact despite working overnight hours.

"Thor and I patrol and are assigned to the night shift as we have rotating workdays and are here from 7 p.m. - 7 a.m. those days," said Lear. "During those times, we are out walking buildings, in our patrol car, and answering calls; with the night shift, we try to make regular stops at some of the buildings that tend to have more night classes and areas where we find students studying late."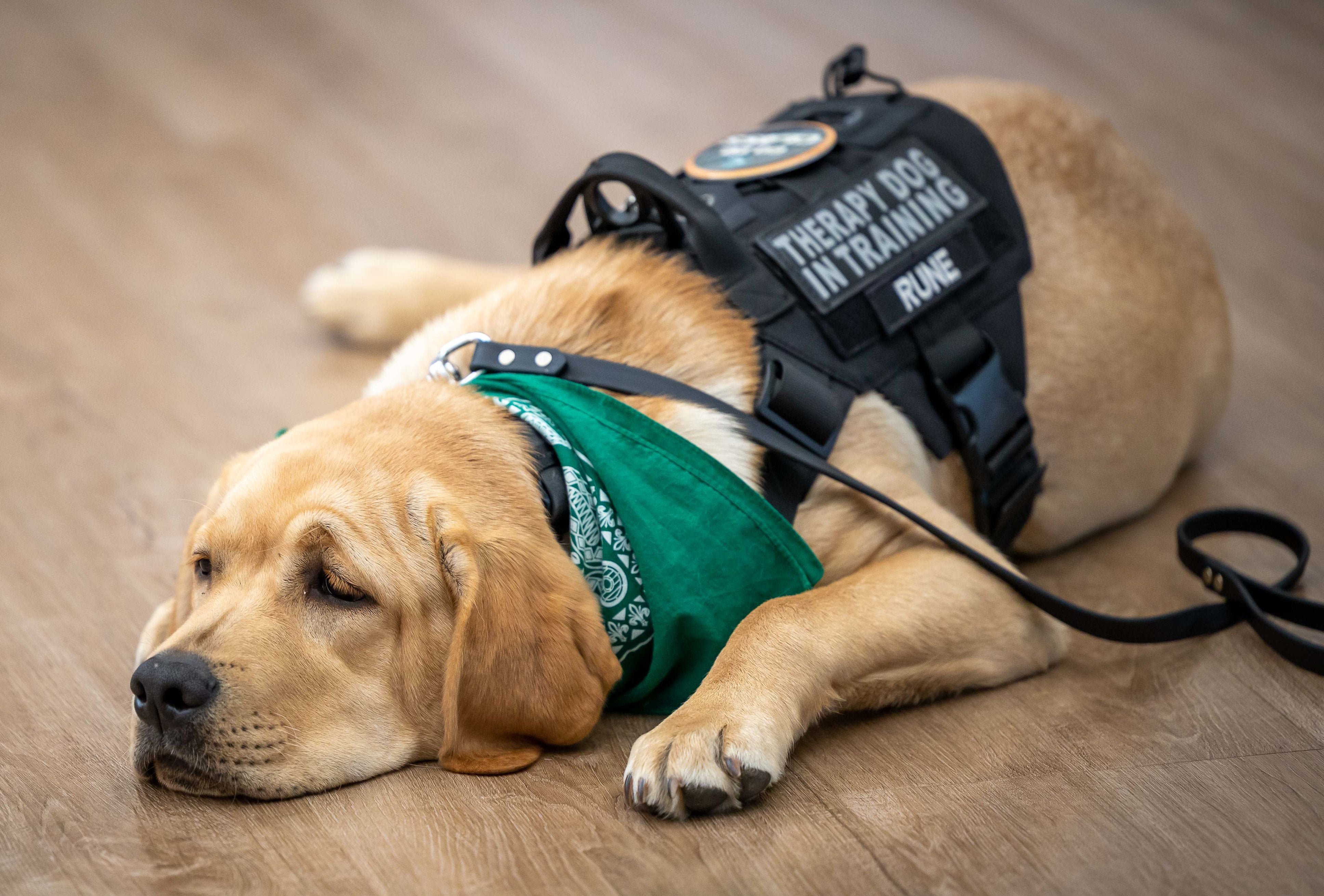 Another benefit is that students who live on campus often long for the days of cuddling with their furry friends at home. Lear says having Rune and Thor around gives them a sense of comfort while bringing their stress levels down.

"Rune and Thor just give our students that little bit of extra 'oomph' they need at times, whether it's feeling stressed about an upcoming test or, right now, finals," said Lear. 
"[Additionally, they might be] missing home and their family pet, or just needing to see that puppy face that tells them everything is going to be OK; Rune and Thor are there for them."

There will be several Rune Pop-Ups (or would that be Pup-Ups?) throughout exam week. His appearances include:
May 8: Student Center Atrium, 10:00 a.m.-1:00 p.m.
May 9: Coffee (Destress with Rune) IM Atrium, 9:00 a.m.-11:00 a.m.
May 9: Student Center Innerlink – Destress with Rune, 11:00 a.m.-12:45 p.m.
May 9: Athletics Destress with Rune PE, 1:00 p.m.-2:00 p.m.
May 10: Business Building, 3rd floor, 12:00 p.m.-2:00 p.m.
May 11: Berkman Hall 2nd floor Innerlink, 10:00 a.m.-1:00 p.m.
May 12: Student Center 2nd floor Innerlink, 10:00 a.m.-1:00 p.m.
"When you are out and around campus and students, faculty, and staff see us out with the dogs, their faces immediately light up," said Lear. "You see them smile, do a little happy dance, and hear them say things such as, 'OMG, the puppy!'… there have been many times when students have told us, 'This is exactly what I needed today.'"