Posted on April 11, 2023 at 3:50 PM, updated April 11, 2023 at 4:17 PM Print
Grad student, author, computer scientist finds peace for self, others in the art of storytelling
Do you remember when you were a kid and looked forward to storytime? Delighted in the escape of a good tale or two, either with your teacher during the day or your parents/guardians at night before bed? Well, Venkata Sai Vikas Yadav Sabbi sure does. At that impressionable age, the Cleveland State University grad student found peace and solace in stories where his imagination could be carried away.
"Vikas," as he's known, wanted to replicate that "nostalgic journey" for people who felt similarly. Sabbi, who will earn his Master of Computer Science in Fall 2023, was inspired by those memories to write a bedtime storybook called "Twinkle Stories: Volume I." Sabbi wrote the book over a couple of months during his undergraduate studies in 2018. The book was published in 2021.
He was inspired to write the collection of five unique short stories while a student, hoping that revisiting the "feeling of childhood days when my grandfather would tell me moral stories before bed" would be uplifting, Sabbi said.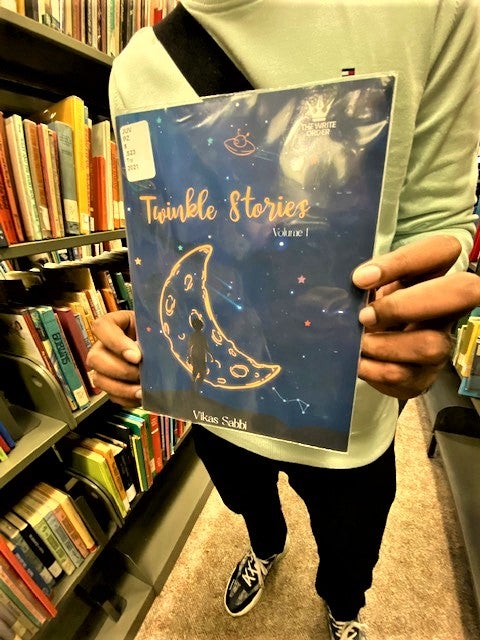 "I just wanted to capture the feeling of those old days and memories for our present generation," he said during an interview with CSU at the beginning of April. "Storytelling is a very important tradition in so many ways, and there is magic and history in those moments in time that uplift all of us."
Sabbi dedicated the book "to all the grandparents who made our childhood magical with their stories."
"With the passing of time, that innocence of childhood has faded," he writes in the forward of "Twinkle Stories" from the perspective of a young man. "Peace is now a luxury. Responsibilities never leave us alone. The stars still shine, but do they twinkle? We don't have the time to notice."
"Twinkle Stories, Volume I" was released in hardcopy format in his native India but is only currently available as an ebook around the world through amazon.com. CSU's Michael Schwartz Library has one of the rare hardcopies in the U.S. in the Juvenile Collection on the third floor.
Sabbi said he is working on getting the book released in hardcopy in other countries and has been gathering ideas for a second book about his cherished dog, Remo, who passed away a few years ago.
"I wanted to write for all the pet lovers who share a special connection with their pets," Sabbi said.
It's one thing to consider Sabbi's work ethic, writing books at the same time as his studies, but if the contents of these books don't tell you enough about him, allow us to: 
Sabbi's also a member of the H.Y.P.E. (Helping You Through Peer Education) team for students; the CSU Indian Students Organization (ISO) and is involved in the Student Government Association (SGA). When you put all of it together, helping others find comfort in the everyday hustle—and in connecting people to simpler times and each other—appears to be at the core of his Student Success Story.
We all need a page (or two) from that book sometimes. Congrats, Vikas!