Posted on April 6, 2017 at 9:00 AM, updated April 6, 2017 at 10:29 AM Print
Experienced administrator previously served as dean of University of Wyoming College of Business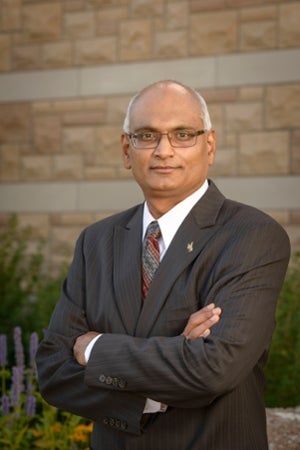 Dr. Sanjay Putrevu, an experienced academic administrator and national expert on advertising and consumer behavior, has been named the new dean of the Monte Ahuja College of Business at Cleveland State University. He will oversee all administrative and operational activities and work to enhance the College's growing reputation as a national center of business education, scholarship and research.
"Dr. Putrevu is a proven leader and nationally recognized scholar with the expertise and insights necessary to continue the tremendous growth the Ahuja College of Business has experienced over the last five years," says Jianping Zhu, CSU Provost.
"I am honored to be selected for this position and am looking forward to working with the College's tremendously skilled faculty and staff to enhance the dual focus on engaged learning and student success that are hallmarks of CSU," Putrevu says.
Putrevu previously served as dean of the College of Business at the University of Wyoming and prior to that as associate dean of the School of Business and chair of the Department of Marketing at the State University of New York at Albany. He earned a Ph.D. in marketing from State University of New York at Buffalo and master of management studies from Birla Institute of Technology and Science in India.
###