Posted on June 26, 2018 at 3:43 PM, updated June 26, 2018 at 5:31 PM Print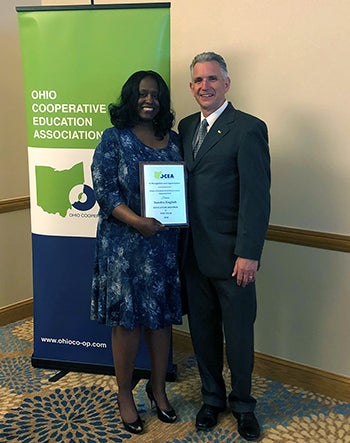 As the senior manager for the Center for Engineering Experimental Learning, Sandra English manages the Washkewicz College of Engineering's co-op program and helps students obtain exciting internships. Her dedication to the professional growth of Cleveland State University students was recently recognized by the Ohio Cooperative Education Association (OCEA).
English received the 2018 OCEA Educator of the Year Award for her commitment to the professional development of students through effective internships and co-op partnerships.
Earlier this year, English was also the recipient of a national award from the American Society for Engineering Education that honors individuals who have made a significant contribution to advancing engineering education and experiential learning.
"I am truly humbled by these honors that I have received this year," English says. "I enjoy assisting students explore their interests through meaningful internship and co-op experiences."
English became manager of the engineering cooperative education program at CSU in 2012. Prior to that she was assistant director of law admission and multicultural recruitment at the Cleveland-Marshall College of Law. She holds a BA from Ursuline College as well as a J.D. from the Cleveland-Marshall College of Law and M.P.A. from the Maxine Goodman Levin College of Urban Affairs.