Posted on June 26, 2018 at 12:14 PM, updated June 26, 2018 at 12:39 PM Print
Will seek to enhance equity and access on campus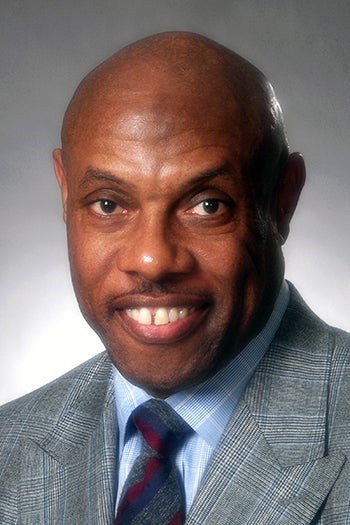 Ronnie Dunn, a researcher on urban and social policy, has been appointed interim chief diversity and inclusion officer (CDIO) for Cleveland State University. In this role Dunn, who currently serves as an associate professor in CSU's Maxine Goodman Levin College of Urban Affairs, will oversee efforts to enhance access, equity, and promote diversity among the University's student body, faculty and staff. In addition, Dunn will assist in expanding community partnerships and engagement across the region, while also promoting research and academic excellence in diversity management and policy.
"I am very pleased that Ronnie has agreed to serve in this critical role and look forward to working with him as we continue to advance our reputation as a diverse, urban university," says Harlan Sands, president of Cleveland State University.
"My entire professional career has been dedicated to improving understanding of racial and social equity and inclusion in our community," Dunn adds. "I see this new role as an extension of my research and am very excited to be taking on this important responsibility."
Dunn replaces Julian Earls who has served as interim chief diversity officer since March, 2018. The Office of Civic Engagement, previously part of the CDIO's office, will transition to the Maxine Goodman Levin College of Urban Affairs where it will be part of the University's Anchor Institutions Initiative.
"The Levin College is leading many of CSU's engagement efforts so this move will better align our partnership initiatives and better connect them with our academic mission," Dunn notes. "At the same time, as CDIO, I will continue to promote opportunities for CSU to collaborate with neighborhood and community organizations for the benefit of our students, faculty and staff."
Ronnie Dunn has served on the faculty at CSU since 2004 and is a graduate of the University's Ph.D. program in urban studies. He was appointed by Governor John Kasich to the Ohio Collaborative Community-Police Advisory Board and provided written testimony to President Barack Obama's Taskforce on 21st Century Policing. His most recent book, Boycotts, Busing, & Beyond: The History & Implications of School Desegregation in the Urban North, was published by Kendall-Hunt Publishing in 2016.