Posted on January 30, 2023 at 2:10 PM, updated January 30, 2023 at 2:26 PM Print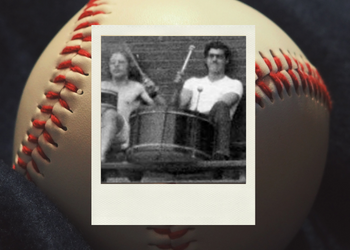 We here at Cleveland State University are saddened to hear of the passing of John Adams (right), long time Cleveland Indians baseball drummer and acolyte of the outfield at both Cleveland Municipal Stadium and Progressive Field.
Familiar to many Clevelanders for his nearly 50 years of drumming at games, he started his outfield tradition beginning on August 24, 1973. He attended both Saint Ignatius High School in Cleveland and Parma Senior High School in Parma, where he played bass drum in band before graduating from high school in 1969. 
He was also a proud CSU alumnus and prior to falling ill had been teaching an aquatics class for students with disabilities at the University since 1978.
The Cleveland Guardians have posted a tribute to Adams, calling him "the heartbeat of Cleveland baseball games." They inducted Adams into the team's Distinguished Hall of Fame on August 24, 2022. The Corner of Carnegie and Ontario won't be the same without him. He will be missed. 
Photo courtesy of the Cleveland Memory Project, CSU Michael Schwartz Library.