Posted on December 10, 2014 at 10:15 AM, updated December 10, 2014 at 10:15 AM Print
The Cleveland State University community gathered earlier this fall to celebrate the life of former CSU Chief of Police Lester Mitchell.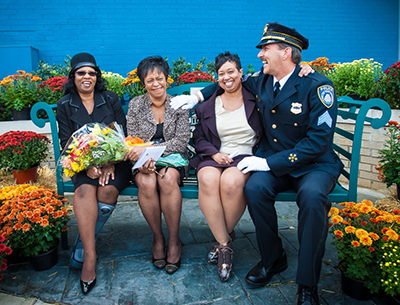 Chief Mitchell, who served the CSU Police Department with distinction for 28 years, died February 2, 2014, after being struck by an intoxicated driver in a traffic accident.
In attendance for the memorial were Chief Mitchell's widow, former CSU Dean of Student Life Dr. Diane Dillard-Mitchell, and daughter Lisa Mitchell Arcuri, as well as other family members and friends. A crowd of colleagues also turned out in honor of "Mitch," as the chief was affectionately known.
"Lester Mitchell was my friend," said CSU Police Sergeant Richard Flaherty, shown here with, from left, Dr. Dillard-Mitchell, Chief Mitchell's sister-in-law Denise Dillard-Shaw and niece Matiera Shaw on the new memorial bench dedicated in honor of the chief, outside the Campus Safety Building.
Read more on CSU's ENGAGED blog.