Posted on November 10, 2022 at 3:10 PM, updated November 10, 2022 at 3:25 PM Print
"Honoring Women Who Served" shares 
experiences of women veterans during special Thursday morning observance
Cleveland State University honored service members on Thursday with a Veteran's Day ceremony and guest speakers at the "Honoring Women Who Served" event in the Student Center Atrium. Attendees heard the experiences of women veterans during this special observance, which began with the traditional flag placement by military color guard and trumpet regaling by Lauren Hinkle, a CSU School of Music alumna.
Col. Theresa Bodnar, who recently completed 20 years of Active Federal Service last September, delivered the event's keynote address. The John Carroll University (JCU) ROTC Alumna ('01) and US Army Reservist acknowledged her delight to return to the area to serve as the Recruiting and Operations Officer for JCU's Wolfpack Battalion.
"Connections matter, the multi-degreed Army Master Resilience Trainer, author, educator and TedX "The Gift of Gratitude in Foresight" speaker said, acknowledging community, family and service.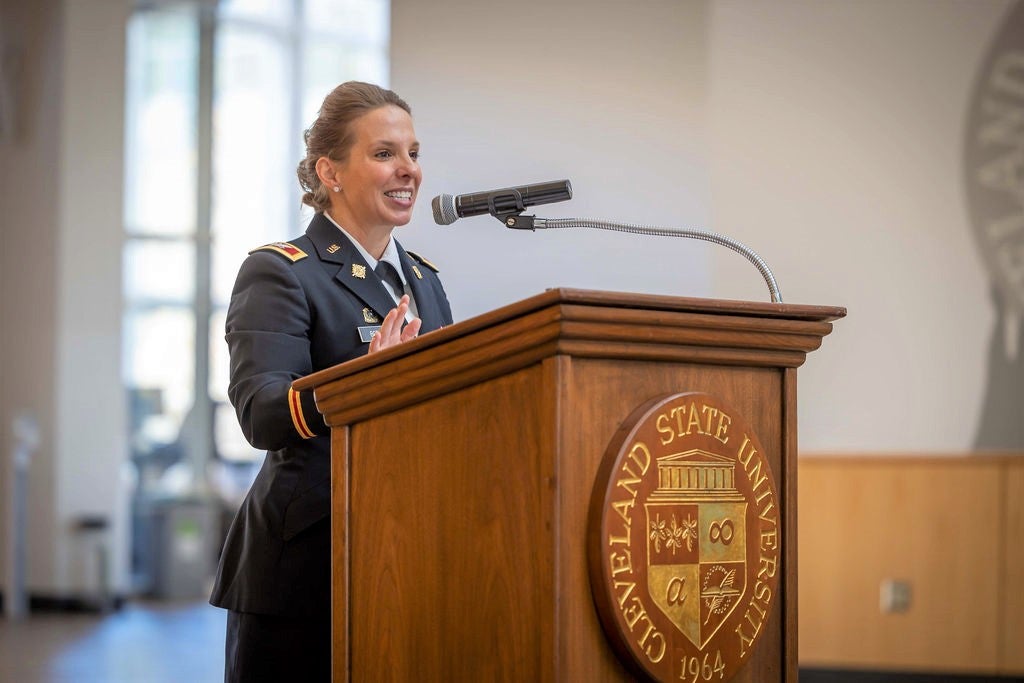 "Working with some of the best senior leaders that there can be and having the privilege to coach, teach, mentor, command America's finest soldiers," she added. "That's something that I'm incredibly grateful for—but it's also not what I find most valuable about my military service. What I find most valuable is the life lessons I've learned while service about connections, opportunities, and options."
Col. Bodnar's address shared that same spirit and similar themes, reinforcing the importance of connections—both for current and former service members, but for everyone who finds themselves in a higher education environment as well.
"You need to be there to help one another out and share opportunities that come your way," Bodnar (left) said.
Barbette N. "Barbie" Allen (1Lt., U.S. Army), last year's CSU Student Veteran of the Year, shared many of Bodnar's sentiments—about the importance of her military service on her life, on being "humble and humbled" and for the ongoing gratitude that her military life experiences have fostered.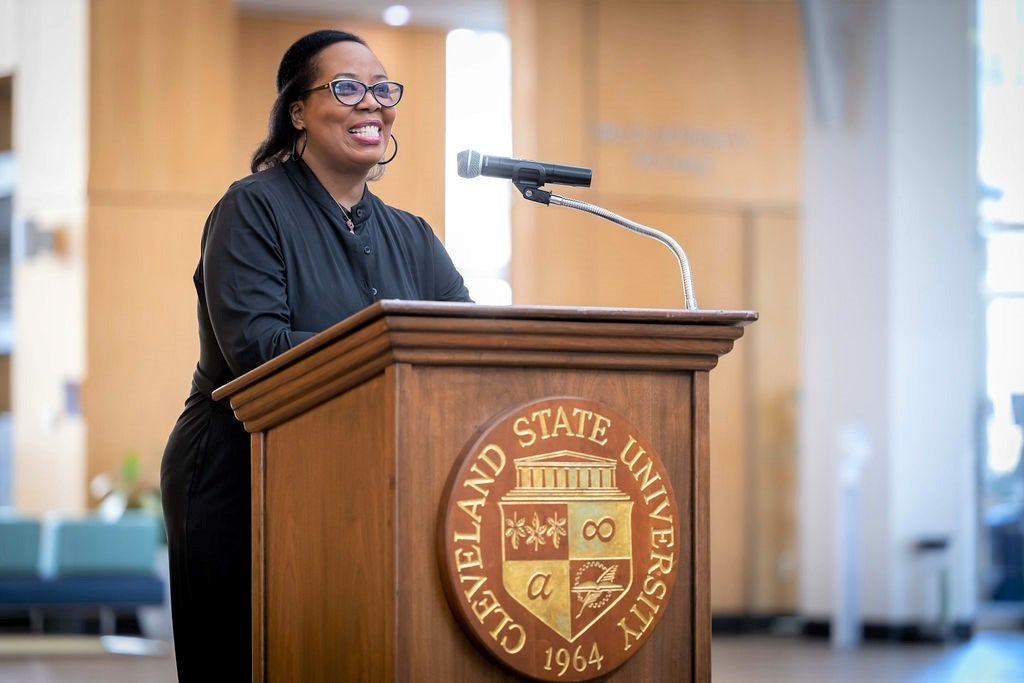 Allen (left) became a commissioned officer in the Army and served on active duty for four years, focused ordinance and heavy artillery. She recalled her service as a tank repair officer, during which she oversaw the maintenance and repair of armored tanks, Humvees aircraft and missiles.
"When you see [someone] in uniform, think about the sacrifice that they have gone through for this country," said Allen, who talked about her time at Aberdeen Proving Ground (Maryland), Fort Bragg (North Carolina) and Victorville (California), before segueing into a different kind of service—for AmeriCorps Vista and as a registered nurse.
"Think about the time they've been away from family, loved ones, making the ultimate sacrifice," she said—adding that until you have been out of the country, you'll never fully appreciate what it means to be an American.
"Always think of yourself as an individual representing America," she noted.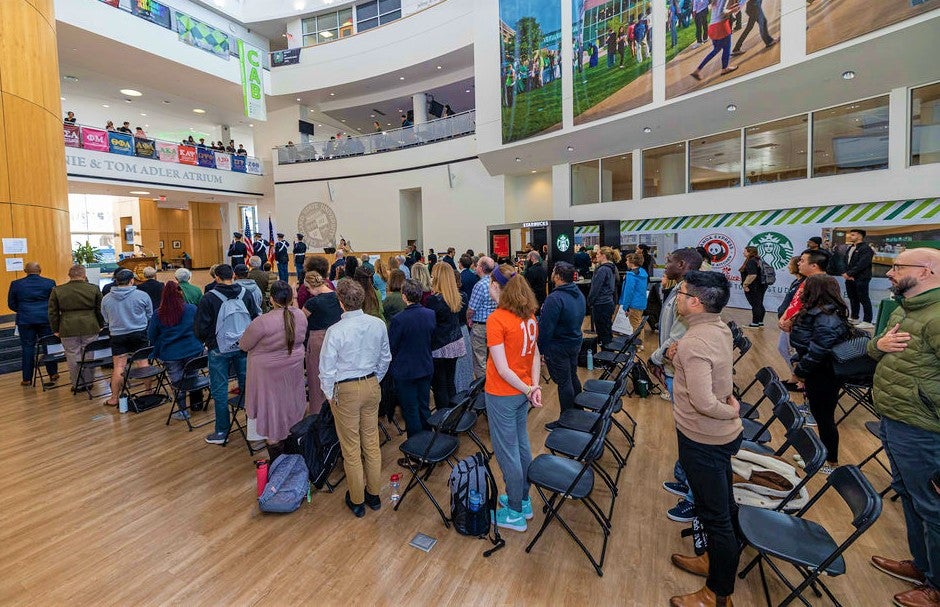 Allen also announced the 2022 CSU Student Vet of the Year—U.S. Marine SSgt. Daniel Kargbo, who was deployed four times and spent a total of eight years at Camp Lejeune. He is currently the Engineering Peer Teacher Coordinator in the Washkewicz College of Engineering. Kargbo was unable to attend the event, but was said to be honored in-person on Friday, November 11.
The event was rounded out by remarks by Phillip "Flapp" Cockrell, Ph.D., vice president of Campus Engagement, Diversity, Equity and Inclusion; U.S. Air Force SSgt. Brandon Lorenzo Thompson, director of CSU's Veteran Student Success Program and Veteran & Military Success Center, and CSU President Laura J. Bloomberg, Ph.D.
"This is our opportunity to pause, to show our thanks, to remember," said Dr. Bloomberg. "Thank you for helping all of us to pause in the midst of busyness to honor, reflect and to show our gratitude."
Please note that the Cleveland State University campus will be closed Friday, November 11 in observance of Veterans Day.