Posted on July 18, 2018 at 1:50 PM, updated July 18, 2018 at 2:20 PM Print
Research seeks to improve interactions with care givers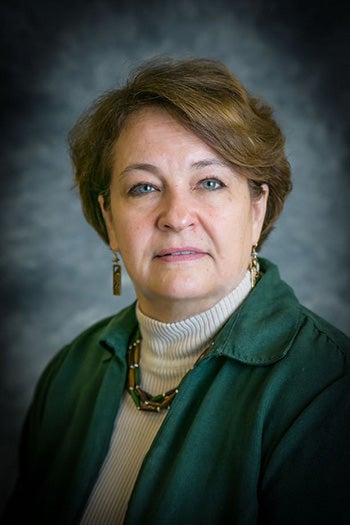 The Alzheimer's Association has awarded Linda Francis, associate professor of sociology at Cleveland State University, a 2018 New to the Field Research Grant. The funding will support the development of new computer technology to reduce distress among persons with Alzheimer's disease by improving the interactions they have with professional care providers.
The grant award provides Francis $149,913 over three years to design a virtual interaction computer guide that trains care providers to interact with persons with Alzheimer's based on that person's affective, rather than cognitive memory.
Research has shown that persons with Alzheimer's still feel like the same person they have always been – mothers or business owners or veterans – and expect others to treat them as though they are still that person. If care providers act toward them merely as patients or frail elderly people, however, cognitive impairment can make it difficult for them to express their frustration, which can lead to agitation or depression. The virtual interaction computer guide Francis and her team are creating will provide a strategy for professional care providers to better interact with each resident as an individual, possibly serving as a prevention for depression and possibly reducing the need for reliance on psychotropic medication.
For example, a self-sentiment profile created with the new technology would clarify that a male resident with cognitive impairment who thinks he is an "employee" at his assisted living facility is actually working from affective memory. This insight helps care providers give him a daily "job," like directing others to the dining room, leading to enhanced engagement.
"Affective memory includes a person's self-esteem and self-efficacy, and is crucial to emotional wellbeing – but it is not well-supported by the structure of residential care," says Francis. "We are creating a computer program that will incorporate each resident's unique affective memory profile and simulate supportive interactions based on that profile. This 'virtual training guide' will provide staff the tools to improve the quality of their interactions with cognitively impaired residents, potentially enhancing engagement, responsiveness, and quality of life."
Francis presented preliminary results from her research at the Alzheimer's Association International Conference in July.
The Alzheimer's Association is the largest nonprofit funder of Alzheimer's research in the world, having awarded more than $405 million to fund over 2,600 scientific investigations. The Association is currently investing over $110 million in nearly 400 best of field active projects in 18 countries. Alzheimer's Association funding has led to some of the most important research breakthroughs, including the first Alzheimer's drug studies and the ability to visualize amyloid plaque buildup in the living brain.
Fostering a robust workforce of Alzheimer's researchers is a major goal of the Alzheimer's Association Research Grant and Fellowship Awards. The program funds primarily early-career scientists working on new ideas in Alzheimer's research. The hope is that this will lead to future grant applications to government and other funding sources, including larger grants available through the Alzheimer's Association. The awards are part of the broader Alzheimer's Association International Research Grant Program. The Association makes it a high priority to support researchers from underrepresented racial and ethnic groups.
 "The only way we will achieve a world without Alzheimer's is through research. Funding Dr. Francis not only supports this critical project, but is part of a broader Alzheimer's Association effort to keep the best and brightest scientists working on this disease," says Nancy Udelson, president and CEO of the Cleveland Area Chapter.
Alzheimer's is the sixth-leading cause of death in the United States. More than 5 million Americans are living with Alzheimer's disease, according to the Alzheimer's Association 2017 Alzheimer's Disease Facts and Figures. By 2050, the number of people with Alzheimer's may more than triple, to as many as 16 million, barring the development of medical breakthroughs to prevent, slow or stop the disease. More than 50,000 persons in Northeast Ohio are living with Alzheimer's disease.
###