Posted on July 25, 2018 at 3:07 PM, updated July 25, 2018 at 3:08 PM Print
Michelle Leighty is a leader in the fight to protect and preserve Ohio's wildlife and indigenous species. As the manager of the Cleveland Museum of Natural History's Perkins Wildlife Center & Woods Garden, she oversees care for over 100 animals of various species that have been injured or orphaned and cannot be released into the wild. In this interview, the 2008 Master in Environmental Studies graduate discusses her passion for wildlife and how Cleveland State helped her reach her career goals.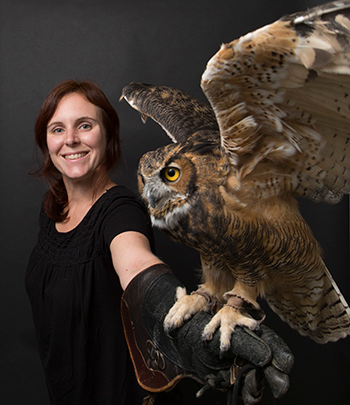 Can you describe your current role with The Cleveland Museum of Natural History?
I am the manager of the Ralph Perkins II Wildlife Center & Woods Garden, which is home to over 100 animals of various species of native Ohio wildlife. The animals are individuals that have been injured or orphaned and cannot be released into the wild and now serve as ambassadors for their species to educate visitors about their natural history and behavior. I am responsible for the health of all of the animals and management of our staff, interns, and volunteers. I coordinate veterinary care and oversee animal husbandry, training, enrichment, nutrition, handling and programming. I keep detailed medical records and files, write protocols, give input on exhibit design, develop and deliver educational programs, coordinate behavioral research, and do a lot of outreach. The best part of my job is developing close relationships with our individual animals and ensuring they receive the best quality of life possible!
Why did you decide to attend CSU?
I am fascinated by urban wildlife and the way animal species are able to adapt to human activity and city lifestyle, so the environmental studies program through the Levin College of Urban Affairs was a great fit for me to study this in depth. I also wanted to expand my knowledge of these relationships in order to have a productive career devoted to understanding how to share space with these wild creatures.
What is your favorite CSU memory?
My favorite part of my CSU experience is all of the interesting and motivated people I met. I still keep in touch with a number of my former classmates and consider many of them to be lifelong friends. The most striking quality all of these people have in common is the passion for the important work they do. My other favorite memory is the day I brought one of the museum's Peregrine Falcons to campus for my presentation about urban nest sites.
What piece of advice do you have for current students?
Make the most of it and take every opportunity available. I learned so much during my time there and think back to my courses and experiences on a regular basis, even 10 years later.
What inspires you about Northeast Ohio?
Our sense of community. The Cavs winning the NBA finals in 2016 is one of my favorite Cleveland experiences, and everyone hugging, high-fiving each other, and smiling for months afterwards is a perfect example. The brutally cold winters and our collective resilience as a community are other inspirations. I also can't say enough good things about our food and music scenes, and the world class cultural institutions.
In your opinion, what is Northeast Ohio's best kept secret?
The wildlife and the variety of habitats. We have a national park! And a big lake! And rivers! And wetlands, woods, marshes, grasslands, agricultural fields, suburbs and the city, and an enormous variety of animals that call these places home. We get dozens of snowy owls living on airport runways in the winter, have peregrine falcons nesting on skyscrapers, and North American river otters living in our waterways, and all of this is happening right alongside us. To call out a specific place, one of my favorites is Lake View Cemetery. I can be found there several times per week, walking the beautiful grounds and appreciating its history, and also looking for the coyotes, foxes, and birds that call it home.
What issues are you passionate about?
I have a passion for animals that are often misunderstood and disliked by the general public, prime examples being coyotes, vultures, and snakes. When I am at work, my personal mission is to convey to museum visitors how cool these animals are and showcase their fascinating adaptations, behaviors, and personalities.