Posted on April 24, 2023 at 6:07 PM, updated April 25, 2023 at 2:03 PM Print
CSU Poetry Center Enjoys Night of Excitement at The BottleHouse in Cleveland Heights
The Poetry Center at CSU recently celebrated its 60th anniversary with a party at The BottleHouse Brewery and Meadery in Cleveland Heights on April 14—replete with poetry, musing, and revelry.
Director Caryl Pagel (left) took a moment to reflect upon the success of the Poetry Center that night in front of a packed house.
"What feels important to acknowledge tonight is that any arts organization surviving for 60 years is a big deal and maybe an especially big deal for a scrappy University-housed independent literary small press such as ours, run by a group of book-loving weirdos with clear eyes and full hearts and the care and support of their community," said Pagel.
"That includes arts partners, authors, the current chair of our department, Jeff Karem, audiences, bookstores, and the readers who've shown up time and time again to demonstrate that a book can be a site of connection, inquiry, and provocation."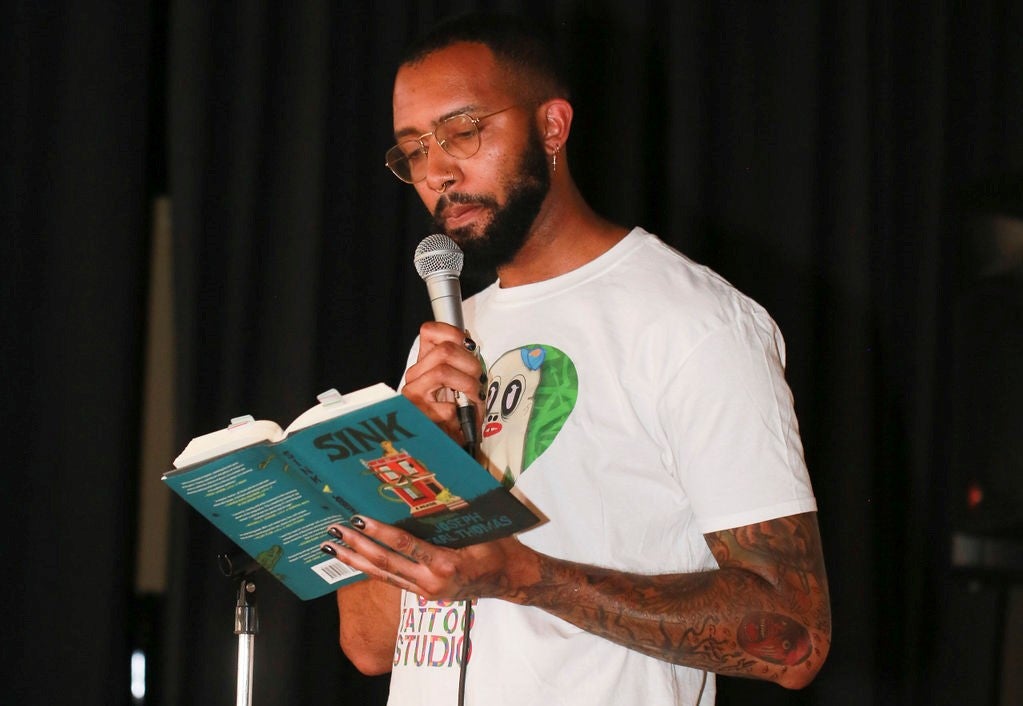 The latest Anisfield-Wolf Fellow, Joseph Earl Thomas, was on-hand and read excerpts from his memoir, SINK, along with CSUPC author Laura Shapiro, who wrote Arena, and was named a 2020 "best book of poetry" by The New York Times. An excerpt of Thomas' SINK won the 2020 Chautauqua Janus Prize and he has received fellowships from Fulbright, VONA, Tin House, Kimbilio, & Breadloaf.
The event was very well attended and brought out readers from all corners of Cleveland's literary scene, as well as from the University. Among those in attendance were CSU President Laura Bloomberg, Ph.D. and Nigamanth Sridhar, Ph.D., Provost and Senior Vice President for Academic Affairs (left). 
The next stop for the Poetry Center at CSU was the annual Cleveland Poetry Festival, which took place April 21-22 as a collaboration between Lit Cleveland, greiveland press, and the Center. 
The events place on the campus of Case Western Reserve University, anchored by poetry-related workshops and panels and bookended by an opening night- and closing night poetry reading and "open mic"  for readers and writers alike. It was a momentous, in-person year for the Festival given the recent "unprecedented times."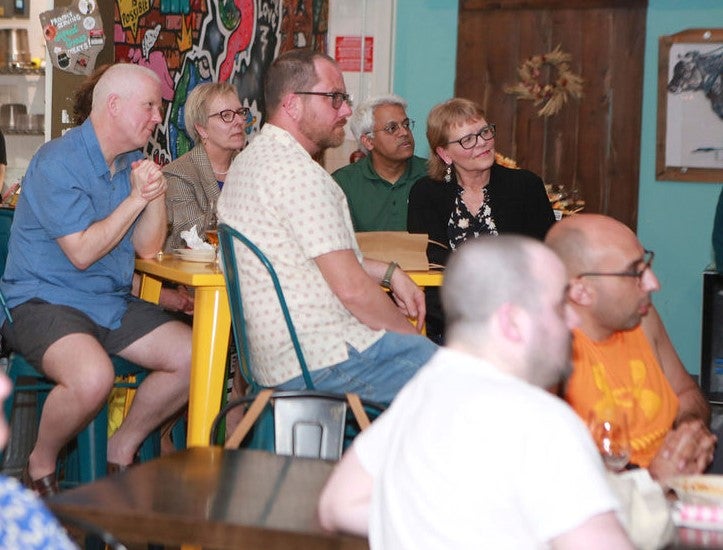 About the CSU Poetry Center
The Cleveland State University Poetry Center is a highly respected literary press that has been publishing poetry since 1962. The Center is committed to promoting contemporary poetry that is innovative and challenging.
They publish a variety of books, chapbooks, and anthologies, showcasing emerging as well as established poets. The center also offers a range of educational programs and events, including readings, workshops, and a fellowship program for emerging poets.
With its dedication to advancing the art of poetry and fostering a community of writers and readers, the Cleveland State University Poetry Center continues to be a vital force in the contemporary poetry landscape.