Posted on June 5, 2023 at 1:42 PM, updated June 7, 2023 at 1:22 PM Print
New Study Shows Cleveland State University has a $3 Billion Impact on Northeast Ohio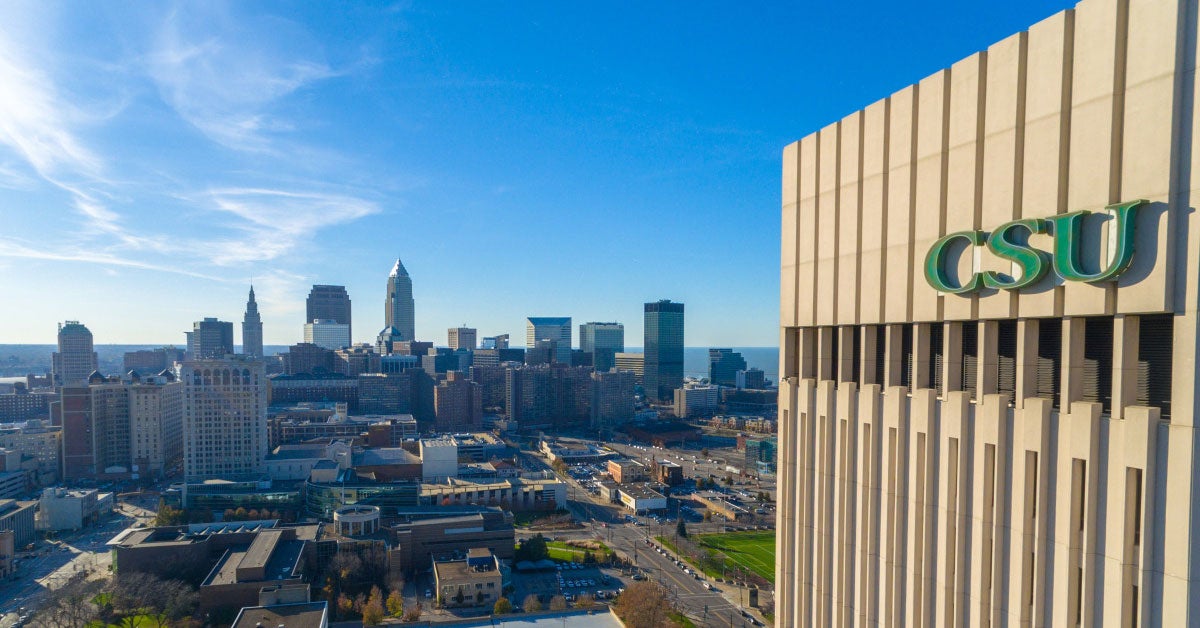 CLEVELAND, Ohio (June 5, 2023)—Cleveland State University (CSU) provides a vast, $3 billion economic lift to the Northeast Ohio region and the state as a whole— supporting 36,843 jobs in the region, one out of every 63 jobs in Northeast Ohio. This is due in large part to our alumni impact, University operations and research spending, interdisciplinary education efforts and much more according to an Economic Impact Study released in late May.
"Cleveland State University plays a key economic role in Northeast Ohio," said CSU President Laura Bloomberg. "We know that, thanks to the benefits of a bachelor's or advanced degree, our graduates have much higher lifetime earning potential compared to high school graduates and they see an impressive return on their investment."
The study determined that CSU students receive $6.80 in lifetime earnings for each dollar they invest in their educations. Taxpayers receive a similar benefit, receiving a cumulative value of $6.80 for each dollar of public money invested. Further, CSU graduates create a societal value of $19.10 for each dollar invested, based on alumni increased lifetime earnings, increased business output and social savings in reduced healthcare and justice system costs.
"With more than 140,000 CSU alumni — the majority of whom reside in Northeast Ohio — CSU is an economic engine.  We contribute substantially to the region's workforce who, in turn, contribute to their communities. I am very proud of the role CSU plays in building a vibrant region," Dr. Bloomberg said.
Among the study's other findings:
Alumni Impact (Graduates Employed in Ohio): $2.6 billion (supporting 32,324 jobs)
Over the years, students have studied at CSU and entered or re-entered the workforce with newly acquired knowledge and skills. Today, thousands of these former students are employed in Northeast Ohio. The net impact of CSU's former students currently employed in the regional workforce amounted to $2.6 billion in added income in FY 2021-22.
Approx. 16,000 students are enrolled across all academic programs on an annual basis — including bachelor's, master's and doctorate degrees and certificates — including 1,400 international students. CSU's alumni network totals more than 140,000 graduates worldwide.

According to US News & World Report, CSU is #1 among all Ohio public and private universities for social mobility.
Operations Spending Impact: $191.5 million (supporting 2,142 jobs)
CSU employed 1,734 full-time and part-time faculty and staff (excluding research employees). Payroll amounted to $144.3 million (excluding payroll from research employees), much of which employees spent in the region for groceries, mortgage and rent payments, dining out, and other household expenses. The University spent another $93.8 million on day-to-day expenses related to facilities, supplies, and professional services (excluding research expenditures). The net impact of the University's operations spending added $191.5 million in income to the regional economy in FY 2021-22.
Forbes has ranked CSU as the #2 best employer in the state of Ohio and the #10 best midsize employer in the Midwest.
Research Spending Impact: $69.7 million (supporting 809 jobs)
Research activities at CSU impact the regional economy by employing people and making purchases of equipment, supplies, and services. They also facilitate new knowledge creation in Northeast Ohio through inventions, patent applications, and licenses. As a nationally recognized urban research institution, we are an innovation destination for Northeast Ohio.
In FY 2021-22, CSU spent $41.4 million on payroll and $13.1 million on other expenses to support research activities. CSU's research spending generated $69.7 million in added income for the Northeast Ohio economy in FY 2021-22.
Student Spending Impact: $76.9 million (supporting 1,389 jobs)
Around 23% of CSU students originated from outside the region. Most of these students relocated to Northeast Ohio in order to attend classes. In addition, some in-region students, referred to as retained students, would have left Northeast Ohio for other educational opportunities if not for CSU. These relocated and retained students spent money on groceries, mortgage and rent payments, and other living expenses at regional businesses. The expenditures of relocated and retained students in FY 2021-22 added $76.9 million in income to the Northeast Ohio economy.
CSU has the highest number of graduates who reside and work in the state among all Ohio public universities. 91% of alumni remain in Ohio one year after graduation, 85% after five years and 78% after 10 years.
Spin-off Company Impact: $22.6 million (supporting 177 jobs)
CSU creates an exceptional environment that fosters innovation and entrepreneurship, evidenced by the number of spin-off companies created because of the University. In FY 2021-22, CSU's spin-off companies generated $22.6 million in added income for the Northeast Ohio economy.
Visitor Spending Impact: $1 million (supporting 20 jobs)
Out-of-region visitors attracted to Northeast Ohio for activities at CSU brought new dollars to the economy through their spending at hotels, restaurants, gas stations, and other regional businesses. Visitor spending added approximately $1 million in income to the Northeast Ohio economy.
Other Northeast Ohio Impacts:
Student Perspective: Benefit-cost ratio of 6.8:1. In return for their investment, students receive $6.80 in higher future earnings for every dollar invested— a 20% annual rate of return and a cumulative present value of $1.8 billion in increased earnings over the course of their lives.
Taxpayer Perspective: Benefit-cost ratio of 6.8:1. For every dollar of public money invested in CSU, taxpayers receive a $6.80 return average rate over the course of students' working lives—the rate of return for taxpayers is 14.5%.
Social Perspective: Benefit-cost ratio of nearly 19:1. For every dollar invested in CSU, people in Ohio receive $19.10 in return for as long as CSU students remain active in the workforce.
The economic impact study was conducted by Lightcast, and analyzed student and financial data from fiscal year 2021-22 (July 1, 2021 to June 30, 2022) to determine Cleveland State University's impact on the economy of Northeast Ohio's six metropolitan statistical areas: Cleveland-Elyria, Akron, Canton-Massillon, Youngstown-Warren, Mansfield, and Weirton-Steubenville.
A PDF Infographic of this information can be found at www.csuohio.edu/sites/default/files/cleveland-state-university-eis-infographic.pdf
# # #
About Cleveland State University
Founded in 1964, Cleveland State University is a public research institution that provides a dynamic setting for Engaged Learning. With nearly 16,000 students, eight colleges and more than 175 academic programs, CSU was again chosen for 2022 as one of America's best universities by U.S. News & World Report, including the #1 university in Ohio for social mobility. Find more information at www.CSUOhio.edu.