Posted on November 17, 2016 at 9:20 AM, updated November 17, 2016 at 1:17 PM Print
Presents first comprehensive analysis of how jazz has been used to explore Jewish experience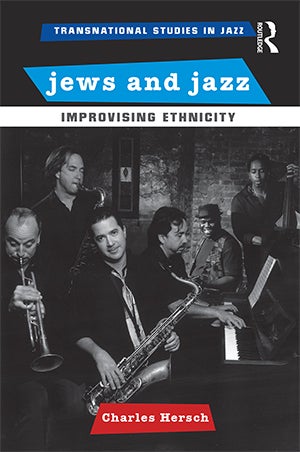 Jazz history includes numerous contributions from Jewish artists, from Benny Goodman to John Zorn, who have played a major role in the development of the music from its birth in New Orleans to the present day. However, there has been little examination of why so many Jewish musicians gravitated to jazz or how they used the music to explore Jewish identity and experience.
Jews and Jazz: Improvising Ethnicity, a new book by Charles Hersch, chair of the Department of Political Science at Cleveland State University, seeks to answer these question and shed light on how jazz music reflected and influenced "Jewishness" in 20th Century America.
"I have long had an interest in music and politics as well as a love for jazz music and was struck by the fact that there had been little analysis of why so many Jewish musicians chose to focus on jazz," Hersch says. "Through this book I hope to provide a better understanding of how Jewish musicians expressed their identities through the music and how that expression transformed as Jewish identity changed through the years."
Hersch argues that in the 1920s and 1930s, when Jews were seen as foreigners, Jewish jazz musicians fought for a more inclusive America, for themselves and for African Americans. They did this both by creating music that would represent ethnic diversity and by forming interracial bands. As Jews became more accepted in society, during the 1940s, musicians wary of assimilation gravitated to jazz's outsider status, using the music to identify with African Americans and "re-minoritize." Finally, beginning in the 1960s and continuing today, some Jewish musicians have combined jazz and Jewish music into a hybrid form that explores and advances their identities as Jews in a multicultural society.
"Jazz music has provided an avenue for an ongoing conversation about race and ethnicity that Jewish musicians have contributed to and gained inspiration from," Hersch adds. "By better understanding how Jews have used jazz we can gain more knowledge about the evolution of the Jewish experience in America and the ways music can serve as a vehicle for ethnic dialogue."
The book is part of Routledge Press' Transnational Studies in Jazz series and can be purchased online at https://www.amazon.com/Jews-Jazz-Improvising-Charles-Hersch/dp/1138195790. In addition, Hersch will be doing a book reading and signing at 7 p.m., Monday, December 12 at the Beachwood Public Library, 25501 Shaker Blvd, Cleveland, OH.
###