Posted on January 27, 2017 at 10:16 AM, updated January 27, 2017 at 4:40 PM Print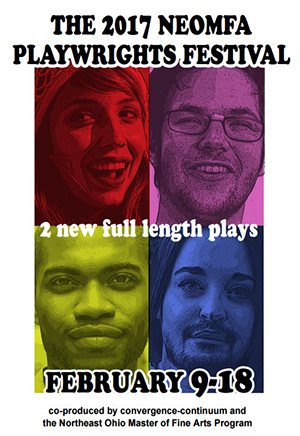 Cleveland State University is collaborating with convergence-continuum to present the sixth annual NEOMFA Playwrights Festival. The event will feature the world-premieres of two plays created by local graduate students: The Darkness by MFA students Katie Wallace, Renee Schilling and Rob Daniels and Sexual Politics by MFA candidate JC Cifranic. The plays have been created as part of a three-year intensive program of study under playwright and CSU professor Mike Geither, and are co-produced by convergence-continuum and the Northeast Ohio Master of Fine Arts in Creative Writing consortium, which includes CSU.
The Darkness, which runs February 9-11 at 8 pm, is a darkly comic fable following the travails of Duncan as he journeys through a circus, suburbia and a sinister office building. Duncan is a believer in The Light, an organization which may or may not be a cult. As he attempts to convert human cannonballs and cookie-baking housewives alike, he discovers the true light may rest in the restorative power of Phil Collins' songs, pink lemonade and whoopee cushions - but not necessarily in that order.
In Sexual Politics, which runs February 16-18 at 8 pm, the Deputy Mayor of Vienna is trying to clean-up the morals of the city. When Isabella's gay brother is arrested, she has to rely on unlikely friends to keep him out of jail in this topical, modern adaptation of William Shakespeare's Measure for Measure.
All of the productions will be presented at convergence-continuum's Liminis Theater at 2438 Scranton Rd. in Cleveland. Tickets are $10 for general admission and $5 for students. For more information, visit www.convergence-continuum.org or call 216-687-0074.
The Northeast Ohio Master of Fine Arts in Creative Writing is offered by a consortium of universities, including Cleveland State University, Kent State University, The University of Akron and Youngstown State University, and allows students to take classes on four different campuses and earn a degree from a single unified writing program. Emerging writers may study in four genres – creative non-fiction, fiction, playwriting, and poetry – and take advantage of the resources offered on all four campuses.
Since its inception in 2005, the NEOMFA has offered small-group workshops, open readings, summer travel fellowships, and high-profile visiting writers, in addition to career-preparing internships and competitive graduate funding. The program also provides students with the opportunity to work with, and to have their plays given full productions by, a professional theatre company during the NEOMFA Playwrights Festival.
###