Posted on March 7, 2017 at 2:36 PM, updated March 13, 2017 at 2:37 PM Print
The Saturday workshop series is designed to engage students in the health professions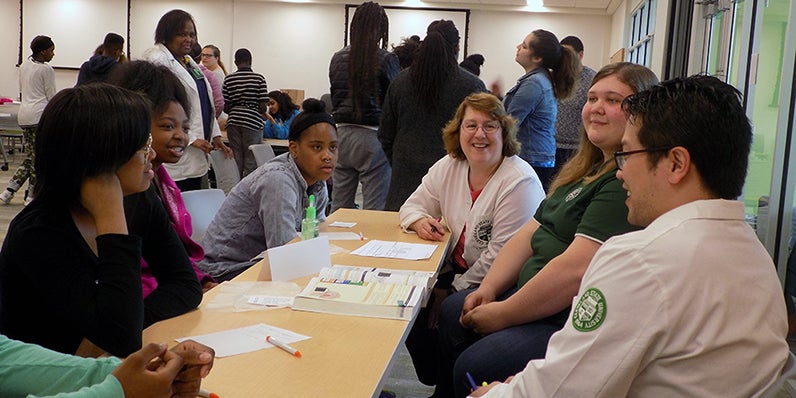 The NEOMED-CSU Partnership for Urban Health, a joint effort of Cleveland State University and the Northeast Ohio Medical University, will offer free introductory medical workshops to middle school students. The program, titled Middle School Med School, is for students in grades six through eight who have an interest in careers in the health professions.
Workshops will take place every Saturday from 9 a.m. to 1 p.m. April 8 - 29, 2017. They will be held in the Center for Innovation in Medical Professions, which is home to the Partnership and is located on the CSU campus at 2112 Euclid Ave., Cleveland, Ohio, 44115.
The workshops will give middle school students an opportunity to experience medical school through a number of hands-on projects and interactions with medical students and professionals. The middle schoolers will get exposure to medical procedures such as making plaster casts for broken bones, applying stitches to wounds, taking X-Rays and much more.
"By introducing science and medicine to children at an early age we can enhance understanding of and enthusiasm for health professions and increase the number of individuals going into these careers," says Dr. Edgar B. Jackson, Jr., Special Assistant to the President for Health Affairs at CSU and Co-Director of the NEOMED-CSU Partnership
"This program was developed to allow students to not only receive hands-on experience, but to spend time with medical professionals and get an inside look at a potential career path," adds Sonja Harris-Haywood, M.D., co-director of the Partnership and senior associate dean at NEOMED. "This is an outstanding opportunity for Cleveland-area youth to closely examine the health professions at a time when they are beginning to explore all the possibilities of their futures."
Registration is open through March 10. To apply or receive more information, please contact 216.802.3175 or jtyes@neomed.edu.
The free program also includes lunch.
The NEOMED-CSU Partnership for Urban Health works to recruit future physicians who are interested in serving Northeast Ohio. The program strives to meet the health care needs of urban communities.
###