Posted on May 5, 2022 at 1:27 PM, updated May 5, 2022 at 1:33 PM Print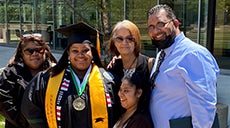 The very first "Say Yes Cleveland" scholarship student graduated from Cleveland State University last year, but as you'll see, there's a lot more saying "yes!" in her future. Our latest installment of Student Success Stories features that graduate, CSU grad student Leann Andino, who earned a bachelor's degree in two years after her time at the Cleveland Municipal School District's (CMSD) New Tech West High School.
Andino was the valedictorian of the New Tech West graduating class in 2019, and while in high school, participated in the High Tech Academy dual enrollment program—earning an associate's degree from Tri-C. This helped her fast-track her bachelor's degree at CSU.
"Say Yes was the reason I was able to attend college," Andino said.
Andino said programs like Say Yes Cleveland are "critical in supporting students advance and thrive, where money would limit what they are able to do" and that CSU was "just the right size" to give her the full college experience and to maintain important family connections, all without being overwhelming.
Because of the Say Yes Cleveland opportunity, Andino is now headlong into CSU's psychology master's program, has been hired on campus as a graduate assistant, and has designs on giving back to her community through the creation of a nonprofit organization.
"CSU is just the perfect size and continues to be a great experience," Andino said, adding that the university helps her draw on her Engaged Learning and experiences in Cleveland to date, along with her penchant for both clinical mental health counseling and in building and supporting community.
Say Yes Cleveland provides full-tuition scholarships to all public universities and community colleges in Ohio for students in the CMSD. Learn more about Say Yes Cleveland at sayyescleveland.org