Posted on December 12, 2021 at 4:55 PM, updated December 13, 2021 at 2:17 PM Print
Scott C. Mueller
Partner & CEO, Dealer Tire
Doctor of Humane Letters, Honoris Causa
Prominent businessman, notable arts philanthropist, civic catalyst and an esteemed community leader, Scott Mueller has devoted himself to making downtown Cleveland and Northeast Ohio a better place for all us.
Under his leadership as Partner and CEO of family-owned Dealer Tire, he has served consumers with a commitment to integrity and tradition. The third-generation family business began humbly in 1918 with a single downtown Cleveland tire store. Today, Dealer Tire melds old-school integrity with new-school innovation as a thriving, world-class, billion-dollar business—supplying millions of tires each year to more than 8,000 new-car dealers' service departments—and it does so with 1,200 employees in Northeast Ohio alone.
All happening right here in Cleveland. To him, there has never been a question of being anywhere else.
Mueller reaffirmed his dedication to Dealer Tire and commitment to Cleveland and urban renewal by relocating the world headquarters to the historic Victory Center in MidTown—right in the heart of the Health-Tech Corridor on Euclid Avenue.
Dealer Tire's hip, cutting-edge accommodations originally opened as The Arts Building around the same time the family business launched. Today, it's the National Register of Historic Places address and is also LEED Certified.
"We have so many friends and family here and, pound for pound, Cleveland has the greatest access to arts and entertainment in the country," Mueller said. "With our orchestra, art museums, theater district—you just don't that kind of accessibility everywhere. People always mention the two months of bad weather, but balance that against the beautiful parks, recreation and accessibility."
Mueller, who served on the MidTown Corridor group's Board of Trustees, has supported the root growth for 650 organizations, including 50 nonprofits, 12 design and architecture firms, 75 health-related and high-tech ventures, dozens of manufacturers, and hundreds of small businesses in the neighborhood.
Today, more than 18,000 people work in MidTown and over 2,000 residents call MidTown home, including members of the Cleveland State University community.
Mueller helped bring together world-class hospitals, legacy manufacturers and firms, historic culinary and concert venues, dynamic residential housing and community in partnerships which are built to last a lifetime.
"We were absolutely hoping to spark development in the area and that's come true," Mueller agreed. "New development and engagement, that's what we hoped for."
Mueller is definitely leading by example but said that momentum also has a lot to do with it.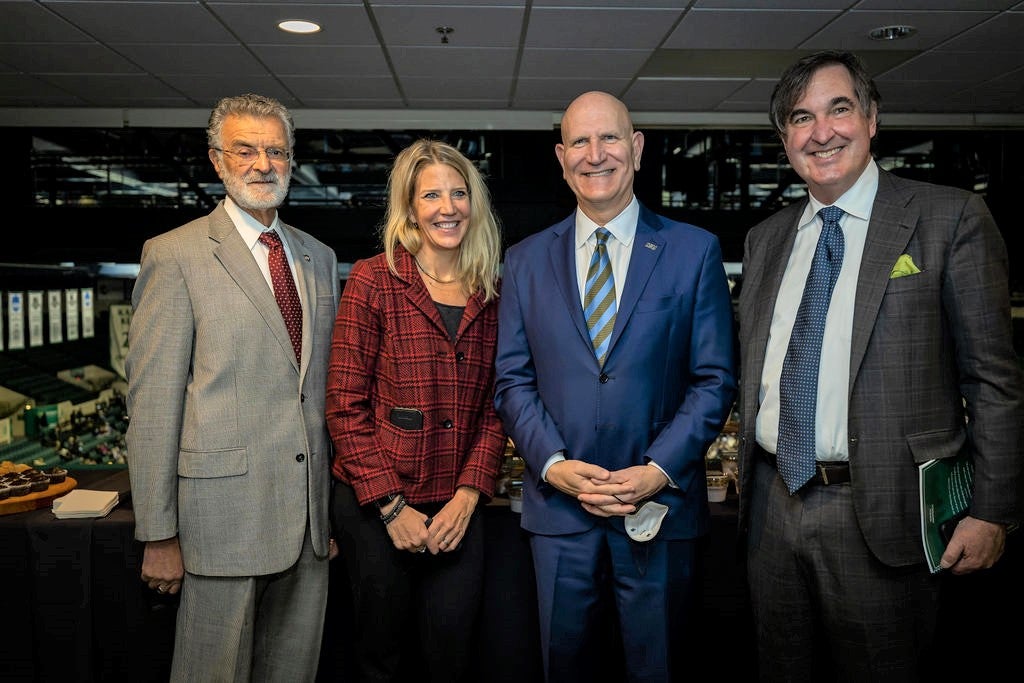 "Businesses have to change with the times, but also with what people want. Beyond work and pay, younger people want a socially-conscious corporate culture, a company that gives back to community, and commits to the urban center and to environmentally important engagement attributes," he said.
"The companies that do things that appeal to younger generation do better than those who solely stick strictly to the old ways," Mueller added.
It doesn't hurt to have a fun facility with art attributes, innovative meeting spaces, an exercise track and gym, and the knowledge that employees "can get anywhere from here in 30 minutes," Mueller said. "The next generation coming through places like Cleveland State University don't want to be in office park in the middle of nowhere; they want to be a part of a richer story."
Mueller said that a lot of developers and companies in the area are narrowing in on this, pointing to improvements around Hingetown and Ohio City, as well as the Gordon Square area. He is equally thrilled with the new apartment and residential construction near Dealer Tire headquarters and says "what Sherwin-Williams is doing downtown is inspiring" as well.
Mueller knows engagement. He has given time, energy and generosity to world-class organizations, including the Cleveland Chapter of YPO Gold; has served on the Board of Directors for the Western Reserve Land Conservancy and the MetroHealth Foundation, and currently served as Chairman to the Cleveland Museum of Art and as an Honorary Director to the Museum of Contemporary Art (MOCA) Cleveland.
His love of art and surrounding philanthropic efforts have made a profound impact on the region and those institutions serving it.
As one of the top 200 private contemporary art collectors in the world, Mueller's pieces are on loan globally and also for public viewing across our city.
His philanthropic efforts for the arts include a $20 million donation to the Cleveland Museum of Art's capital campaign for expansion and renovation. also helped MOCA into their new Uptown home.
He's not just a champion of creative expression, but also a caretaker of cultural investment.
"My love of art came over time," said Mueller. "It started in the fascination with creative people, entrepreneurs love new ideas and people who push the limits of thinking outside the box. That's what happens with great art, it makes you think differently.
Mueller's entrepreneurial spirit and understanding of Northeast Ohio gives him the ability to hold institutional memory and innovation in the same hand. It reaches back to his days at Rocky River High School, he said, and his youthful memories of early times in the business with his Dad, Walter, and "giving faculty and staff lifts from 30th and Payne over to the CSU campus."
Though he will almost offhandedly say he is "just a Cleveland guy," there is no just about it—the region is interwoven into all Mueller does and Cleveland and Northeast Ohio are better and more vital for his generosity and ingenuity. He brings the world to Cleveland, and Cleveland to the world.
At Sunday morning's Commencement ceremony, Mueller also recalled life advice he gleaned from German visual artist Gerhardt Richter.
"It'll be a tough, journey. You'll often sacrifice yourself; you'll have to give up many of your hobbies, you might lose friends, and you might not ever succeed. But for those of you who can stick it out, it will be an incredible journey."
Mueller said the giving of time, finding of mentors and learning to be an effective leader were the important things all graduates should train focus on moving forward.
In recognition of his business acumen, altruism, significant contributions to citizens across the region, and his unfailing service and commitment to this community, Cleveland State University has conferred Scott C. Mueller the degree of Doctor of Humane Letters, Honoris Causa.
Congratulations, Scott!