Posted on May 7, 2019 at 1:43 PM, updated May 7, 2019 at 1:43 PM Print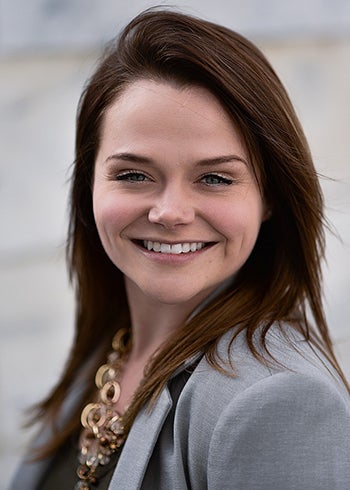 Degrees:
Master of Public Administration, Levin College of Urban Affairs - Cleveland State University
B.A., Communication Management, Cleveland State University
A.S. and A.A., Post-Secondary Education Option, Lakeland Community College
When did you graduate?
2017

Where are you currently residing?
Baltimore, Maryland
Where are you from?
Moreno Valley, California
Position/ Place of Employment:
Operations Manager, Project Rezility Enterprise Community Investment
Job Duties:
I oversee Rezility operations at several of the pilot implementation sites including Cleveland, Washington DC, and New York City. Rezility helps empower low-income residents to thrive by connecting them to social and professional service providers, and affordable housing providers so that they can build stable, secure futures for themselves and their families. Rezility helps service and housing providers by offering simple and effective tools to engage with low-income residents that heighten their visibility, intensify their outreach, and streamline their access to services.
I lead and manage operations staff whose primary goal is to drive and maximize the adoption of Rezility among residents and strategic partners, including housing and social service providers. We obtain user feedback from Rezility users to better understand and communicate our values and help with our user retention.
Volunteer Experience:
I was an AmeriCorps VISTA volunteer at The Centers for Families and Children in Cleveland, Ohio. During my term, I oversaw the mobile pantry program, giving over 200,000 lbs. of healthy produce to low income families in Northeast Ohio. In the winter, I managed the Adopt A Family program that connected donors and volunteers to at-risk families in the community, to support them with basic need items during the cold winter months.
Before this opportunity, I was a volunteer Camp Counselor at Frontier Day Camp which helped children ages 5 through 14 with special needs to become more adjusted to social interactions, and to develop motor and verbal skills in a fun, structured environment.
Why did you decide to attend Levin?
When making the decision to attend Levin College of Urban Affairs, I knew I wanted to make a difference in the world. I discovered Levin while I was obtaining my undergraduate degree in Communication Management at Cleveland State University. After attending an open house, I was immediately inspired by the work that was not only completed by the professors and staff, but also the students - and I wanted to be one of those students.
How did your experience at Levin influence your career path?
If it wasn't for my thesis work during my MPA program, which focused on connecting low income populations to services in their community by leveraginge technology, I wouldn't have found a position at Enterprise Community Investment doing exactly that. The company I currently work for read my Master's thesis and now employs me to essentially continue my work in understanding how we can better serve low income residents through technology (such as mobile applications). I am eternally thankful for my experience at Levin, because it helped me find a career that aligns with my passion for helping others.
What is your favorite Levin memory?
It's hard to choose a favorite Levin memory, because I miss the engagement of an academic environment and my time there was awesome. Each professor I had inspired me to be a better person for myself and the world around me.
What piece of advice do you have for current Levin graduate students?
Weave into your courses what you are inspired by and want to learn more about. Your professors and classmates will be open to helping you learn so you get the most out of your degree.
What inspires you about Northeast Ohio? Why?
The people of Northeast Ohio inspire me. They are resilient and no matter their circumstances will lend a helping hand and work towards making our neighborhoods stronger.

In your opinion, what is Northeast Ohio's best kept secret?
THE FOOD. The restaurant/service industry in Cleveland is killer, and I always encourage others to get out there and explore! Food sustains life and brings people together, and Cleveland has some of the best.