Posted on October 24, 2017 at 12:11 PM, updated October 25, 2017 at 9:19 AM Print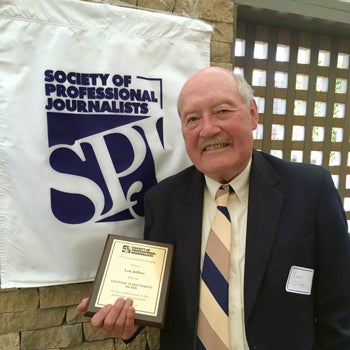 Leo W. Jeffres, Emeritus Professor of Communication at Cleveland State University, has been honored with the Lifetime Achievement Award presented by the Society of Professional Journalists, Cleveland Chapter. The award recognizes key leaders in journalism and communications for their contributions to the industry and their efforts to enhance education and training of the next generation of professionals.
Jeffres has more than 50 combined years of experience as a journalist and communication researcher and was a faculty member at CSU for over four decades. During his tenure at the university he served as chair of the Department of Communication, director of the Communication Research Center, interim dean of the College of Graduate Studies and interim vice provost for research.
He is also nationally recognized for his research in urban communication systems and media effects in society and has written several books including Urban Communication Systems: Neighborhoods and the Search for Community. Jeffres was selected by the U.S. Department of State as a Fulbright Scholar studying in the Philippines from 1983-84, and currently serves as vice president of the Urban Communication Foundation.
He received his B.A. from the University of Idaho, an M.A. from the University of Washington and a Ph.D. from the University of Minnesota.
Founded in 1909, the Society of Professional Journalists is the nation's most broad-based journalism organization, dedicated to encouraging the free practice of journalism and stimulating high standards of ethical behavior.
###