Posted on October 6, 2016 at 10:21 AM, updated October 6, 2016 at 10:44 AM Print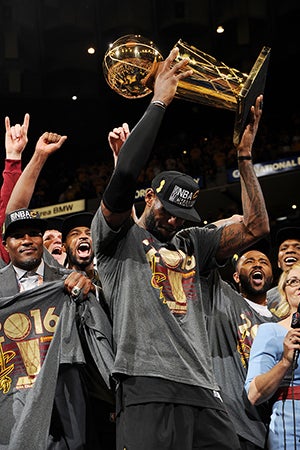 When LeBron James raised the Larry O'Brien Trophy on June 19, Cleveland's 52-year championship drought was finally over. It also marked the first time since the founding of Cleveland State University that our beloved city celebrated a major league championship.
Many of us went to the Cavs parade and got a glimpse of the Larry O'Brien Trophy. But now you can get up close and personal. The trophy is coming to CSU's Student Center on Oct. 13!
Next Thursday from 11:30 a.m. to 1:30 p.m., CSU students, faculty and staff can take their photos with Larry. All you have to do is bring your Viking ID Card and your camera or smartphone!
We'll have basketball-themed cupcakes, mini Gatorade bottles, a DJ and lots more. In short, it's going to be another great celebration of our Cavaliers before they tip off their 2016-17 season and receive their championship rings.
We can't wait to see your selfies with Larry. Go Cavs!