Posted on January 18, 2023 at 1:23 PM, updated January 18, 2023 at 2:30 PM Print
Honoring the Legacy of Dr. Martin Luther King, Jr.
On Tuesday, January 17 Cuyahoga Community College (Tri-C) and Cleveland State University (CSU) co-hosted a Celebration Brunch honoring the legacy of Dr. Martin Luther King, Jr. The program, titled Future Leaders - Dreaming Forward, was held on the Tri-C Metro campus and was livestreamed.
After an invocation by Rev. Gloria Chaney, a rendition of "Lift Every Voice and Sing" by vocalist Gerald Skillern and introductions by WOIO-TV anchor/reporter/emcee Harry Boomer, CSU President Laura Bloomberg, Ph.D. and Tri-C President Michael Baston, J.D., Ed.D. touched on themes of injustice, inequality and inclusivity in their respective remarks.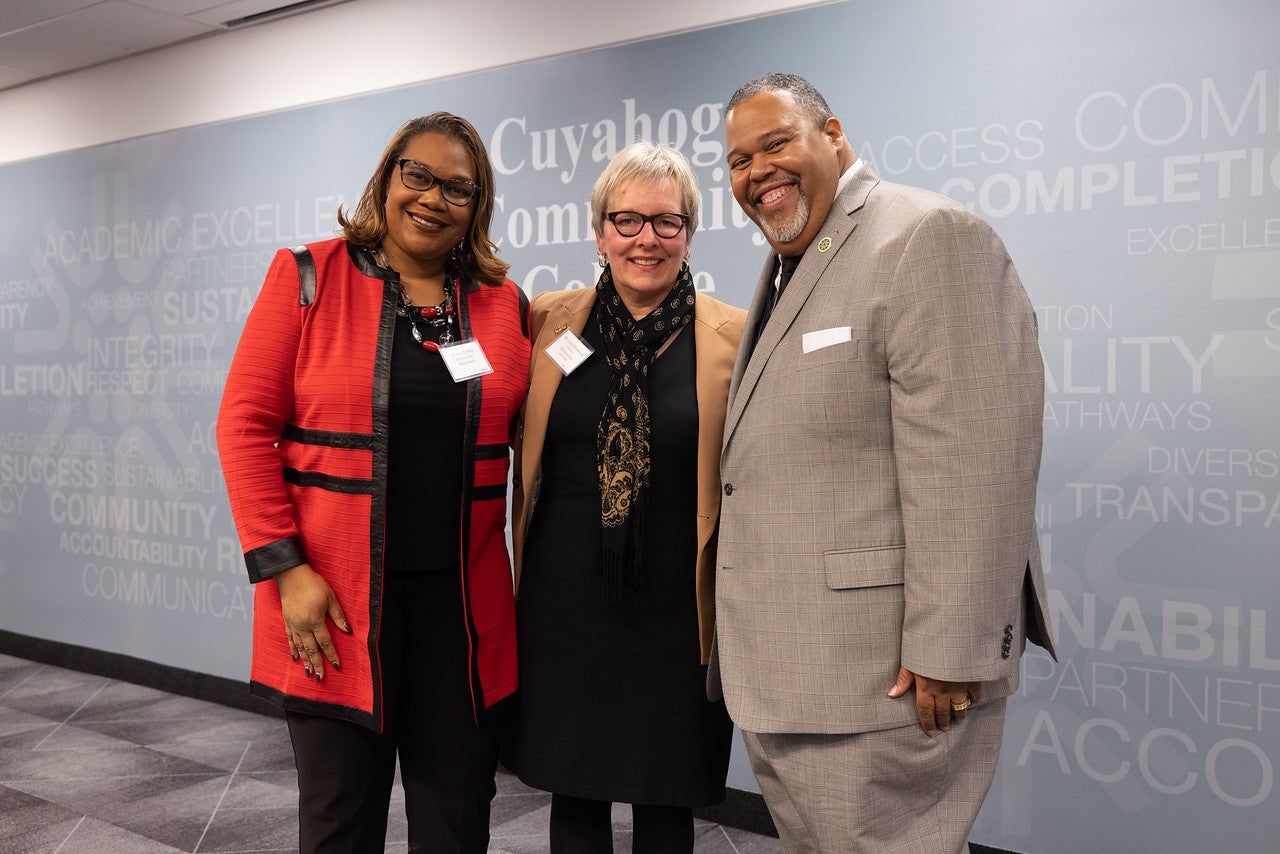 A key component to the morning event was the Student Essay Contest, which asked students from both institutions to reflect on Dr. King's quote, "The time is always right to do what is right" and to use it as a writing prompt. Senior Heather K. Pederson and freshman Jornay Booker represented CSU as essayists.
Booker, a recipient of the Sullivan-Deckard Scholarship—an intensive four-year academic program for youth aging out of foster care—is a middle school education major. She provides English and creative writing support to first- through fifth-grade students at the Cleveland Municipal School District (CMSD) Stephanie Tubbs Jones Academy.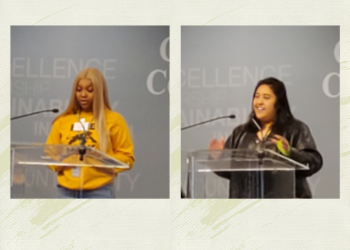 "I learned the importance of equality through leaders like Dr. King," Booker (left) reflected, eluding to the importance of younger generations carrying Dr. King's message into the future. "We need to be the ones to stand up against injustice and inequality."
Pederson (right) is a psychology major and serves as dean of students for EDWINS Leadership & Restaurant Institute—a nationally recognized organization that helps formerly incarcerated individuals acquire education in culinary arts and earn a second chance at life.
"In reflecting on the quote for today, the time is NOW to do what is right," Pederson said. "I had to become the role model that I was looking for."
To wit, Pederson's commitment to the adage 'be the change' pushed her to greater commitment to helping those in need, including the many rescue animals she cares for, when not immersed in studies.
"People have the right to change. I can be whoever I want to be," Pederson said. "I can lead by example by pushing aside injustice. We can all push forward to become better people."
Students Alejandro Ozuna and Tariq Salti represented Tri-C with their own respective essays.
Tri-C and CSU also collaborated on a joint Leadership Summit in honor of Dr. King.
Photos courtesy of Cody York Photography