Posted on February 12, 2015 at 11:26 AM, updated February 12, 2015 at 11:26 AM Print
Robots designed and built by more than 40 teams of Northeast Ohio high school students went head to head in the Vex Robotics Competition on January 31 at Cleveland State University's Wolstein Center.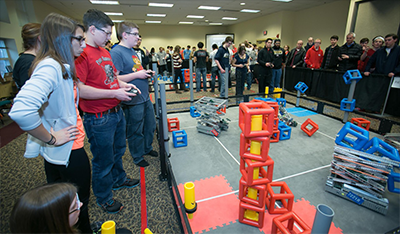 The intense tournament involved a game called "Skyrise," in which the robots – think Tinkertoy meets Transformers – were required to arrange cubes on a 12-by-12-foot playing field. In the process, their young creators also had their own mettle tested.
Check out CSU's ENGAGED blog for details.