Posted on August 3, 2018 at 8:36 AM, updated August 3, 2018 at 9:10 AM Print
Will lead efforts to enhance care for underserved communities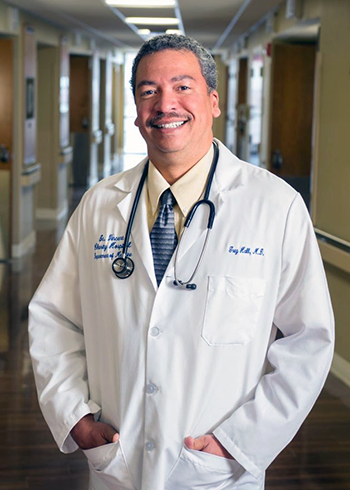 Dr. Gregory Hall, an expert in African-American health care, has been appointed co-director of the Partnership for Urban Health. Founded by Cleveland State University and Northeast Ohio Medical University and now including Ohio University, the initiative seeks to recruit and train a more diverse healthcare workforce to provide primary care to medically underserved urban communities.
"Greg Hall is a leader in urban health care with significant experience as a practitioner, educator and administrator," says Jianping Zhu, provost and vice president for academic affairs at CSU. "He has the skills necessary to further our efforts to improve healthcare in Cleveland and serve as a model for education in urban medicine."
"I am very pleased to be joining the Partnership for Urban Health and am eager to work with the dedicated faculty and staff at CSU, NEOMED and OU to ensure our next generation of medical professionals have the expertise necessary to meet the critical and unique needs of our urban communities," Hall adds. 
The Partnership was formed in 2012 and is designed to provide needed medical resources to underserved urban communities, while also ensuring that primary care physicians have a full awareness of the socio-cultural factors that impact their patients. Students in the program take pre-med courses at Cleveland State and qualify for early assurance admission to NEOMED or Ohio University where they pursue an urban health curriculum and have an opportunity to conduct numerous clinical and non-clinical assignments at Cleveland-area healthcare facilities.
Dr. Gregory Hall has been a practicing physician in Cleveland since 1994 and currently serves as an associate professor of internal medicine at Northeast Ohio Medical University. He is also chair of the Ohio Commission on Minority Health and president pro tempore of the Cuyahoga County Board of Health. He is a graduate of the University of Toledo College of Medicine & Life Sciences and received his Bachelors of Arts in Psychology from Williams College in Massachusetts.
Dr. Hall succeeds Dr. Edgar Jackson, who will now serve as special assistant to the CSU provost, working to foster stronger relations with other health care institutions in Cleveland.
###