Posted on August 6, 2021 at 11:25 AM, updated August 6, 2021 at 11:29 AM Print
The Greater Cleveland Partnership led formation of the Joe Roman Economic Development Scholarship Fund to support CSU students studying urban planning or economic development 
CLEVELAND (August 6, 2021) – Cleveland State University and the Greater Cleveland Partnership (GCP) are announcing the creation of the Joe Roman Economic Development Scholarship Fund. To date, nearly $130,000 has been raised by Cleveland leadership and supporters of Joe Roman, who recently retired as GCP president and CEO.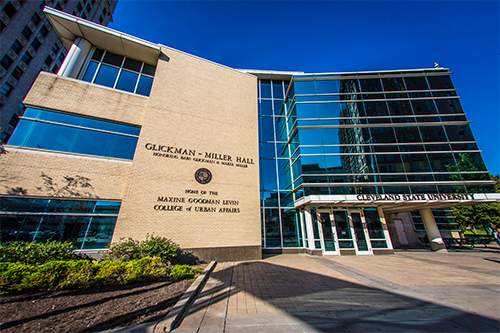 The scholarship fund, initiated by GCP board members and established in June 2021, is a needs-based scholarship that will provide support to Cleveland State University undergraduate and graduate students who are studying economic development or urban planning at CSU's Maxine Goodman Levin College of Urban Affairs.
"Joe's leadership will undoubtedly have a sustained, positive impact throughout the region for many years to come. Through his vision and expertise in civic connection, urban planning and growing the local economy, he's left behind a broad and impactful legacy that extends throughout our city and region," said Eric Schnur, GCP Board chair and chairman, president & CEO of The Lubrizol Corporation. "This scholarship is our way of recognizing that contribution and ensuring the development of future leaders from our region to continue this important work."
The renewable scholarship may be applied to tuition, books, room and board or other fees, with preference given to students who are residents of the City of Cleveland and Northeast Ohio.
"As a CSU community board member, Joe's number one priority was student success, and this new scholarship fund for future Levin College of Urban Affairs students honors that commitment," said CSU president Harlan Sands. "What better way for GCP to recognize Joe's contribution to Cleveland and our university community than to pay it forward like this?"
Joe Roman retired from his role as President and CEO of the Greater Cleveland Partnership in April 2021. From public education to neighborhood development real estate projects and infrastructure improvements, helping to start and grow businesses and more, Roman's passion, commitment and leadership has improved the economic vitality of the Greater Cleveland region.
"We are deeply grateful for the support of Joe Roman and the Greater Cleveland Partnership. Joe's dedication and work in bringing educational opportunities to the young people of our community is unparalleled, and this new fund that honors his work through the Levin College of Urban Affairs will have an impact on the lives of many students," said Roland V. Anglin, PhD, dean and professor at CSU's Maxine Goodman Levin College of Urban Affairs.
The first allocation of support will be distributed this fall. CSU students selected as scholarship recipients will be designated as Joe Roman Scholars.
"As I begin my retirement, I'm eager to see our region continue to change and thrive, as new leaders step up to lead our organizations with new goals and ideas," Roman said. "This scholarship is an investment in those future leaders, and I'm honored that the GCP chairs created this fund on my behalf."
###
About Cleveland State University
Founded in 1964, Cleveland State University is a public research institution that provides a dynamic setting for Engaged Learning. With nearly 16,000 students, ten colleges and schools and more than 175 academic programs, CSU was again chosen for 2021 as one of America's best universities by U.S. News & World Report, including the #1 public university in Ohio for social mobility. Find more information at www.csuohio.edu.