Posted on November 8, 2021 at 5:22 PM, updated November 9, 2021 at 3:48 PM Print
CSU increases STEM enrollment by 40%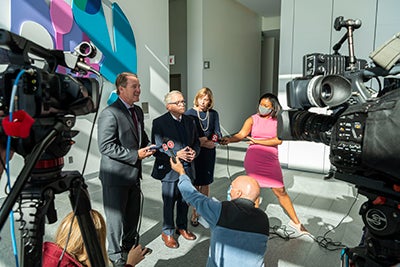 CLEVELAND – Governor Mike DeWine and Lt. Governor Jon Husted joined Cleveland State University and the other anchor institutions of the Cleveland Innovation District to provide an update on their progress since the district was launched in January of 2021.
The partnership between CSU, JobsOhio, the Ohio Department of Development, The Cleveland Clinic, University Hospitals, The MetroHealth System (MetroHealth), and Case Western Reserve University  (CWRU) will act as a catalyst for ongoing investment to attract and create new businesses and the talent needed to ensure Northeast Ohio is a leader in the healthcare and Information Technology sectors.
"The Cleveland Innovation District will play an essential role in attracting and retaining STEM graduates who will make Ohio a global leader in developing life-saving research and treatments worldwide," said Ohio Governor Mike DeWine. "The advancements made here will bolster Ohio's healthcare and IT sectors and be a magnet for fast-growing companies seeking the talent and innovations that will bring high paying, long-term jobs to Northeast Ohio."
The district is expected to create 20,000 jobs over the next ten years, develop $3 billion in new research, and contribute $3 billion in economic impact.
"Bringing together these five great institutions to build a world-class innovation hub has already proven to be a success," said Lt. Governor Husted, Director of InnovateOhio. "As researchers and businesses learn more about what the Cleveland Innovation District has to offer, we will build on these successes to attract more talent and investment that will lead to a virtuous cycle of healthcare innovation and job creation."
In addition to the 20,000 new jobs expected, CSU is leading the district's efforts is create 10,000 new STEM graduates.  
According to CSU President Harlan Sands, the university is ahead of schedule in laying the groundwork to train students interested in degrees in science, technology, engineering and math.
"Thanks to our hit-the-ground-running investments in student recruitment, we are already seeing a 40% enrollment increase in the 16 targeted STEM programs – most of which are on-campus and in-person," Sands said. "And the private sector is noticing too. Company participation in our engineering and computer science fairs this fall is up by 30% since 2019."
In addition, CSU has developed a new Bachelor of Science degree program in Data Science to meet industry demand. Plans have also been made to hire 25 new faculty this year, and the university is working on fueling future growth with more forward-looking investments in recruiting and research.
The Cleveland Clinic, MetroHealth System, University Hospitals and CWRU also reported substantial progress in meeting their goals in research, job creation, programming, and the development of new healthcare and research facilities.
Photo: courtesy of the Cleveland Clinic