Posted on August 13, 2014 at 10:45 AM, updated August 13, 2014 at 11:18 AM Print
Allison Dumski and David Pendleton will join as non-voting members effective August 1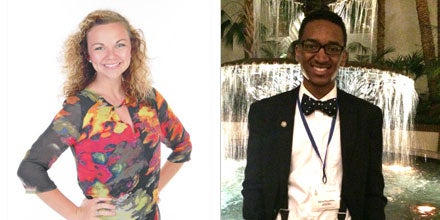 Tuesday, August 12, 2014 ­— CLEVELAND – Ohio Governor John Kasich has appointed two students to the Board of Trustees of Cleveland State University with terms beginning August 1. Allison J. Dumski of Cleveland was appointed for a term concluding May 1, 2015, and David I. Pendleton of Shaker Heights was appointed for a term concluding May 1, 2016.
Ms. Dumski is a senior majoring in Marketing in the Monte Ahuja College of Business. Since June 2012 she has served in leadership roles for the CSU Student Government Association and was named President in January. She also serves as a Presidential Student Ambassador and is a member of the 50th Anniversary Steering Committee. She is currently a summer intern in marketing communications at Avery Dennison in Mentor.
Mr. Pendleton is a senior in the Electrical Engineering Honors Program at the Washkewicz College of Engineering. He is currently an intern at GE Lighting in East Cleveland. He is President of the CSU Student Alumni Association, a secretarial cabinet member of the CSU chapter of the Institute of Electrical and Electronics Engineers (IEEE) and past president of the CSU Presidential Ambassadors.
"Allison and David are exceptional and engaged students and the board will benefit from their valuable input," said Robert H. Rawson, Jr., Chairman of the CSU Board of Trustees.
CSU is a part of the University System of Ohio, and each institution has a board of trustees comprised of 9-15 voting members along with non-voting student and faculty representatives. Each board is charged by the Ohio Legislature with the responsibility of governing their respective institutions. The bylaws of the Cleveland State University Board of Trustees call for two students to be appointed by the governor for two-year terms as non-voting members of the board. Shorter appointments can be made to fill the unexpired term of a graduated student.