Posted on June 20, 2019 at 9:31 AM, updated June 25, 2019 at 9:46 AM Print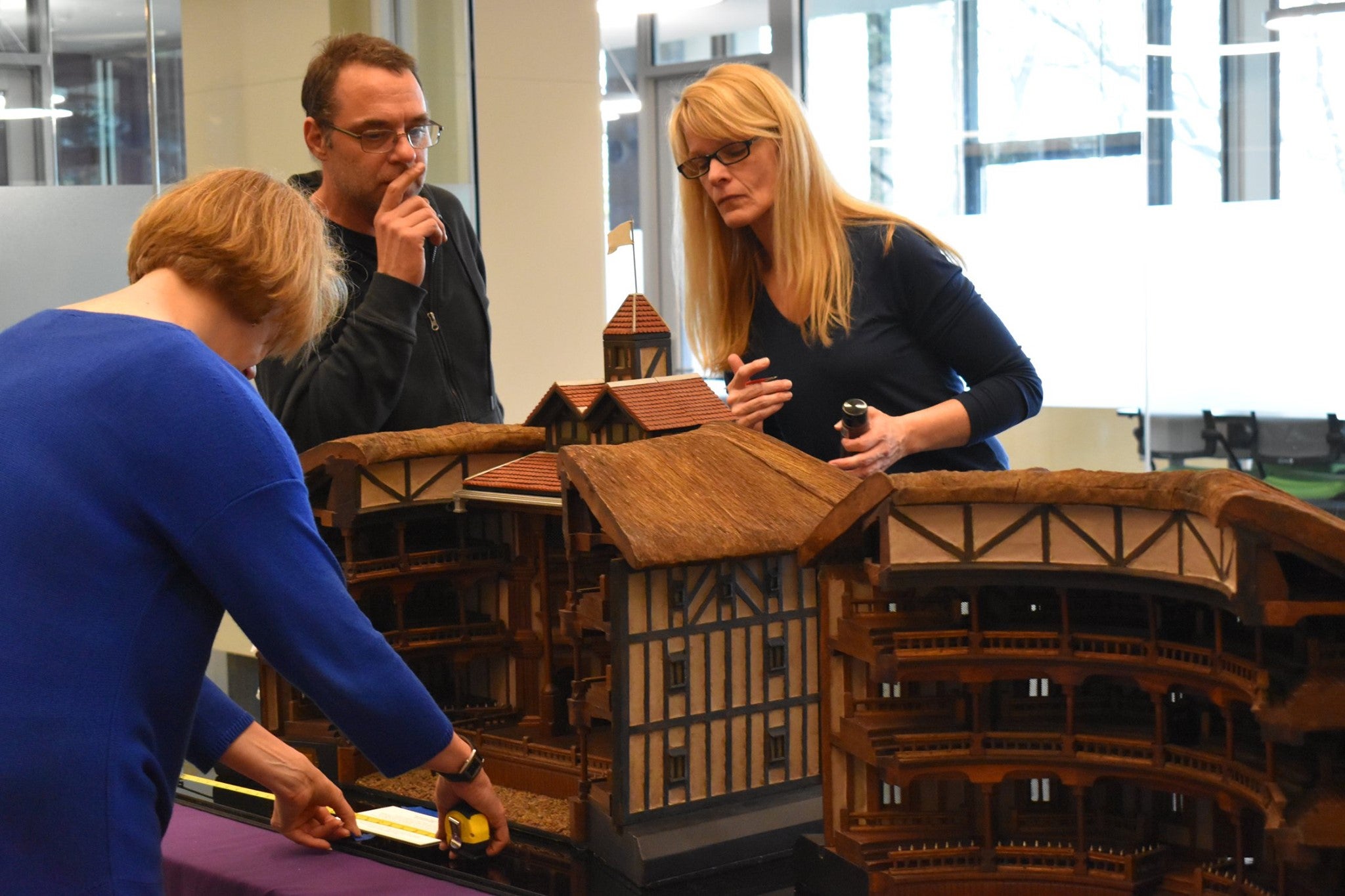 "True is it that we have seen better days…."
– William Shakespeare, As You Like It
The 80-year-old model of the Bard's beloved Globe Theatre had seen better days, too. Donated to Cleveland State University's theatre department in the 1970s, the replica was in disrepair.
Enter a team of conservators from the Bonfoey Gallery, next door to the CSU campus. To restore the model to its former glory, they recently gave it a thorough cleaning, touched up the paint and installed a new flag and new railings, curtains and columns.
You can see the results for yourself on the first floor of CSU's Michael Schwartz Library.
"This model will play a major role in CSU's theatre curriculum, allowing all theatre students — actors, directors and scene and costume designers—to see, rather than imagine, the physical relationships and dynamics at play in that theatre," says Lisa Bernd, Ph.D., assistant college lecturer in the Department of Theatre and Dance at CSU. "Mapping and identifying the parts of the Globe are critical to understanding the development of modern theatrical conventions."
To fund the restoration, the Michael Schwartz Library won a federal grant from the Institute of Museum and Library Services, awarded by the State Library of Ohio.
The original Globe Theatre in London was constructed in 1599 by Shakespeare's theatrical company. Per the MSL blog:
Until the theatre closed in 1642, it served as the primary playhouse for Shakespeare's plays, which were popular during Shakespeare's life and beyond. Although the actual dimensions of the playhouse are not known, various literary and historical clues have allowed historians to piece together the design of this important landmark. Most scholars estimate that the building was three stories high, open air, and could accommodate about 3,000 spectators.
The miniature Globe – a duplicate of a model in the Folger Shakespeare Library in Washington, D.C. – was built in the mid-1930s by Ernest Conklin of Long Island. It previously was owned by the Cleveland Museum of Art, which made the scaled-down playhouse available to secondary schools for arts education.
The model will be on view in the Michael Schwartz Library until September 2019, when it will be moved to the Middough Building headquarters of the CSU Arts Campus at Playhouse Square.
As Shakespeare would say: "All's well that ends well."