Posted on June 15, 2017 at 8:59 AM, updated June 15, 2017 at 9:50 AM Print
U.S. Department of State initiative funds study abroad experiences around the world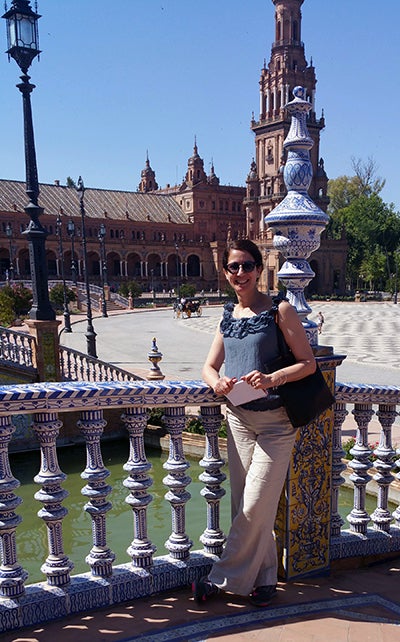 Five Cleveland State University students have been selected as Gilman Scholars, by the U.S. Department of State. The initiative provides funds to assist college students in participating in study abroad and internship programs in nations around the world. The students, Alix Kosmala, Saida Markovic, Lakiel Wade, Sophie Warner and Erica Young, are spending the summer of 2017 in Japan, Spain, Serbia, Canada and Ghana respectively.
"The Gilman Scholarship program is one of the U.S. government's top international education programs and offers students an incredibly unique opportunity to experience other cultures, develop new skills and improve our world," notes Julie Good, manager for education abroad programs at CSU. "We are extraordinarily fortunate to have five individuals selected for the 2017 cohort, and this illustrates the tremendous drive and caliber of our students."
Kosmala, who is majoring in environmental studies, is spending the summer studying at the KCP International Japanese Language School in Tokyo. She also received a Freeman-ASIA scholarship, sponsored by Institute of International Education, to assist in funding her study abroad experience. Markovic, a psychology major, is conducting Spanish language and cultural studies in Granada, Spain.
Wade, who is majoring in computer and information science, is conducting an International Engineering Internship at the University of Novi Sod in Serbia, sponsored by the International Association for the Exchange of Students for Technical Experiences. Warner, a biology major, is conducting conservation research on the Taku River in northwest British Columbia, Canada. Young, a black studies major, is studying at the University of Ghana in Accra.
"I'm honored and humbled to have been selected as a recipient," adds Markovic. "This scholarship has lifted a financial burden and will allow me to focus on my studies in order to finish my minor in Spanish."
The U.S. Department of State's Benjamin A. Gilman International Scholarship is a grant program that enables students of limited financial means to study or intern abroad, thereby gaining skills critical to our national security and economic competitiveness. The program is named in honor of Congressman Benjamin Gilman, the author of the legislation establishing the program.
Learn more about the Gilman scholars program.
###