Posted on November 9, 2021 at 1:46 PM, updated November 9, 2021 at 2:53 PM Print
'Pioneers of Higher Education' Bond Through Tutoring, Mentoring, Interpersonal Connection
The term "first-generation" has become buzzworthy among academics in recent years, despite its active use as an idiom for decades. It refers to first-generation college students, a vital population at nearly all institutions of higher education including Cleveland State University.
"First-gens" as they're broadly known, are "individuals whose family lacks a college-going tradition" and as such, they have a lot of questions and worries accompanying their higher education experience.
These students are also trailblazers, "pioneers of higher education" who break with generational roles, and usually transform the trajectory of their whole family's lives in the process of growing forward.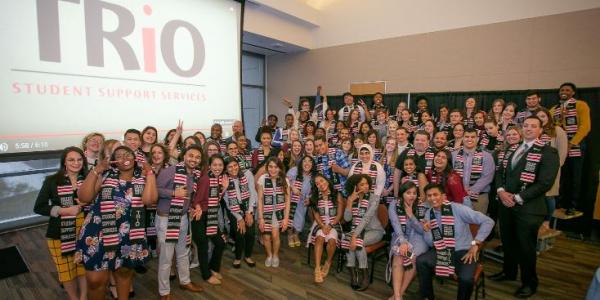 Often, they also come from working-class families from various cultural and ethnic backgrounds and wrestle with financial stress, familial responsibilities and expectations – not even to mention the enormity of navigating a new and sometimes overwhelming educational environment.
As a result, first-gens tend miss out on critical support, bonding with peers (which can lead to social isolation) and graduate at lower rates than peers with parents who earned a four-year degree, according to National Center for Education Statistics data. And that's just the beginning of first-gen challenges.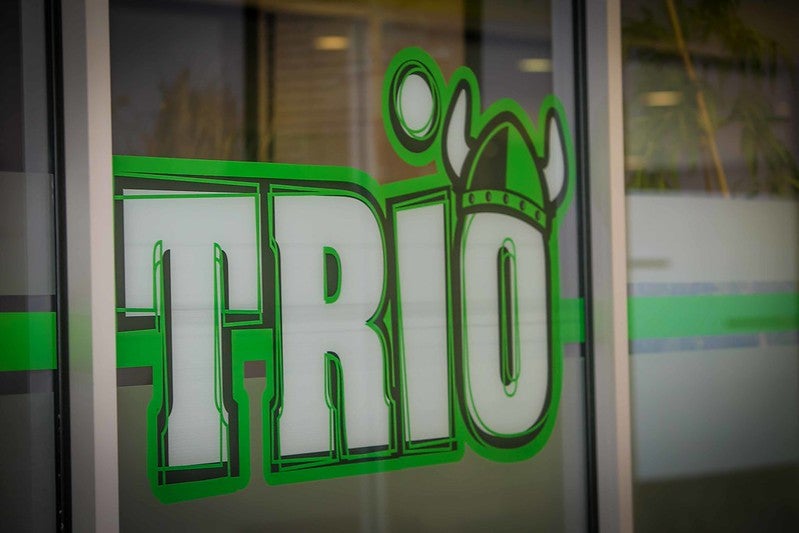 "Daunting" can be used to describes a first-gen's experience, though it's certainly an understatement. Enter CSU's TRIO/Student Support Services (SSS) office and another case for Engaged Learning in action.
CSU's Helping Hands are Walking the Talk
"What first-gens need is a helping hand or two," according to Marina Bregu, director of the TRIO/SSS. "In fact, the more helping hands, the better."
Bregu should know. As a native of Vlore, Albania, Bregu is no stranger to the challenges of being a first-gen student. She has been a part of the TRIO/SSS since 2016, when she joined as an academic advisor. As a TRIO/SSS participant and peer mentor while attending CSU, she became a proud two-time alum – earning B.A. in Sociology (with a Psychology minor) and M.Ed. in Adult Learning and Development.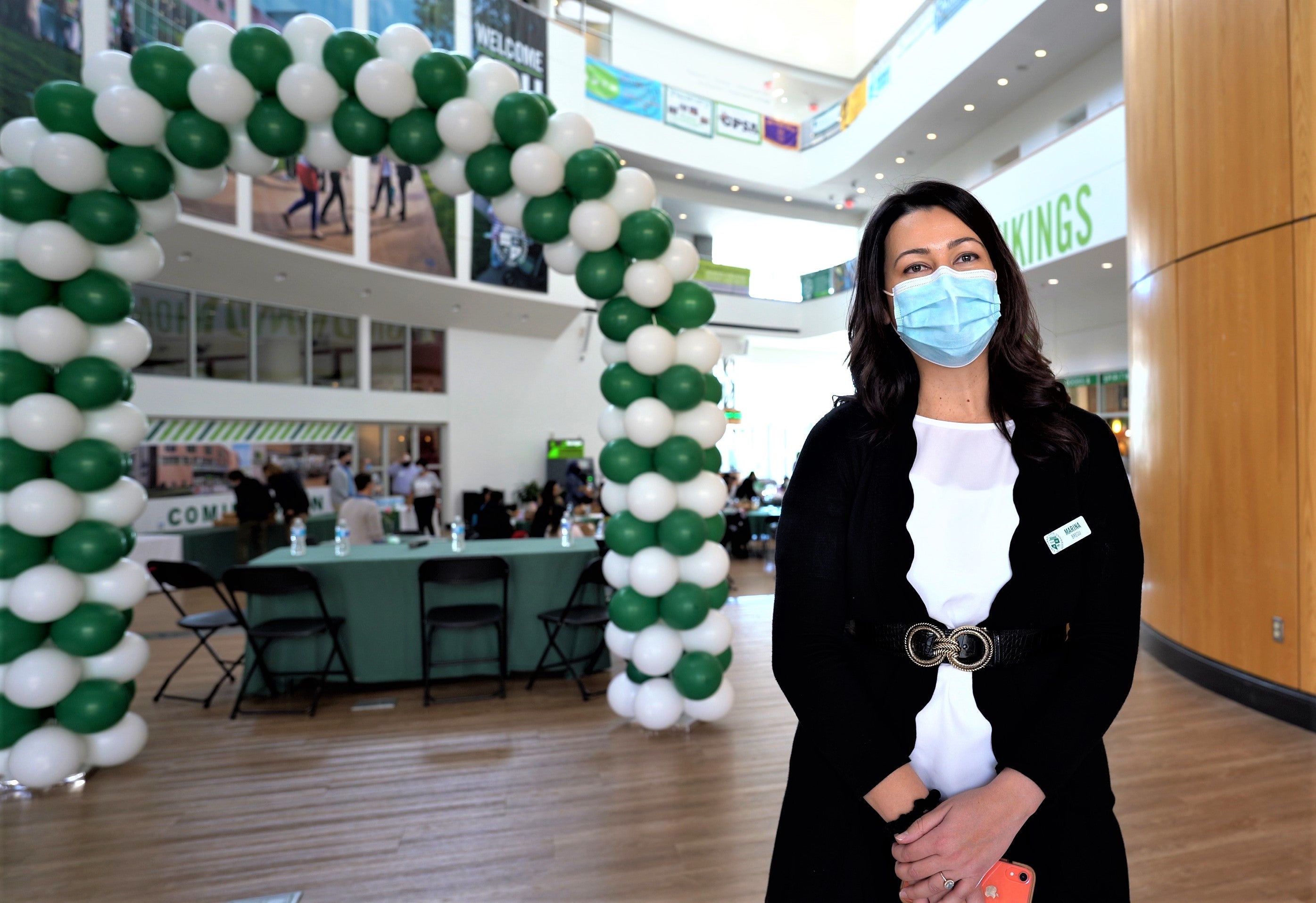 During her time at CSU, Bregu also worked as an academic advisor in the First Year Advising Office and interned in the Monte Ahuja College of Business undergraduate and graduate advising offices. Suffice it to say she was "intimately aware of new student issues" long before she became the center's director.
Bregu's goal with the Berkman Hall-anchored TRIO/SSS office and support center for first-gens is intuitive and multi-tiered – so as "to ensure students get the academic and professional support and resources needed to be successful in obtaining a bachelor's degree," she said.
"I am proud of our growing and strongly bonded community within TRIO/SSS, as we are known for providing leadership opportunities, producing long-lasting relationships and enhancing student memories and experiences during their collegiate journey," she added. "These are the very things first-gens need to build upon their successes."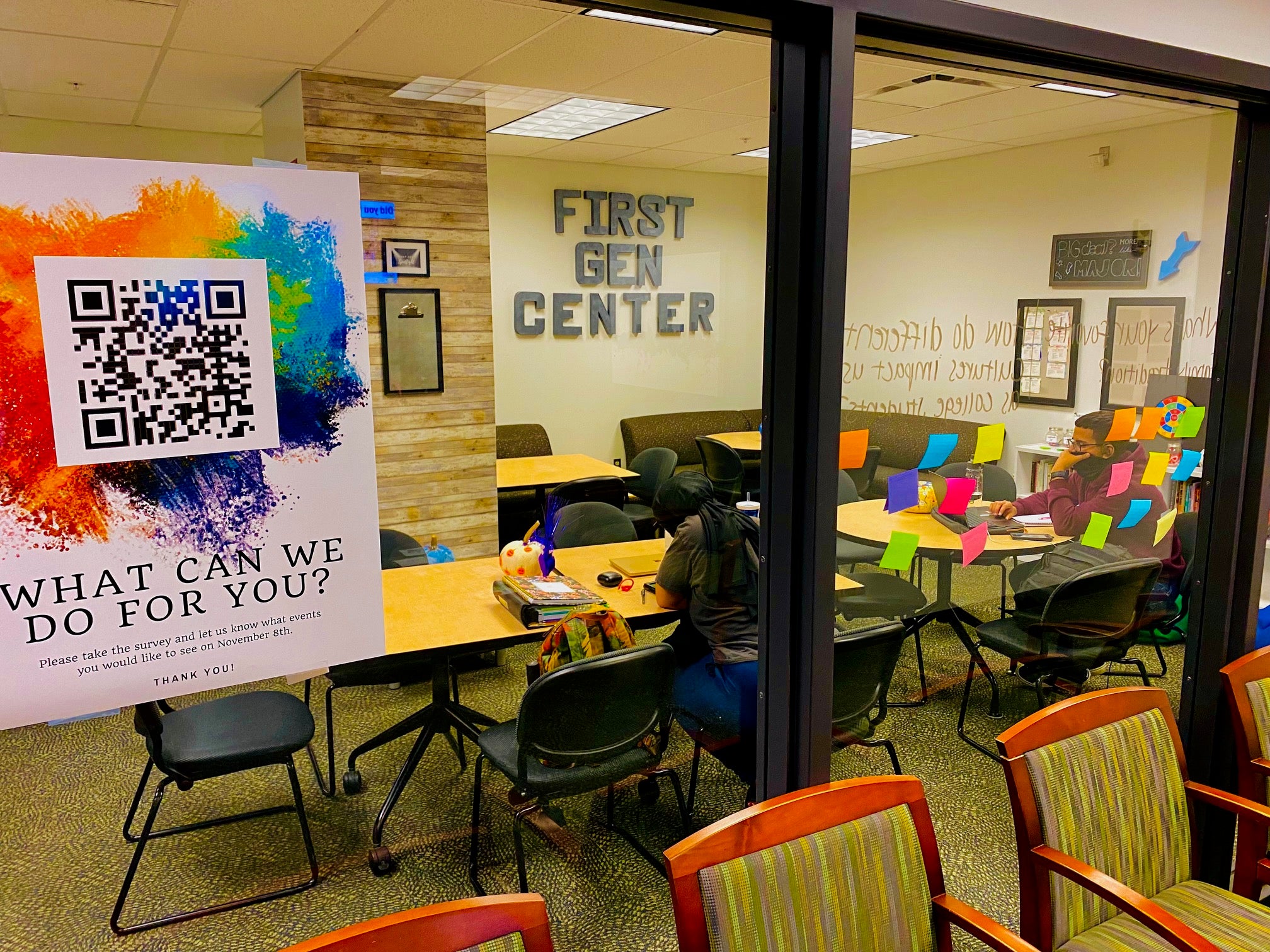 What Exactly is TRIO/SSS and How Does it Work?
TRIO/SSS is a federally funded program that supports the academic, professional and personal success of first-gens and/or Pell Grant-eligible students enrolled at CSU. Eligibility requirements outside of this initial criterion include low income based on federal income guidelines; U.S. citizenship and/or permanent legal residence and a demonstrated need for the services that TRIO/SSS provides.
The program can service a "rolling maximum" of 515 students – that is, as graduates roll out, new students roll in.
TRIO/SSS offers academic advising, professional workshops on financial aid and financial literacy, as well as graduate school and career prep/leadership training. One-on-one tutoring, success coaching, a summer enrichment program and access to cultural events and trips are also offered – all to expand a first-gen's horizons and life experiences.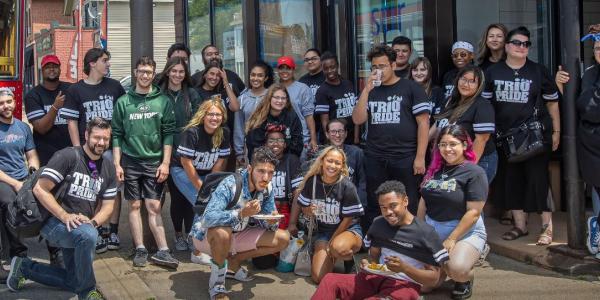 What's more, TRIO/SSS is interpersonal endeavor. Think in-person social networking, connecting like students to build social skills and friendships in a setting that teams (and teems) with positivity.  
That spirit has manifested the program's "First Gen Center," a social lounge, study hall and library formalized in 2018. Chock full of textbooks and resources on everything from diversity to social relations, the center itself bustles with a knowledge sharing and engagement not found in print.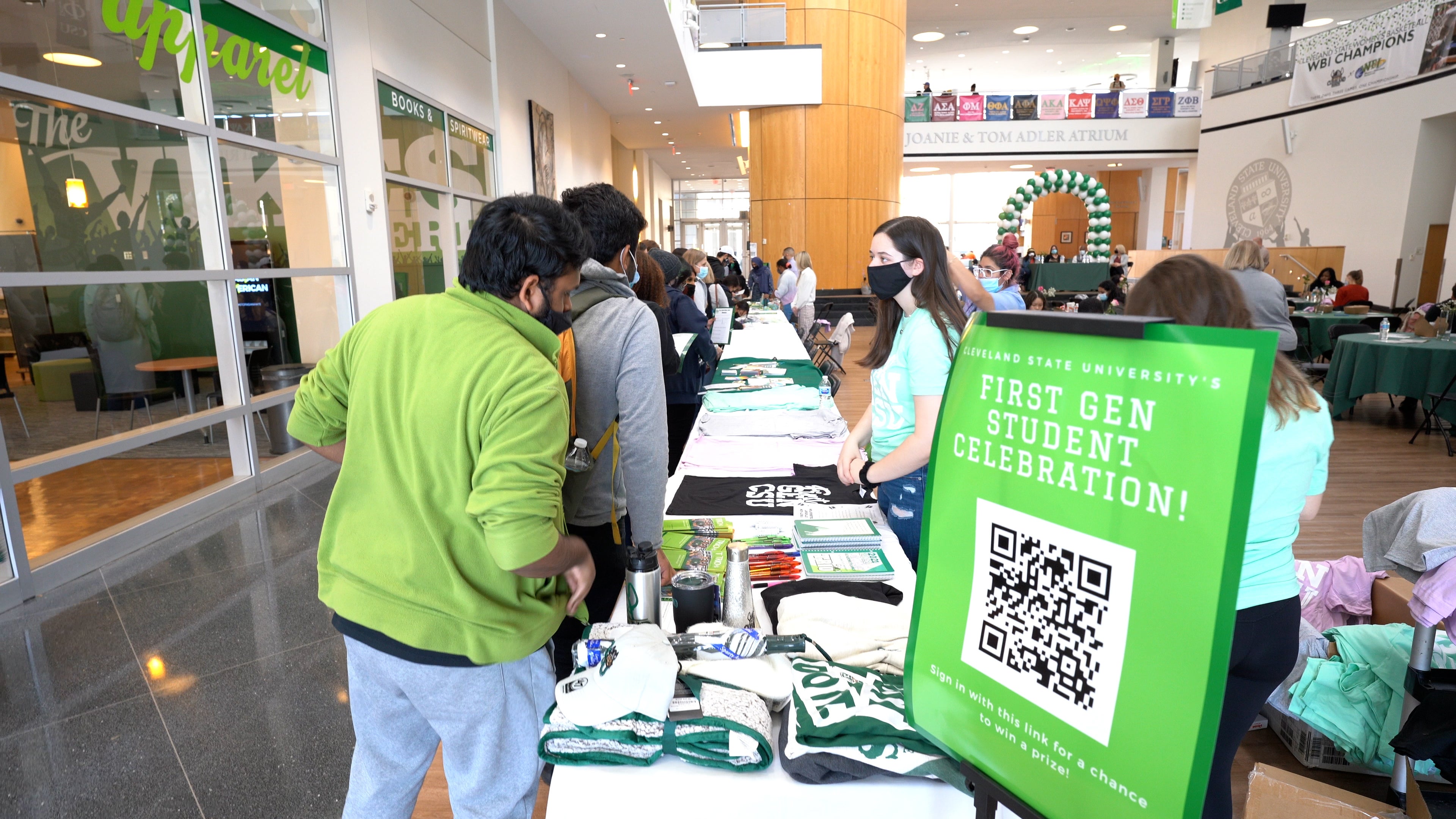 Leveling Up: It's a Steeper Climb for First-Gens
The National Association of Student Personnel Administrators (NASPA) notes that as of the 2015-16 academic year, some 56% of undergraduates nationally were first-gen college students, and 59% of these students were also the first sibling in their family to go to college. Those numbers are going up.
But there's more: a full one-third of first-gens are 30 years of age or older and, regardless of age, research shows that first-gens are also often more anxious to begin earning an income and accept job offers more quickly, but make less money and accept jobs they are overqualified, according to NASPA.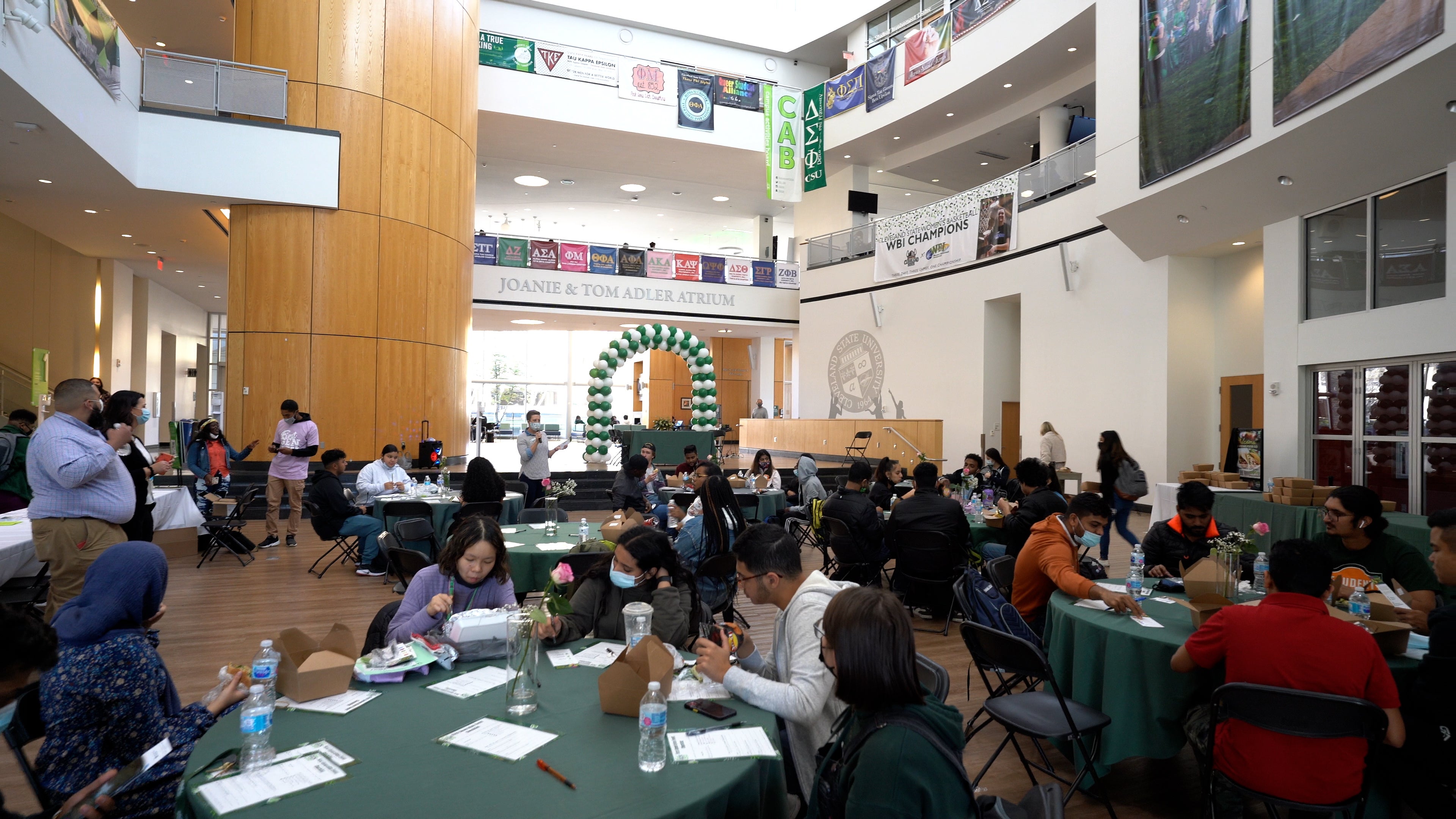 First-gens are also:
- more likely to enroll in two-year schools compared to peers (48% vs 32%);
- more likely to enroll in online courses/distance learning options compared to peers (8% vs 5%);
- less likely to complete a college degree in a six-year time frame compared to peers (50% vs 64%)
- more likely to go to college part-time rather than full-time compared to peers (48% vs 38%);
- more likely to use financial aid services, but much less likely to use health, academic advising/support services and other key offerings;
- more likely to work during off-campus hours than they are involved in extra-curricular activities.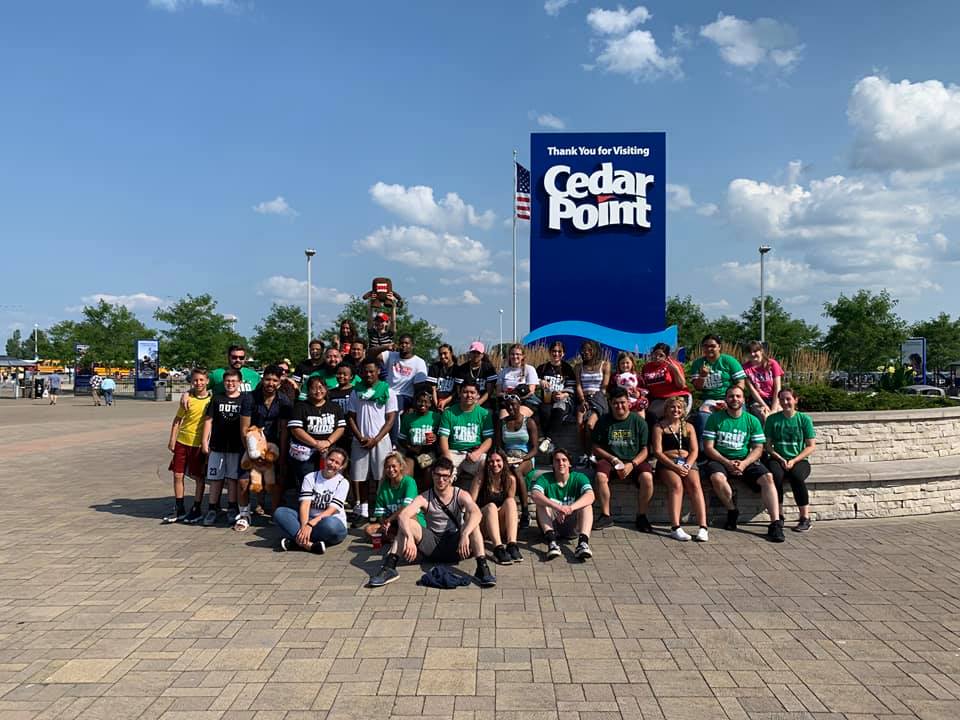 Bregu said a few short years ago, these stats and the "concept of campuses being more 'first-gen forward'" were more of a wish-list item. Now it's "more of a full-blown movement," integral to the success of colleges and universities across the country.
With over 3,000 first-gen college undergraduates at CSU alone, room for growth in support and creative synergies abound. TRIO/SSS is but one key component in a more holistic approach to first-gen student needs; partnerships with other units across CSU will expand offerings to them.    
Solving the Biggest Obstacles of All
"Being a first-gen student and an immigrant myself, I remember the questions were overwhelming: 'Where do you start?' 'How do you ask for help?' 'How do you build relationships?' Your parents may want you to go to college, but they may not know how to support you or have answers," Bregu said.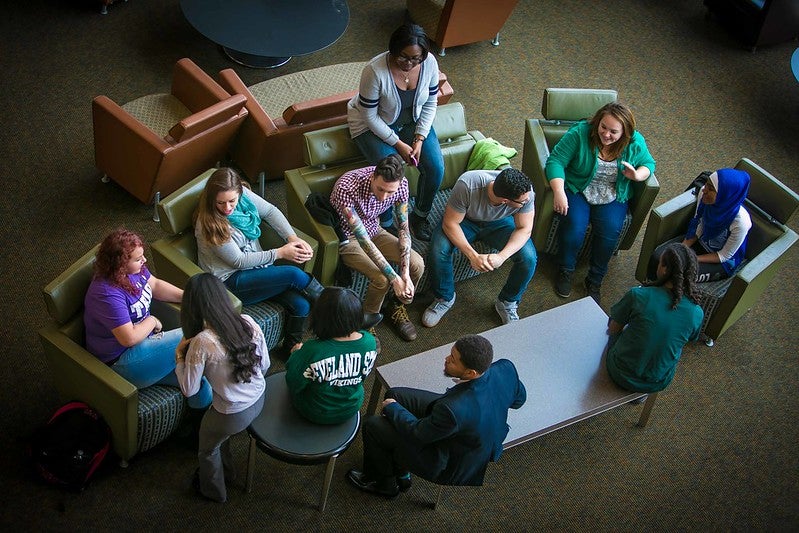 "Then there are cultural and language barriers to consider and pretty soon, you can see how 'imposter syndrome' could come on. 'Am I worthy of being here?' 'Do I really belong here?' These students want to be self-reliant, independent, but with all these questions and challenges piling up, confidence wavers and self-doubt can creep in," Bregu added.
"And that's why we're here and why we offer as much as we can."
Students (first-gen and otherwise) learned more about the TRIO/SSS and the center during the First Gen Student Celebration on Monday, November 8 in Student Center Atrium (pictured). Part of NASPA's designated "National First -Generation College Celebration," events included a "First-Gen Panel Discussion," storytelling and finance sessions, networking, an open mic for karaoke and poetry, food, prizes and more. With as much as TRIO/SSS has to offer first-gens, Bregu said that the event, like the program, recognizes that all some students need sometimes is a friendly face and someone to talk to.
"First generation students are here to stay and they're going to change the world," Bregu said. "They bring their own story and perspective that only a diverse community can provide. We want to make sure that they understand that they belong here. They're here for a reason, and we're here to support them every step of the way."
Learn more about TRIO/Student Support Services and the First Gen Center by clicking here.