Posted on February 19, 2019 at 11:21 AM, updated February 19, 2019 at 11:21 AM Print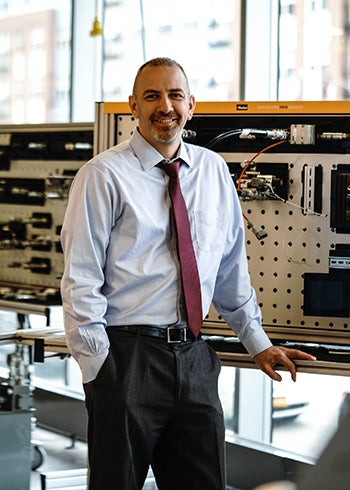 Bogdan Kozul joined the Washkewicz College of Engineering as an assistant professor of practice in the Department of Mechanical Engineering for the 2018-19 academic year. He manages the Parker Hannifin Motion Control Laboratory for Fluid Power Systems in Washkewicz Hall. The lab seeks to provide students with the skills needed to innovate, design and build the motion control systems used in manufacturing, automation, aerospace, construction and marine applications. 
Professor Kozul encourages students to work in teams and manage their design projects or conduct research on trending technologies in motion control applications. This experience reinforces engineering theory learned in the classroom and assists students in finding career opportunities that resonate with their intellectual curiosity. Industrial partners support students with design expertise along with the hardware, software and controls used by thousands of the leading engineering companies across the globe.
Professor Kozul was previously the group manager of technical training at Parker Hannifin. He started his career at BFGoodrich, where he supported engineering, operations and production of landing gear for military and commercial applications. He holds a BSME from Cleveland State University and an MBA from Case Western Reserve University.