Posted on February 1, 2023 at 3:10 PM, updated February 2, 2023 at 1:32 PM Print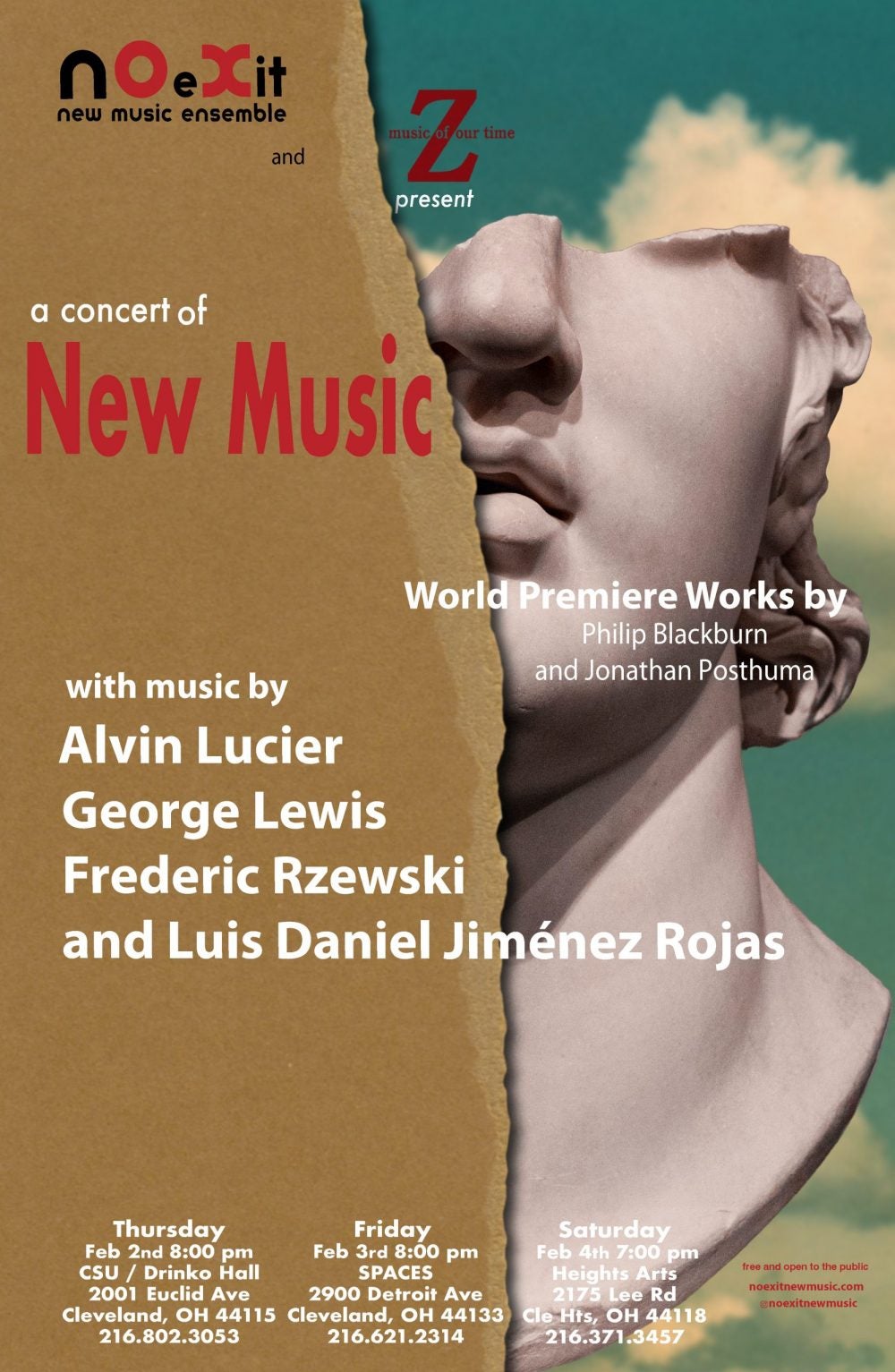 After a three-year, pandemic-induced hiatus from performing live together, the musical ensembles No Exit (Cleveland, OH) and Zeitgeist (St. Paul, MN) will once again share a stage to present an evening of enlivening experimental music.
The critically-acclaimed No Exit, which features members of the Cleveland State University School of Music faculty, will co-headline with Zeitgeist at CSU's Drinko Hall, 2001 Euclid Ave., Cleveland on Thursday, February 2 at 8 p.m. For the safety of all present, masks are recommended. 
The joint program, titled "Here and There 2023 in Cleveland" is a part of a six-date/two-city tour collaboration and will include brand new world premiere works along with avant-garde music from the not-so-distant past. Works from Philip Blackburn, Alvin Lucier, Luis Daniel Jiménez Rojas, Frederic Rzewski, Jonathan Posthuma and George Lewis will be a part of the no-cost, open to the public musical event. A second night of this collaborative performance event will take place at Heights Arts, 2175 Lee Road, Cleveland Heights on Saturday, February 4 from 7 - 9 p.m.
In between these two dates, No Exit and Zeitgeist will present a one-night-only intimate and unique program at SPACES Gallery, 2900 Detroit Ave., Cleveland on Friday, February 3 This concert will feature original composition by Kaija Saariaho, James Praznik, Luke Rinderkencht and George Lewis, in addition to a masterful arrangement by pianist Rob Kovacs (a.k.a. Cleveland's own 88-bit) of Rob Fuller's score for the classic video game, Marble Madness.
Three additional dates, entitled "Here and There 2023 in St. Paul," are scheduled for later this month. They will reflect the programs held on February 2 and 4, not the SPACES programming. For more information, visit No Exit's Homepage and the CSU School of Music Homepage.