Posted on September 29, 2021 at 3:09 PM, updated October 11, 2021 at 3:29 PM Print
Rockwell Automation Connected Enterprise Laboratory opens at CSU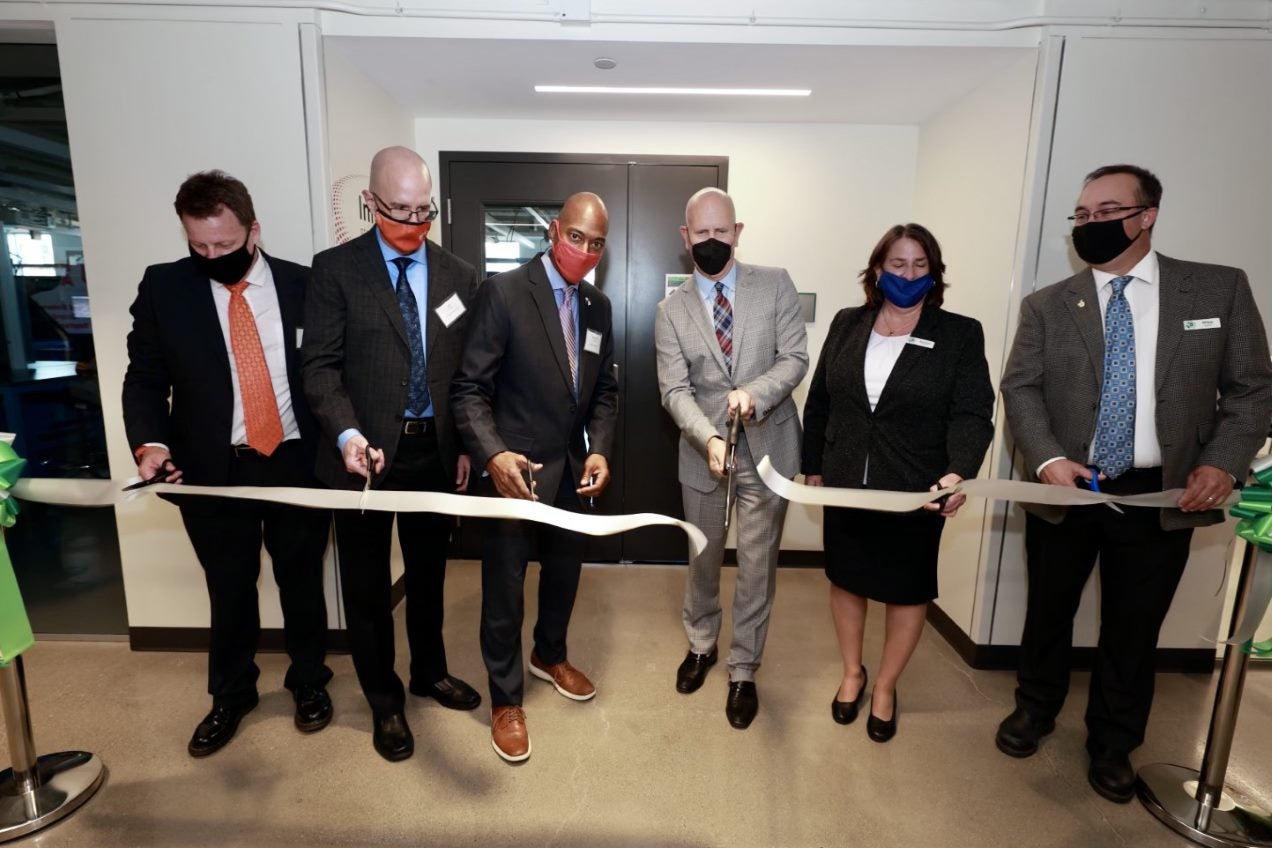 Washkewicz College of Engineering at Cleveland State University hosted a ribbon cutting and grand opening reception for the Rockwell Automation Connected Enterprise Laboratory on September 28.
The high-tech, hands-on lab is a an ultra-modern learning environment, one designed by Rockwell Automation with the express intent to provide access and instruction to students on practical equipment used across many industries. The lab is located on the third floor of Washkewicz Hall at 2300 Chester Avenue.
Attendees included Rockwell Automation leadership, the Washkewicz College Visiting Committee, CSU Foundation members and university  faculty, staff and leadership. CSU President Harlan Sands was also on hand to take part in the event.
Rockwell designed the state-of-the-art facility and selected CSU as the beneficiary of the donation "based on relationship history, mutually inclusive and diverse cultures, academic synergies and prominent positions in serving regional industries."
"The relationship with Rockwell Automation goes back many years, beginning with the industrial automation lab. This is a long-term partnership with CSU, first established in the late 90s," said Joanne Belovich, Ph.D., interim dean of the College of Engineering.
Belovich acknowledged Rockwell's Marzell Brown, manager of IOT, engineering-academic enablement; Jeff Petro, senior manager of business operations, software and control; and Michael Cook, director of global partnerships, as "key to the design and installation of the lab."
"Our goals are really the same: to provide updated equipment for our students to learn the newest and best technologies, and to graduate students with skills that could be applied to many industries and employers, including Rockwell Automation."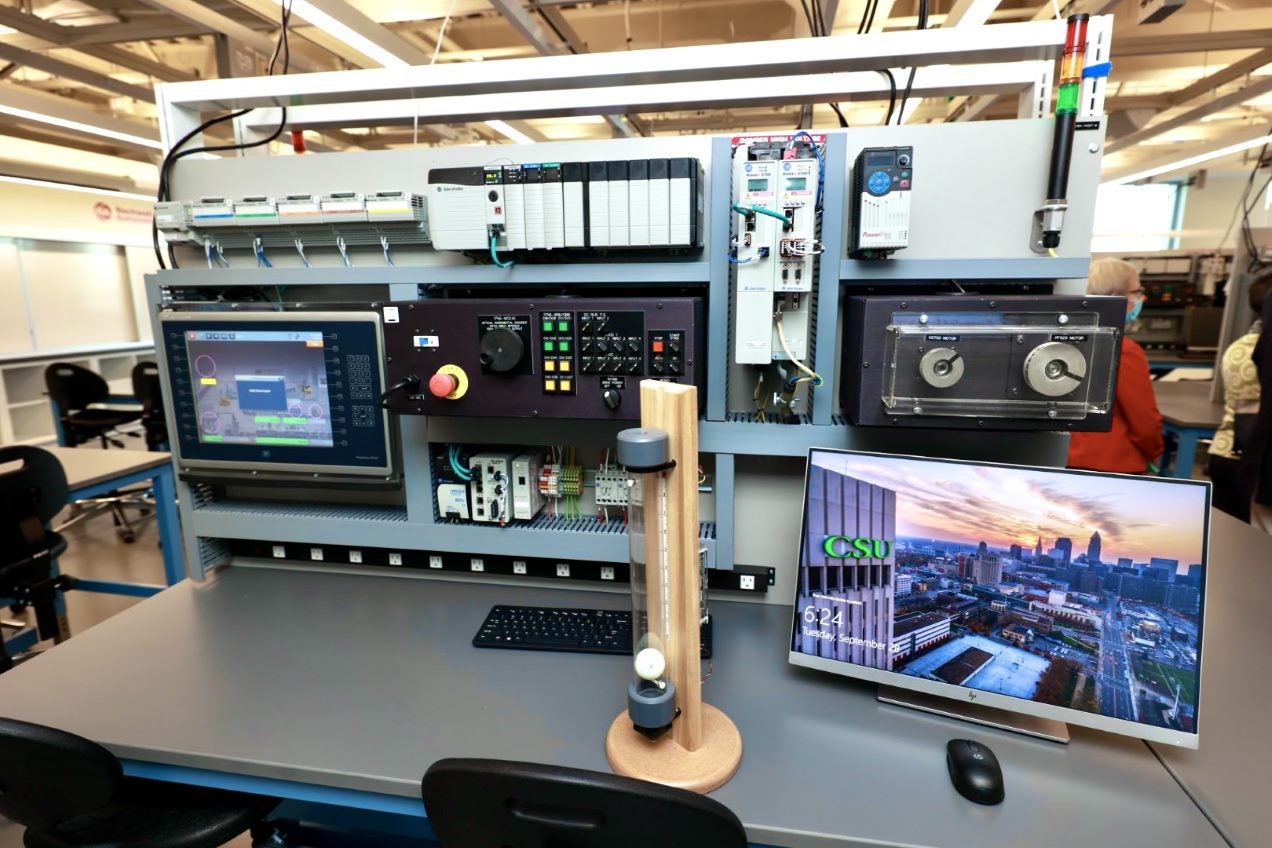 Lab to Help Produce 'Ready-to-Go' Engineers
Rockwell Automation Connected Enterprise Laboratory includes a lecture space full of cutting-edge electronic teaching tools, programmable logic controllers, human-machine interfaces, the "cloud" and more.
With 14 workstations accommodating 28 students, the lab's automation equipment and programming environment allows students to write code, upload it to controllers, wire inputs and outputs, and then utilize the system to control and automate a wide range of applications in real time.
The controllers can also talk to each other and other labs at the university and beyond via the cloud.
Advances in automation, controls and robotics have driven demand for new types of technological and solution-based skillsets. With the new lab, CSU students (and their potential employers) only stand to benefit from this developmental access.
Belovich touted the lab as "fully Industry 4.0, connecting manufacturing with automation and the industrial Internet of Things."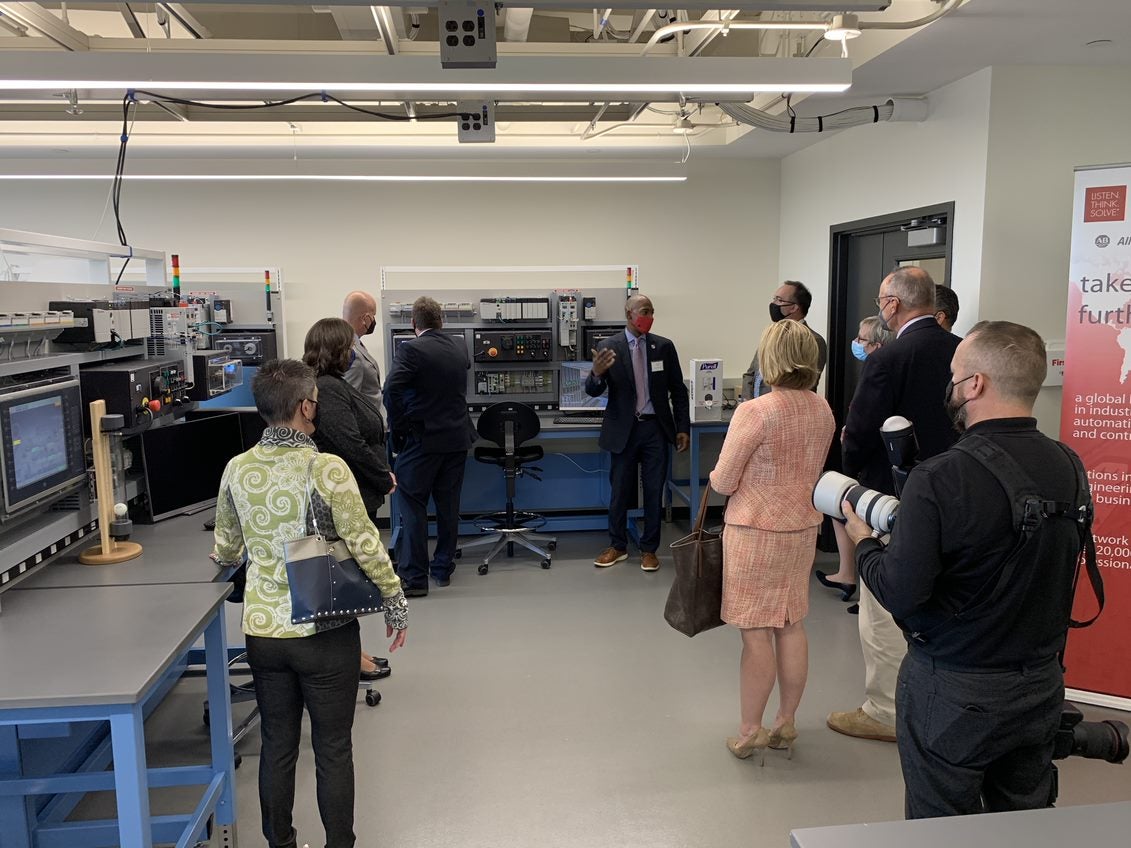 "This hands-on facility is the newest component to fulfill our mission in producing ready-to-go engineers," she added, noting that innovations found in the lab will impact "everything from automotive and aerospace manufacturing, to food and pharmaceutical processes."
Michael Adams, Ph.D., chair and associate professor of Engineering Technology, will be the point-person to work with Rockwell to ensure the lab continues to operate well, and will establish lab-centric curricula across all College of Engineering departments.
CSU 2.0 meets Industry 4.0
"Our strategy is to bring Connected Enterprise to life," said Petro, an executive sponsor to CSU since 2014 who earned his MBA at the university. "That's done with great employees who want to do their best work, and [partnering] makes the world more productive and sustainable for everyone."
Petro sees building sustainable careers as a critical "key milestone" for the CSU/Rockwell partnership.
"This is an opportunity for all engineering students – freshman to seniors, to MC2 and STEM high school students – to do their best learning about automation, advanced manufacturing and robotics," he added, acknowledging the partnership through the lab will provide many with career opportunities they might not otherwise have.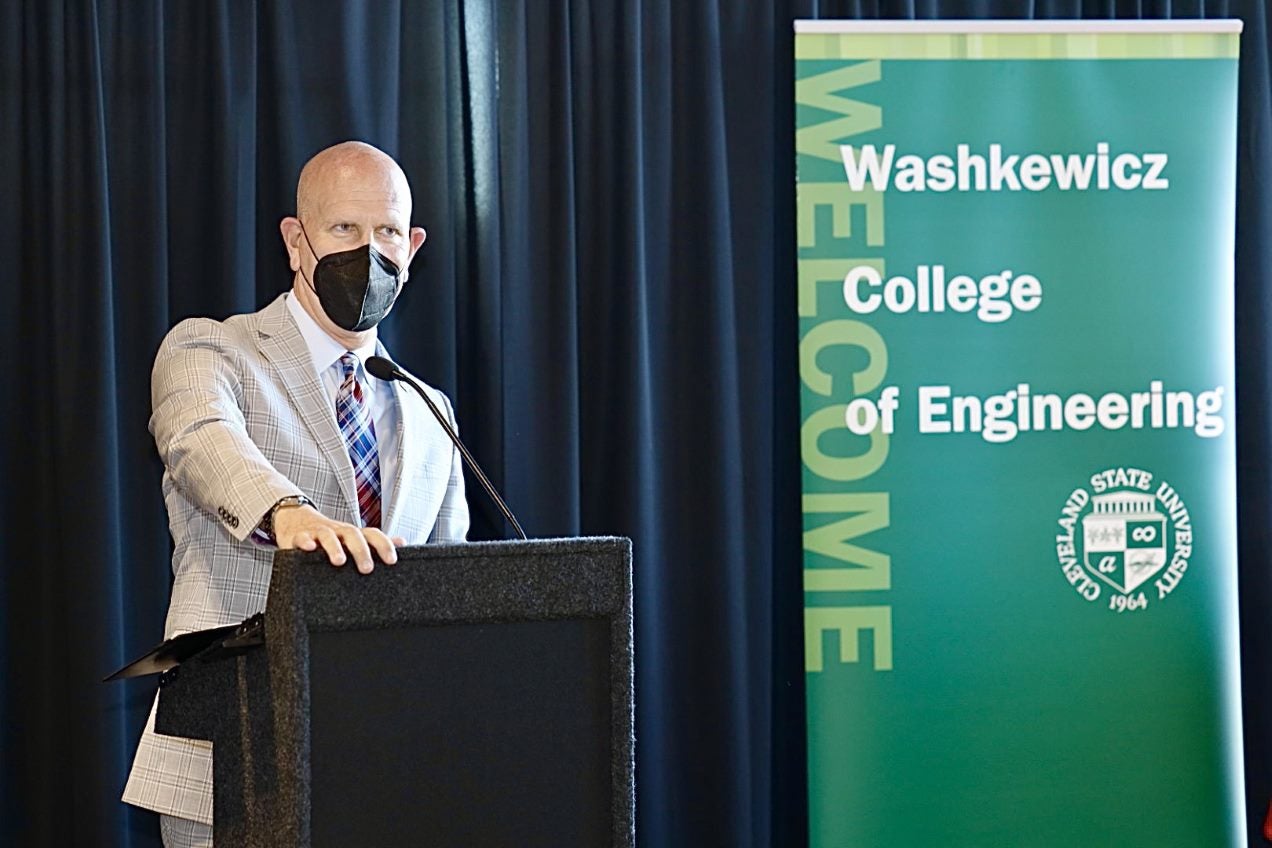 President Sands agreed with Petro in his remarks to the audience, adding that partnerships and hands-on learning that CSU students get in campus labs really makes a difference in producing quality talent, and is a key to why graduate enrollment has increased at CSU, despite the pandemic.
"That's who we are at Cleveland State," Sands finalized.
"When leaders of colleges and schools engage in great creative partnerships with the business community… and with Rockwell investing in us and our students, that creates momentum. This is a proud day for CSU."