Posted on March 24, 2017 at 9:58 AM, updated March 24, 2017 at 9:58 AM Print
Three-decade career includes head coaching stints at Georgia and Western Kentucky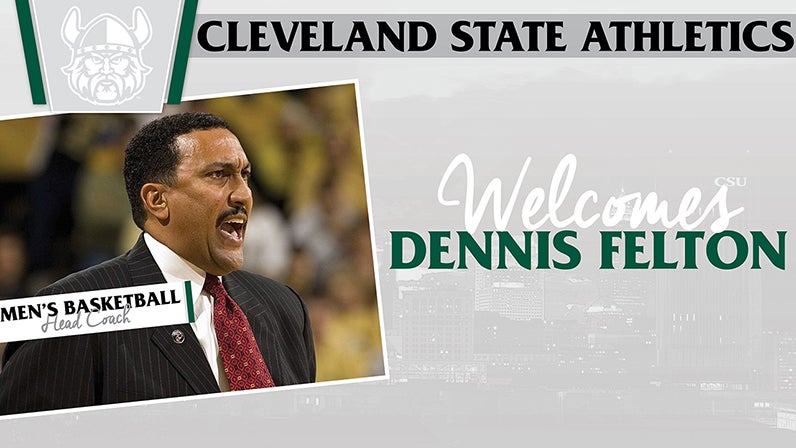 Cleveland State University has appointed Dennis Felton, a coaching veteran with more than 30 years of experience, as the 15th head coach of the CSU men's basketball program. Felton previously served as the head men's basketball coach at the University of Georgia and Western Kentucky University. He was the assistant head coach at the University of Tulsa for the last three years.
Felton will be officially introduced at a press conference at 2:00 p.m., on Monday, March 27 in the CSU Student Center Ballroom, 2121 Euclid Avenue, third floor.
"We are very pleased that Dennis Felton will be joining the CSU community and I look forward to cheering on our Vikings as he leads them back to the top of the Horizon League standings," says Ronald M. Berkman, president of CSU.
"Dennis Felton has a championship pedigree and has coached and recruited at the highest level," says Mike Thomas, director of athletics at CSU. "He will be an outstanding leader for the student-athletes in our basketball program, on the court, in the classroom and in the community."
During his three seasons at Tulsa, the program won 59 games and earned two postseason berths, including an NCAA tournament appearance in 2016. In his first season at Tulsa, Felton helped usher the program's move up to the American Athletic Conference from Conference USA, as well as a bid to the NIT.
At Georgia from 2003-09, Felton led the program to the 2008 SEC tournament title and a berth in the NCAA tournament. As the head coach at Western Kentucky from 1998-03, he led the squad to six straight conference championships and three consecutive NCAA tournament appearances (2001-03), while also having a 100-percent graduation rate.
Prior to joining Tulsa, Felton spent four years in the National Basketball Association, including serving as director of pro player personnel for the San Antonio Spurs from 2010 to 2013.
"I'm extremely excited to return to the head coaching ranks with this opportunity at Cleveland State University," Felton said. "I'm grateful to Dr. Berkman and Mike Thomas for the opportunity to lead this program. Cleveland State is an outstanding University that continues to grow in stature on the national landscape. I'm eager to start working with our players to build a championship program and getting out to share my vision of how we plan to partner with the entire community to do special things at Cleveland State."
A star athlete at Surrattsville (Md.) HS in Clinton, Md., Felton played at Prince George's CC in Largo, Md. He completed his athletic and academic careers at Howard University, where he was a Mid-Eastern Athletic Conference All-Academic selection. He is a cum laude graduate of Howard (1985) with a degree in radio/television and film production.
Felton and his wife, Melanie, have two sons; Jazz and Nile.
COACH FELTON INTRODUCTION
Date: Monday, March 27, 2017
Time: 2:00 pm
Location: CSU Student Center Ballroom (3rd Floor)
SCHEDULE OF EVENTS
CSU President Dr. Ronald M. Berkman remarks, introduction of CSU AD Mike Thomas
CSU AD Mike Thomas remarks, introduction of Head Coach Dennis Felton
Head Coach Dennis Felton remarks
Open media question period for Coach Felton at the podium