Posted on May 8, 2019 at 3:15 PM, updated May 9, 2019 at 11:24 AM Print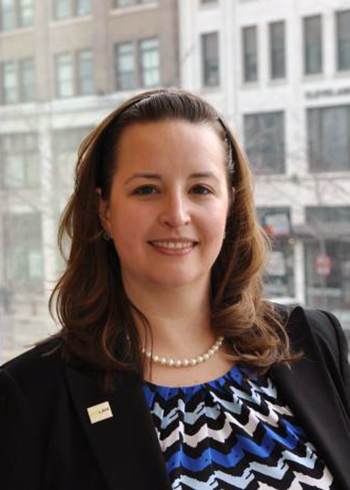 Heather DiFranco, director of the Office of Career Strategy and Employment at Cleveland State University's Cleveland Marshall College of Law, has received the 2019 President's Award from the National Association for Law Placement (NALP). 
The NALP President's Award is awarded at the discretion of the outgoing NALP President to honor a NALP member who has made significant contributions to the profession. This year, outgoing president, Melissa Lennon, announced at the Annual Education Conference that she chose DiFranco to receive the award. 
DiFranco has served NALP in various roles over the years, including a two-year term as a member of the Board of Directors. For three years, she spearheaded NALP's outreach efforts with the American Bar Association (ABA) specifically as it relates to changing ABA protocols on employment data collection and reporting.
"Heather has gone above and beyond the call of duty for a very long time," Lennon said. "In the face of many challenges, she remains a kind, supportive and lovely human being, and this President's Award honors Heather's devotion to consistent improvement, single-minded attention to the smallest of details and faithful servant to the entire American law school community."
Within the Office of Career Strategy and Employment, DiFranco helps provide job seekers with comprehensive career planning and job search strategy guidance to help them achieve their professional goals. She also works with employers to help them identify talent and connect them to qualified professionals for their hiring needs.
"We're very proud of Heather's professional accomplishments on the national level," Lee Fisher, Cleveland-Marshall College of Law dean, said.