Posted on December 12, 2018 at 12:26 PM, updated December 12, 2018 at 12:26 PM Print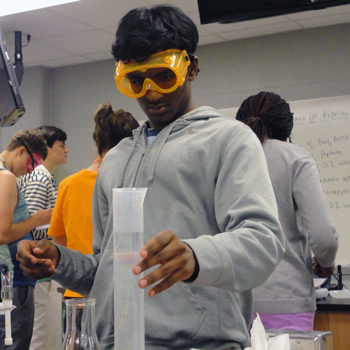 Cleveland State University's Science, Technology, Engineering, Math and Medicine (STEMM) Education Center worked with a trio of schools to help them earn official STEM school designation from the state of Ohio. Gesu Catholic School in University Heights, Boulevard Elementary School in the Cleveland Heights-University Heights City School District and Orchard STEM School in the Cleveland Metropolitan School District were all selected as part of the Ohio STEM Learning Network (OSLN) Class of 2018.
The Center partnered with the three schools to provide STEM professional development activities around project-based instruction, access to CSU faculty in various science and technology disciplines and opportunities to participate in additional networking activities offered across the region. All three schools were also invited to attend in the STEM Education conference at CSU in June where teachers from schools across Northeast Ohio shared project-based instruction projects and best practices. The goal of the effort was to better prepare each institution for assessment by the state as part of the designation process. 
STEM school selection recognizes an institution's holistic approach to STEM learning as more than just science, technology, engineering and math. This includes showing exceptional proof of engagement across academic disciplines; empowering students as creative problem-solvers and a school-wide commitment to quality STEM education for all students. 
The STEMM Education Center includes faculty members from the College of Education and Human Services, College of Science and Health Professions and the Washkewicz College of Engineering, and provides a mechanism for connecting STEMM education efforts across campus in one location. It seeks to design, develop, and research innovative STEMM education programs that leverage partnerships to improve overall academic achievement.