Posted on March 8, 2017 at 2:29 PM, updated March 10, 2017 at 8:40 AM Print
NSF grant will establish new Research Experience for Undergraduates site on campus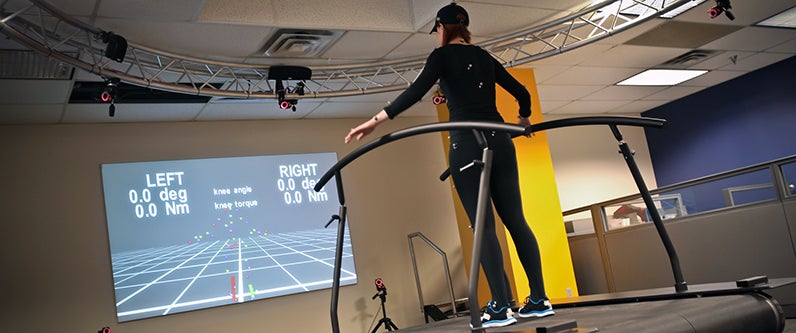 Through a new grant from the National Science Foundation, Cleveland State University is working to enhance rehabilitative technology while providing unique learning experiences for students. The Rehabilitation Engineering at CSU (RE@CSU) program will seek to create an immersive experience in rehabilitation research, increase and diversify the population of engineering and computer science students in rehabilitation engineering and improve the quality of life for individuals with limited mobility. The program is part of the NSF's Research Experience for Undergraduates initiative.
"Rehabilitation engineering is a rapidly evolving field as new computer and sensor technologies greatly expand the opportunities to improve mobility and accessibility for individuals suffering from numerous injuries and illnesses," notes Eric Schearer, assistant professor of mechanical engineering at CSU and co-director of the program. "This initiative will seek to increase the number of individuals entering this dynamic field while also helping to advance the quality and use of a host of rehabilitative technologies."
The program, which is co-led by Ann Reinthal, CSU associate professor of health sciences, will recruit undergraduate student engineers and scientists from all around the country with a focus on individuals with disabilities, students from underrepresented minority groups, and students from institutions that do not grant doctoral degrees in engineering. Participants will have the opportunity to model, design, and build human and mechatronic systems, as well as develop intelligent control systems, track human motion with various sensors, and interact with clinicians and patients. Students will also present their research at technical conferences around the country and a mini-conference for students at MC2STEM high school, which is housed on the CSU campus.
The NSF's Research Experiences for Undergraduates program supports active research participation by undergraduate students in a host of fields including biological sciences, geosciences and engineering. REU projects also focus on improving opportunities for underrepresented groups as well as opportunities to disseminate research findings in professional conferences.
For more information about RE@CSU, visit https://www.csuohio.edu/engineering/recsu/recsu.
###