Posted on October 1, 2012 at 12:00 AM, updated July 5, 2013 at 10:01 AM Print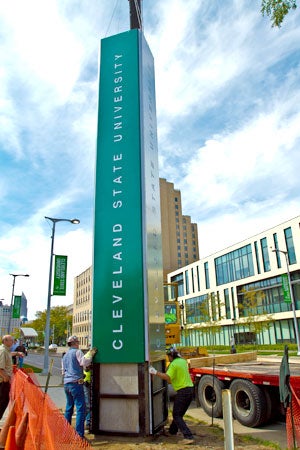 Cleveland State University is ready to shine. Literally.
The University's new Tower of Light was erected today on Euclid Avenue. As a crowd gathered to watch, a crane carefully lowered the 30-foot-tall landmark into place on the easternmost edge of campus, near Euclid Commons.
"CLEVELAND STATE UNIVERSITY" is written in white on the structure's four sides, two of which are painted green and two of which are brushed stainless steel. During special occasions such as homecoming and commencement, a powerful spotlight inside the tower will send a beam of light 2,000 feet into the sky.
The lighting system is expected to be operational by next week.
The Tower of Light was designed by flourish, Inc., the Cleveland advertising and marketing agency, and fabricated by LP Design Group of Medina.