Posted on August 31, 2017 at 9:39 AM, updated September 5, 2017 at 10:29 AM Print
University awarded STARS Silver rating from AASHE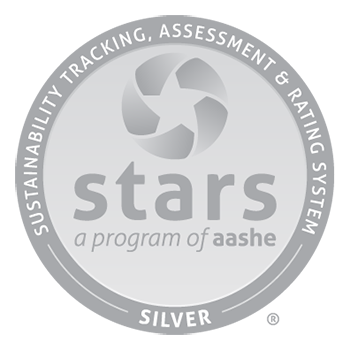 Cleveland State University has earned a STARS Silver rating in recognition of its sustainability achievements from the Association for the Advancement of Sustainability in Higher Education (AASHE). STARS, the Sustainability Tracking, Assessment & Rating System, measures sustainable performance in academics, engagement, operations, administration, and leadership.
"CSU is committed to pursuing sustainable goals in all areas of the University and we are proud to have received a Silver rating. It's one more way to show the  progress we have made in making our campus and community a better place to live and work," says Jennifer McMillin, Director of Sustainability at CSU.
Some highlights of CSU's achievements from the STARS submission include:
CSU has recorded a 35.5 percent reduction in GHG emissions and a 25 percent reduction in potable water use, per weighted campus user, since 2005.
99.65 percent of construction and demolition materials from the construction of CSU's CIMP building were diverted from landfills through recycling, reuse and other forms of recovery.
Nearly 86 percent of CSU's electronic product purchases are EPEAT Gold registered.
CSU's STARS report is publicly available at https://stars.aashe.org/institutions/cleveland-state-university-oh/report/2017-06-15/.
More than 400 institutions have earned a STARS rating, making AASHE's STARS program the most widely recognized framework in the world for publicly reporting comprehensive information related to a college or university's sustainability performance.
"STARS was developed by the campus sustainability community to provide high standards for recognizing campus sustainability efforts," said AASHE Executive Director Meghan Fay Zahniser. "CSU has demonstrated a substantial commitment to sustainability by achieving a STARS Silver Rating and is to be congratulated for their efforts."
Unlike other rating or ranking systems, this program is open to all institutions of higher education, and the criteria that determine a STARS rating are transparent and accessible to anyone. Because STARS is a program based on credits earned, it allows for both internal comparisons as well as comparisons with similar institutions.
"Participating in the STARS program has allowed us to thoroughly and accurately benchmark our performance across a wide range of areas," adds McMillin. "This will allow us to set ambitious goals for the future and ensure that we can measure our progress and share our successes with our community."
###