Posted on August 28, 2017 at 10:28 AM, updated August 28, 2017 at 5:20 PM Print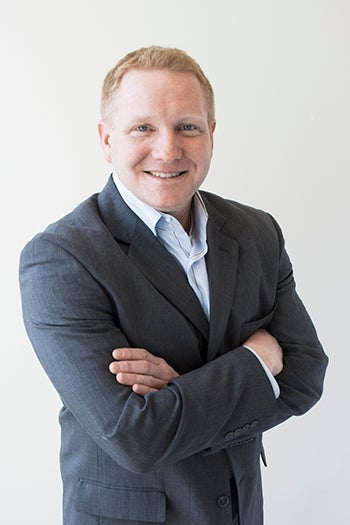 Brian Ray, professor of law at Cleveland State University's Cleveland-Marshall College of Law, is one of three Outstanding Educator honorees in the inaugural SC Media Reboot Leadership Awards. Thirty-nine awardees across a range of professional categories were selected as part of a special editorial section at SCMagazine.com on Wednesday, August 22, 2017.
The award recognizes Professor Ray's work with the Center for Cybersecurity and Privacy Protection at Cleveland-Marshall, which he directs and co-founded with Professor Candice Hoke in 2016. The Center has received accolades for its innovative programming that brings together national, state and regional leaders to identify solutions that integrate legal, managerial and technical approaches to managing cyber and privacy risks. The Center hosts an annual conference, and was the site for the RNC Cybersecurity Forum. In October, the Center will host a K-12 Cybersecurity Forum.
The Center's curriculum is equally impressive, offering students several leading-edge programs including two concentrations in Cybersecurity and Privacy; a Cybersecurity Practicum that gives law students hands-on experience with a live threat-hunting platform; and a soon-to-be-launched interdisciplinary Cybersecurity Master of Science program that will be one of only two programs in the country integrating technical, legal and business approaches into a single degree. 
"Professor Ray's tireless work building the new Center has positioned CMLAW and Cleveland State University as a leader in cybersecurity," said CMLAW Dean Lee Fisher. "His integrative approach prepares our students to practice in these rapidly growing fields and become leaders themselves."
Designed and launched to showcase and acknowledge industry luminaries who are positively impacting and advancing the cybersecurity arena, the awards program is an extension of SC Media's annual Reboot edition. In that end-of-the-year special, which is both published in magazine form and in an exclusive, expanded section at SCMagazine.com, the almost 30-year-old brand's editorial team identifies the best and brightest cybersecurity professionals and their many achievements.
This first year of the SC Media Reboot Leadership Awards categories included:
Influencers
Thought Leaders
Threat Seekers
Chief Information Officer/C-Suite
Chief Privacy Officer
Outstanding Freshman
Outstanding Educator
Rising Stars
The contenders who entered to be considered for these various categories faced a thorough judging process conducted by SC Media's editorial team that included a review of their professional backgrounds, references and work undertaken to benefit the wider industry, as well as any other research deemed necessary by editorial leaders. Honorees finally decided in each category by the team have been called out for their outstanding service, qualifications and advancements in the cybersecurity industry.
"Professor Ray exemplifies leadership in one of the most vibrant and fast-evolving industries today," said Teri Robinson, executive editor, SC Media. "That's what this awards program is all about – highlighting some of the strongest leaders of the cybersecurity arena whose efforts more often than not underpin every business and leisure activity we all undertake online nowadays. The advances made in this marketplace to protect data, privacy and people are vital to all that we do."
###