Posted on December 10, 2014 at 10:32 AM, updated December 10, 2014 at 10:32 AM Print
Three of the six individuals who have served as president of Cleveland State University recently came together for a historic discussion as part of CSU's 50th anniversary celebration.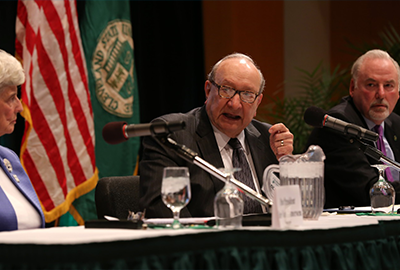 President Emerita Claire Van Ummersen (1993-2001) and President Emeritus Michael Schwartz (2001-2009) joined President Ronald M. Berkman on November 13 in Drinko Hall. Moderator Russ Mitchell of WKYC TV put this question from the audience to the panelists:
Will universities in 2050 look anything like they do now?

Read more on CSU's ENGAGED blog.