Posted on January 28, 2020 at 10:15 AM, updated January 28, 2020 at 10:22 AM Print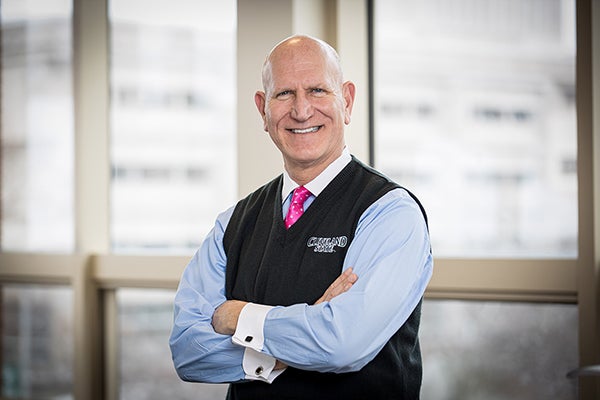 Cleveland State University President Harlan M. Sands delivered the keynote address at an advanced seminar of the National Federation of Municipal Analysts on January 23 in Los Angeles. The seminar, entitled "Higher Education: Sector Under Stress," brought together bond analysts and ratings agencies that follow public colleges and universities for a deep dive into challenges and opportunities across the sector.
Sands presented a frank assessment of challenges facing public higher education across the nation and in the state of Ohio, then provided a blueprint on how these challenges also offered unique opportunities for urban research universities like Cleveland State. 
Sector "stressors" discussed included:
Disinvestment in public higher education over the past 15 years; funding across the country remains at or below pre-recession levels 
Demographic changes that mean substantially fewer students will enter college over the next decade. For Ohio, this could mean a 12% decline in the number of high school graduates by 2031.
Misperceptions that job sector demand for four-year degrees is declining 
Concerns about expanding student debt
Real economic cost of low student retention and high transfer rates
Unchecked tuition discounting with little understanding of impact on university financials 
Institutional inability and/or resistance to re-allocating funds internally
Despite challenges, Sands is bullish on the outlook for institutions like CSU if they continue to promote access, affordability, a strong price-value proposition and the urban connection to experiential learning and jobs upon graduation. By advancing CSU's brand as Cleveland's only public research university, doubling down on innovative student success programs like individualized coaching and continuing to promote its competitive edge in established and new program offerings – all in a place where each students' living-learning lab is the city of Cleveland – Sands believes CSU will grow and expand its reach.
Sands outlined key initiatives that will expand opportunities for CSU students, including "cradle to career" student lifecycle management, commitment to student retention through innovative programs and support services that lead to graduation, a $1 million increase in need-based aid and greater international recruitment through its initiative, CSU Global. Sands also pointed to strong partnerships with three local community colleges for joint enrollment programs to fast-track students in high-demand career fields. Additionally, he expressed a commitment to look across the university's entire operations to channel resources to services and academic programs that directly support students' success throughout their educational experience and into their future careers.
Sands noted that CSU recently welcomed its largest freshmen class ever, and that applications and enrollment trends clearly show that CSU is now a first-choice university for Northeast Ohio, across the state and internationally.
In closing, Sands said that the keys to success for CSU in responding to the challenges facing public higher education are: "be proactive in addressing our challenges, creative in driving growth and open to redefining ourselves to meet current and future needs of students, employers and our community."
###