Posted on April 4, 2017 at 11:02 AM, updated April 4, 2017 at 4:11 PM Print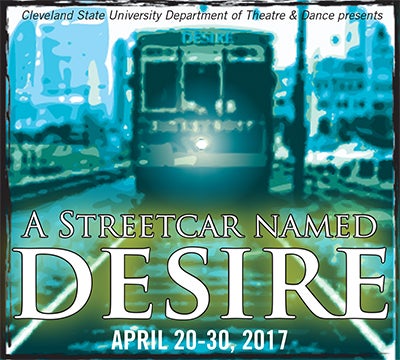 Cleveland State University's Department of Theatre and Dance, a Resident Company of Playhouse Square, closes its 2016-2017 season with the Tennessee Williams classic A Streetcar Named Desire. Playing the Helen Rosenfeld Lewis Bialosky Lab Theatre in the Allen Theatre Complex, April 20-30, this definitive American drama is guest directed by Dobama Theatre Artistic Director Nathan Motta.
A Streetcar Named Desire is considered one of the greatest plays written for the American theatre. It is a timeless piece about delusion, reality, madness, love, and loss. Set in a small garden apartment in 1940s New Orleans, Stanley Kowalski's primitive desires violently clash with Blanch Dubois' longing for a past which may or may not have ever existed. Immortalized by the film starring Marlon Brando and Vivien Leigh, this iconic play blends grittiness and lyricism to create some of the most memorable and heart-wrenching characters ever created.
"Streetcar is one of the greatest treasures in our theatrical canon," says Motta. "I'm looking forward to collaborating with CSU students and staff to create a production that rejects the treatment of this play as a period, antiquated, museum piece, but rather presents a relevant, urgent piece of epic, intimate theatre."
The all CSU Cast includes Nick Earl as Stanley Kowalski, and Jamie Satterfield as Blanche Dubois.
Shows run Thursdays through Saturdays at 7:30 p.m., as well as Sundays at 2 p.m. $10 General Admission Tickets are available by calling 216.241.6000, visiting playhousesquare.org, or at the State Theatre Ticket Office, located at 1519 Euclid Avenue, Cleveland, OH 44115. Tickets are also available 60-minutes prior to performances at the Allen Theatre Complex. CSU Students, Faculty and Staff can purchase one $5.00 ticket per valid CSU ID presented at time of in-person purchase.
###