Posted on April 8, 2019 at 9:48 AM, updated April 8, 2019 at 5:39 PM Print
Executive Associate AD at Kansas State brings track record of integrity, program growth, and student-athlete success 
After an intensive national search, Cleveland State University has announced the appointment of Scott Garrett as its seventh Director of Athletics. Garrett comes to CSU after nine years at Kansas State University, where he was the senior athletic administrator overseeing business operations, fundraising, coaching evaluations, fan experiences, and student-athlete well-being. At CSU, Scott will provide leadership and oversight for all of CSU's 18 NCAA Division I sports. 
"Scott Garrett is a very successful leader who has had a tremendous impact at every level of athletics administration he has touched. He is all about building a winning culture with integrity and values – both on the field and in the classroom," said CSU President Harlan M. Sands. "We are very excited that he will be joining our team, and I look forward to working with him as we build upon the athletic and academic achievements of our student-athletes."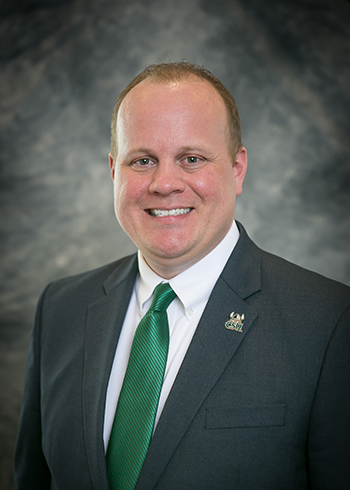 "I am privileged and honored to be named Cleveland State University's next Director of Athletics," said Garrett. "Throughout the search process I have been extremely impressed with President Sands' vision for CSU, the positive energy around campus, and the numerous opportunities to move CSU Athletics forward." 
"I look forward to investing my energy into helping our staff and coaches deliver transformational experiences for our student-athletes, enhancing the University's academic mission, and enthusiastically cultivating Cleveland State stakeholders for their support in our efforts," Garrett added.
Garrett most recently served as Executive Associate Athletics Director for External Operations and Chief Revenue Officer at Kansas State, where he was responsible for all aspects of administration, including strategic revenue generation initiatives and fan experience programming. In his nine years in Manhattan, Kan., Garrett provided leadership that generated 46 sellouts in football, national Top 25 attendance rankings in men's and women's basketball, women's soccer, volleyball and baseball, and a 40 percent increase in overall ticket revenue. Garrett's duties at Kansas State also included management of a donor portfolio accounting for over $1.5 million in contributions annually; spearheading the department's strategic planning efforts; and sport administration oversight, including coaching personnel evaluations and search management. 
John Currie, Director of Athletics at Wake Forest University and former AD at Kansas State, said, "President Sands has hit a grand slam home run with the hire of Scott Garrett. Scott is deeply committed to the holistic development of student-athletes, is a tireless worker, and is one of the most creative promoters in all of college athletics. From the moment we hired him at Kansas State in 2010, his intellect, drive, and knack for innovation made our department and university community better. I am excited to watch him team with President Sands to turn Cleveland State into a leader in the Horizon League academically, athletically, and in service to the community."
Mike Alden, Senior Advisor to the President of Cleveland State University for Athletics and former Director of Athletics at the University of Missouri, said, "Cleveland State has hired a talented, values-based leader in Scott Garrett. He displays great initiative and teamwork and will be an asset to CSU, to Viking Athletics, and to the City of Cleveland, both regionally and nationally. Congratulations to President Sands on recruiting a partner to the leadership team that will result in future successes at Cleveland State." 
Bob Vecchione, Executive Director of the National Association of College Directors of Athletics, added, "Scott Garrett is an outstanding professional who will do a terrific job at CSU. He has the right combination of solid core values, creativity, teamwork, and servant leadership to elevate Viking Athletics. I look forward to working with Scott and engaging CSU on our collaborative initiatives in college athletics."
Garrett's previous stops in intercollegiate athletics include serving as Assistant Athletics Director at Wichita State University from 2008 to 2010 and Director of Sales and Ticket Operations with fellow Horizon League member University of Illinois at Chicago from 2003 to 2008. Garrett holds a master's in sport management and athletics administration from Indiana University and a bachelor's in business administration and marketing from Illinois State University. Garrett and his wife Kristy have two children, Matthew (12) and Audrey (8). Garrett will assume his duties at CSU on April 24.
Click here to read additional reactions on Garrett's appointment as Director of Athletics at CSU.
Click here to view photos from the press conference with Scott Garrett and Harlan Sands.