Posted on February 23, 2022 at 4:16 PM, updated February 24, 2022 at 8:32 AM Print
CSU Action Research Project secures Professional Development grant from Martha Holden Jennings Foundation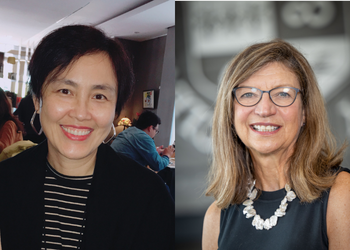 CLEVELAND (February 23, 2022) – Grace Huang and Diane Corrigan of Cleveland State University's College of Education and Human Services (CEHS) have received funding from the Martha Holden Jennings Foundation to work with the 11 Ohio Teachers of the Year (OTOY) who will receive their awards for the 2022-2023 school year.
In partnership with I educate Ohio of the Ohio Department of Education (ODE), which is responsible for the annual OTOY program, Dr. Huang and Corrigan of CEHS' Action Research Program serve as co-principal investigators for a $65,000 grant. The associated research and professional development are expected to stretch across two years for an ongoing collaboration with OTOY winners recognized during the 2022-2023 school year.
"Each year, an outstanding teacher is recognized by the ODE from each of the 11 regions of the state," said Dr. Huang. "University faculty at CSU and other Ohio institutions will partner with these highly committed and successful teachers to participate in action research projects in their K-12 classrooms."
The educators will use the action research process and participate in individualized professional development sessions on topics of interest relevant to their students and teaching, Dr. Huang said. At the end of this yearlong research process, these action research teams will share their exemplary work and its impact on student education at the CSU Action Research Symposium.
"We have a long history with the grant-funded Action Research Program, but we are doubly fortunate to partner with Martha Holden Jennings Foundation for this initiative," she added. "Talented teachers need support. By pairing the cohort with university faculty, who are strong in research, we can help examine their exemplary practices and disseminate them."
"It's important to showcase these educators and their teaching," Corrigan said. "Elevating them and their work elevates the entire profession as well."
To learn more about CEHS' Action Research Program, click here.
###
About Cleveland State University
Founded in 1964, Cleveland State University is a public research institution that provides a dynamic setting for Engaged Learning. With nearly 16,000 students, ten colleges and schools and more than 175 academic programs, CSU was again chosen for 2021 as one of America's best universities by U.S. News & World Report, including the #1 public university in Ohio for social mobility. Find more information at www.csuohio.edu.