Posted on February 4, 2019 at 9:40 AM, updated February 4, 2019 at 9:40 AM Print
Featuring Jason Koo and Shaelyn Smith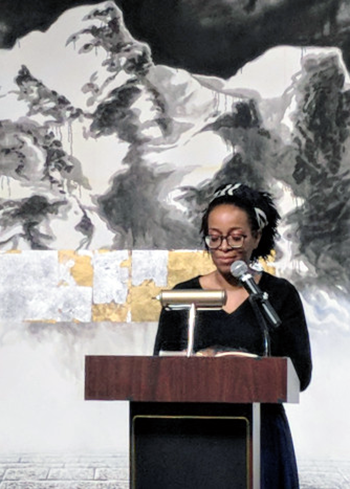 Cleveland State University's Poetry Center is featuring renowned authors Jason Koo and Shaelyn Smith during their Lighthouse Reading Series and NEOMFA Writers at Work Colloquium on Friday, Feb. 22. 
The NEOMFA Writers at Work Colloquium offers students the opportunity to hear from visiting writers about their experience in editing, publishing, arts administration, translation and more in order to gain a deeper knowledge of the literary work occurring today.
The Lighthouse Reading Series welcomes approximately eight nationally known poets and essayists to CSU each year. Readers include recent CSU Poetry Center authors—winners of their First Book, Open Book and Essay Collection competitions—alongside other writers from around the country.
Jason Koo and Shaelyn Smith will share their experiences with students during the NEOMFA Writers at Work Colloquium at 4 p.m. in Rhodes Tower, Room 415. They will later read their work at the Lighthouse Reading Series starting at 7 p.m. in the CSU Student Center, Rooms 313 and 315. Both of these events are free and open to the public. 
Named one of the "100 Most Influential People in Brooklyn Culture" by Brooklyn Magazine, Jason Koo is the author of three full-length collections of poetry: More Than Mere Light, America's Favorite Poem, and Man on Extremely Small Island. He earned his BA in English from Yale, his MFA in creative writing from the University of Houston and his Ph.D in English and creative writing from the University of Missouri–Columbia. An associate teaching professor of English at Quinnipiac University, Koo is the founder and executive director of Brooklyn Poets.
Shaelyn Smith's first book, The Leftovers, was selected as the winner of CSU Poetry Center's 2017 Essay Collection Competition, and was featured as a part of "The Genre of Resistance: Debut Literary Nonfiction of 2018" in the September/October 2018 issue of Poets & Writers magazine. Other work can be found in Essay Daily, storySouth, Sonora Review, The Rumpus, and Forklift, Ohio. Smith has an MFA in nonfiction from the University of Alabama.
For more information about the Poetry Center, including additional upcoming events, visit csupoetrycenter.com.