Posted on March 21, 2023 at 3:05 PM, updated March 21, 2023 at 4:38 PM Print
First celebrated in 1978, 'robust jubilee' draws thousands to Cleveland, CSU every year
Did you know that for nearly two weeks around Easter every year, Cleveland State University becomes home to the largest Indian classical music festival outside of India? That's right, you read that correctly.
The festival draws fans, competitors and performers (as well as their friends and family) from all around the world and has been central to Cleveland's "vibrant cultural scene" and musical identity for decades.  
This year's Cleveland Thyagaraja Festival will take place April 5 – 16, 2023 on the CSU campus at Waetjen Auditorium in the Music and Communication Building. The 12-day festival event is something of a transportation device (like traveling 8,000 miles away to India without leaving the city limits!) and supported in part by the residents of Cuyahoga County, through public grant funding from Cuyahoga Arts & Culture. 
First celebrated in 1978, Cleveland Thyagaraja Festival has grown into a robust jubilee drawing upwards of 10,000 attendees annually—cancelled pandemic years 2020 and 2021 notwithstanding. The festival, which trains its primary focus on Indian classical music and dance, has been held on Easter weekend since 1987 with the aim to make it easier for local schools to attend and participate.
"The festival regularly invites star musicians and dancers from India to participate and includes a music competition, dancing and dance workshops," said Leo Coach, resident Ethnomusicologist at the School of Music at CSU. "You have to go back decades to get a flavor for this festival's humble beginnings." 
Some 45 years ago, to be exact.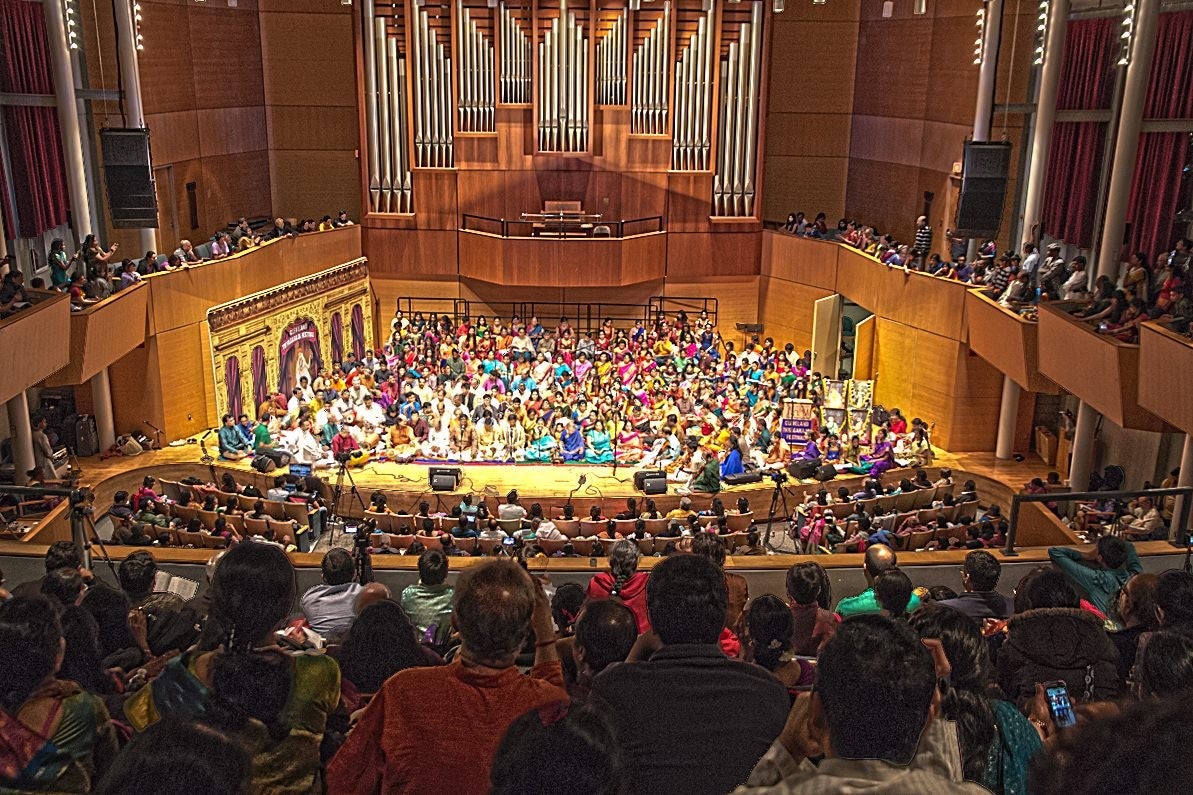 Thyagaraja and the CSU Connection 
In the fall of 1978, faculty member and Fulbright Scholar T. Temple Tuttle, Ph.D. befriended Ramnad Raghavan after attending a lecture of his at the Niagara chapter of the Society for Ethnomusicology.
They began collaborating on a series of projects which resulted in the very first festival, held in the rented hall of Faith United Church of Christ in Richmond Heights on April 8, 1978. The event included a group performance of the Pancharathna krithis and individual singing of Tyagaraja's krithis—capped by an evening concert by Saroja Balasubramaniam—to 75 people. 
Dr. Tuttle suggested moving the festival to the CSU campus to accommodate and attract larger audiences. The following year, CSU became the venue for the events and has been ever since—drawing musicians from India and beyond to perform and, in turn, larger audiences from around the world.  Thyagaraja has been here ever since. 
"Back in the Day" and the First Festival 
The 1970s was a decade marked by Watergate, post-war drama, world financial upheaval, hostage crises, growing civil-, women's- and gay rights, and the environmental movement. In Cleveland, the 1970s presented a host of adjacent issues—the river, city, even the mayor's hair were all on fire—and we were the first post-Great Depression city to fall into default.  
On the upside, we had growing immigrant populations from around the world, including an informal group of Indian immigrants and their families, known as the "Cleveland Bhajan Group." 
When Ramnad Raghavan, the noted mridangam artist from India moved to Cleveland in 1977, he discovered that many members of the group had learned music as children and wanted to start some activities to revive their interest in music.  
He suggested forming a Tyagaraja Aradhana in Cleveland, offering to train the group to sing Tyagaraja's compositions, as is done in the original Tyagaraja Aradhana held in Tiruvaiyyar.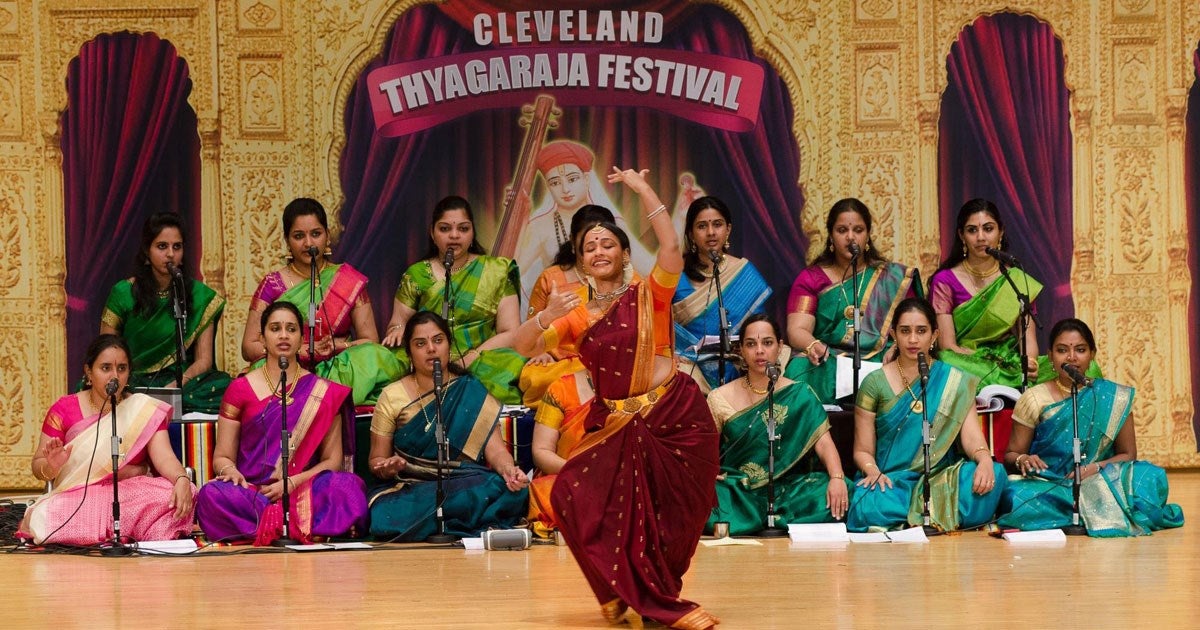 Who (or what) is a Thyagaraja? 
Answer: a "who" that became a "what."  
Thyagaraja, also known as Thyāgayya and in full as Kakarla Thyagabrahmam, was a composer and vocalist of Carnatic music—which is a form of Indian classical music. Tyagaraja and his contemporaries, Shyama Shastri and Muthuswami Dikshitar, are regarded as the "Trinity of Carnatic" music. 
Tyagaraja regarded music "as a way to experience God's love," with his compositions focused on expression rather than on technicalities of classical music. He also showed a flair for composing music and, in his teens, composed his first song, "Namo Namo Raghavayya," in the Desika Todi ragam and then inscribed it on the walls of the house.  
His compositions are mainly devotional (bhakti) or philosophical in nature and feature an appeal to his deity of worship (primarily the Avatar Rama), in musings, narratives, or messages to the public.
Photos courtesy of Ramanathan Iyer and Cleveland Thyagaraja Festival