Posted on December 14, 2021 at 11:35 AM, updated December 14, 2021 at 11:44 AM Print
CSU Helps Lead Northeast Ohio College/University Collaboration Focused on
Re-enrollment by Settling Student Debt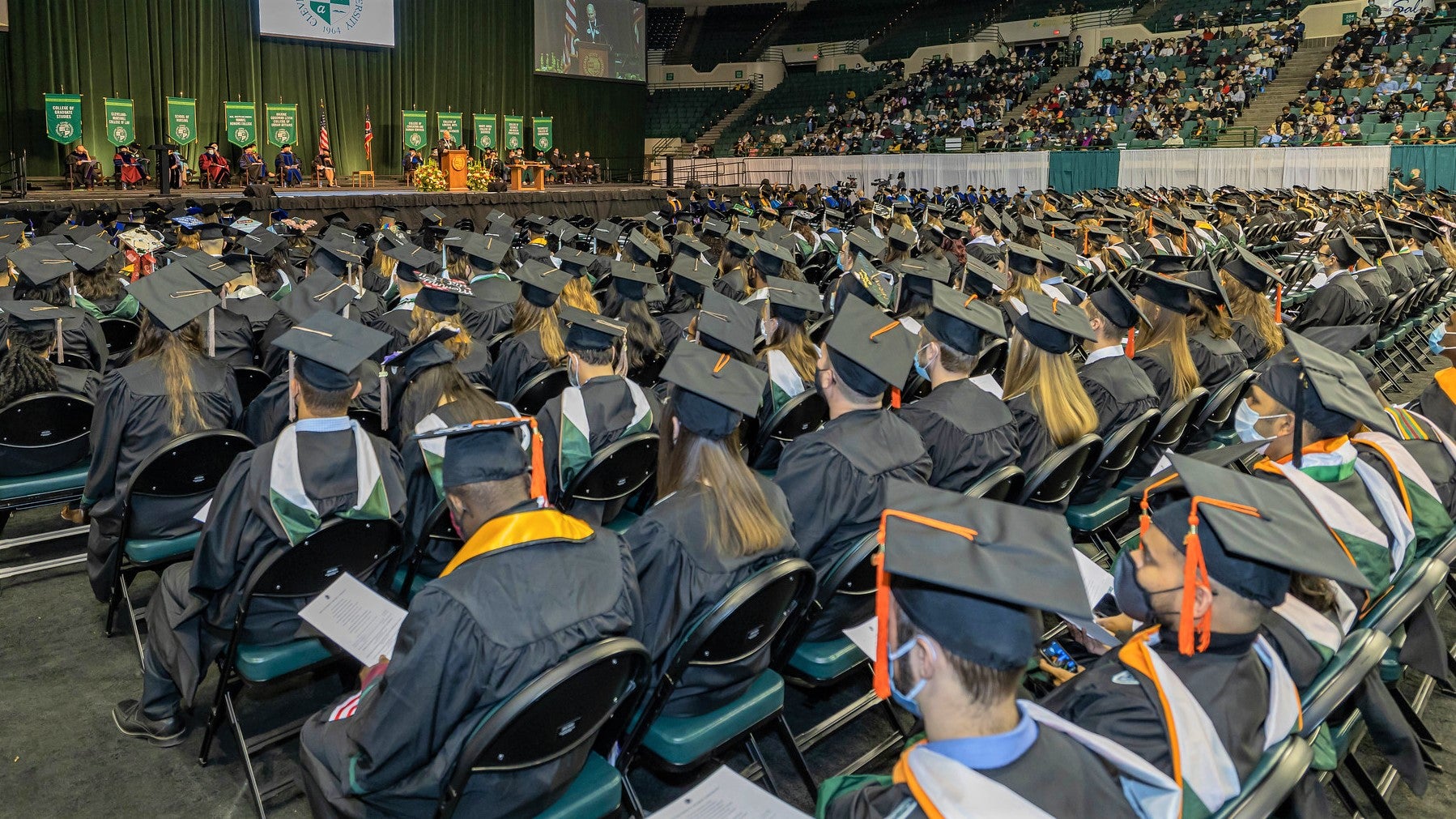 CLEVELAND (December 14, 2021) – This month, Cleveland State University will join seven other Northeast Ohio colleges and universities in an inter-institutional compact to settle collegiate debt and release transcripts of returning students with stranded credits through re-enrollment initiatives.
"Stranded credits" occur when students earn academic credits but cannot access them due to unpaid balances with a previously attended institution, where transcripts are held as collateral. Estimates show that there are 6.6 million students nationwide who have stranded credits, owing $15.4 billion in tuition and fees to former institutions. Approximately 95 percent of all U.S. institutions withhold transcripts in this way.
The eight Northeast Ohio institutions—Cleveland State University, Cuyahoga Community College, Kent State University, Lakeland Community College, Lorain County Community College, Stark State College, The University of Akron and Youngstown State University—have significant transfer pipelines.
"Public, urban universities like CSU – who serve a higher number of economically disadvantaged students as well as underrepresented minority students – often hold stranded credits," said Harlan Sands, Cleveland State University president. "Withholding transcripts from students has ongoing negative impacts—including on completing education—but also has a stagnating effect on the workforce and overall economic growth."
The pilot compact has an ambitious timeline, but from concept to fruition, former CSU students could re-enroll by Fall 2022.
Participating institutions will agree to settle debts and release transcripts for former students who re-enroll in their previous or any other participating institution. In addition, CSU will conduct proactive outreach on student re-enrollment.
"Statistics show that approximately 60,000 of Ohio's 222,000 individuals with stranded credits are in the northeast region of the state," said David Jewell, CSU senior vice president of business affairs & CFO. "The lasting effect of this collaboration – of putting Ohio first – could significantly improve students' livelihoods and resolve many of the challenges that surround student debt for all those involved."
The compact is headed by the Ithaka S+R, part of ITHIKA, a nonprofit organization helping the academic community use digital technologies to preserve the scholarly record and advance research and sustainable teaching. The group's work could rapidly scale to other institutions throughout Ohio and other states.
###
About Cleveland State University
Founded in 1964, Cleveland State University is a public research institution that provides a dynamic setting for Engaged Learning. With nearly 16,000 students, ten colleges and schools and more than 175 academic programs, CSU was again chosen for 2021 as one of America's best universities by U.S. News & World Report, including the #1 public university in Ohio for social mobility. Find more information at www.csuohio.edu.