Posted on May 16, 2022 at 1:41 PM, updated May 18, 2022 at 1:23 PM Print
Philanthropist, cultural arts activist Nancy McCann conferred President's Medal on May 11
Cleveland State University's Radiance: CSU Realizing the Promise student scholarship event was held Wednesday, May 11 from 5:30 to 7:30 p.m. in the CSU Student Center, 2121 Euclid Ave. Hosted by the Cleveland State University Foundation with the support of generous sponsors, the annual signature fête for CSU celebrated philanthropy, generosity and student success.
Radiance returned as an in-person cocktail/hors d'oeuvres/dessert reception with short program after being held virtually in 2021 due to the coronavirus pandemic. The event highlights support for student scholarships, which enable CSU to award funding to students in good academic standing who were at risk for dropping out of school due to financial issues.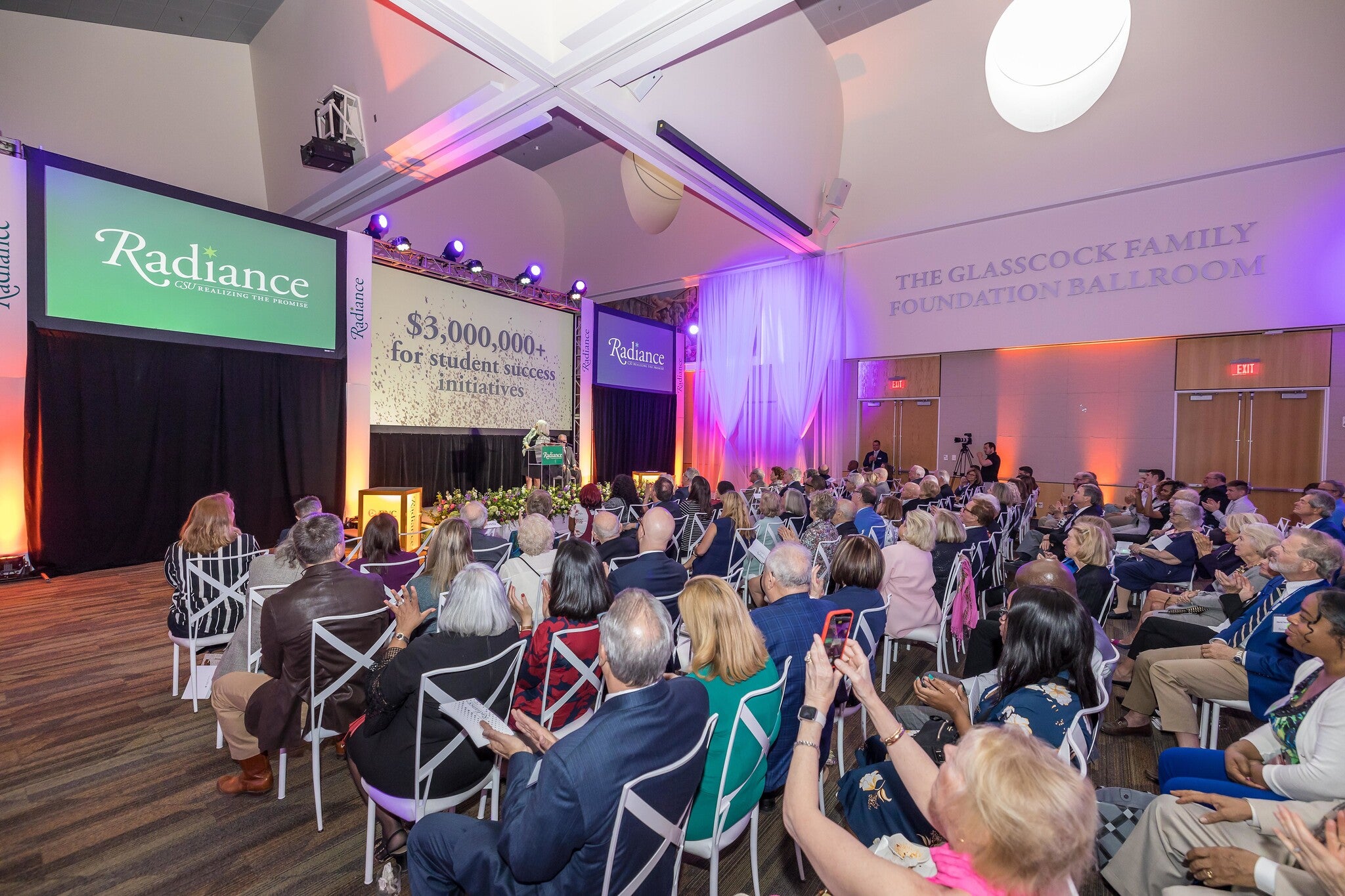 Since 2011, Radiance has raised more than $14 million in corporate and private donor support—with $4.2 million raised from late 2018 to mid-2021. During the event, it was announced that an additional $3 million in support had been provided over the last year. What's more, attendees during the evening gave nearly $12,000 more, done through a special text-to-give campaign.
The CSU Foundation launched Radiance in 2010 to support high-performing juniors and seniors, whose financial needs threatened their continued enrollment. During the pandemic, Radiance expanded its reach and now celebrates donors who give to a full spectrum of philanthropic opportunities which enable CSU to attract students, help them maintain momentum, and ultimately finish college.
"This community truly understands the importance of CSU," said Julie Rehm, executive director of the CSU Foundation and vice president for University Advancement. "To see the room filled with hundreds of enthusiastic supporters — ready and willing to empower our students — was both humbling and energizing."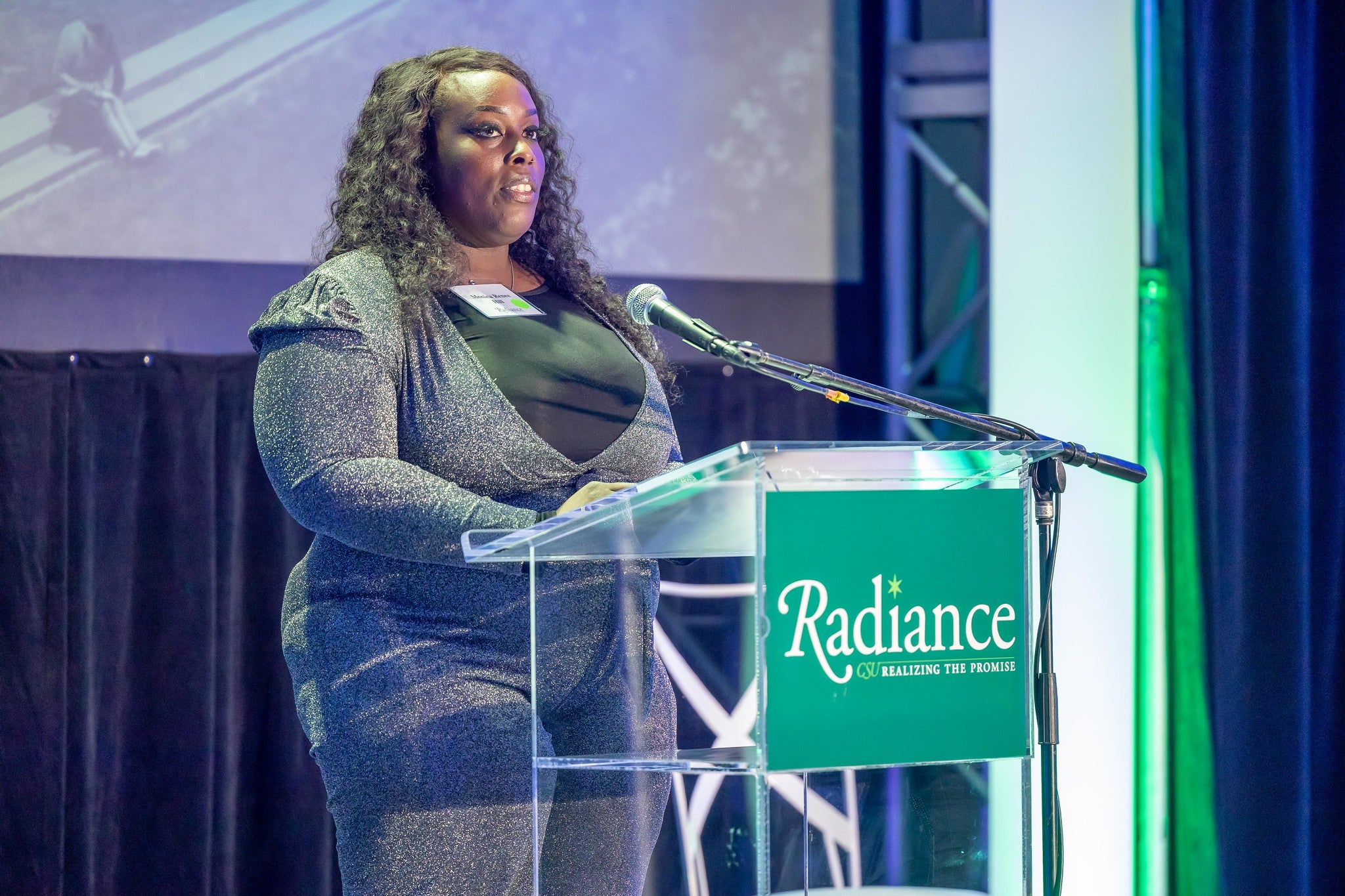 In what was the most powerful moment of the evening, Monica Hill, a senior majoring in communication, illuminated the impact of giving with her story of loss, uncertainty, but ultimately triumph.
"I went from fully doubting myself, almost crippling myself to realizing a lifelong dream," Hill said emphatically
"I know, without the shadow of a doubt, that I wouldn't be here today without donors like you. Your support lifted me out of one of the darkest moments of my life. You helped me to believe again. You helped me dream again."
She walked across the Commencement stage at Wolstein Center this past Saturday, graduating with honors.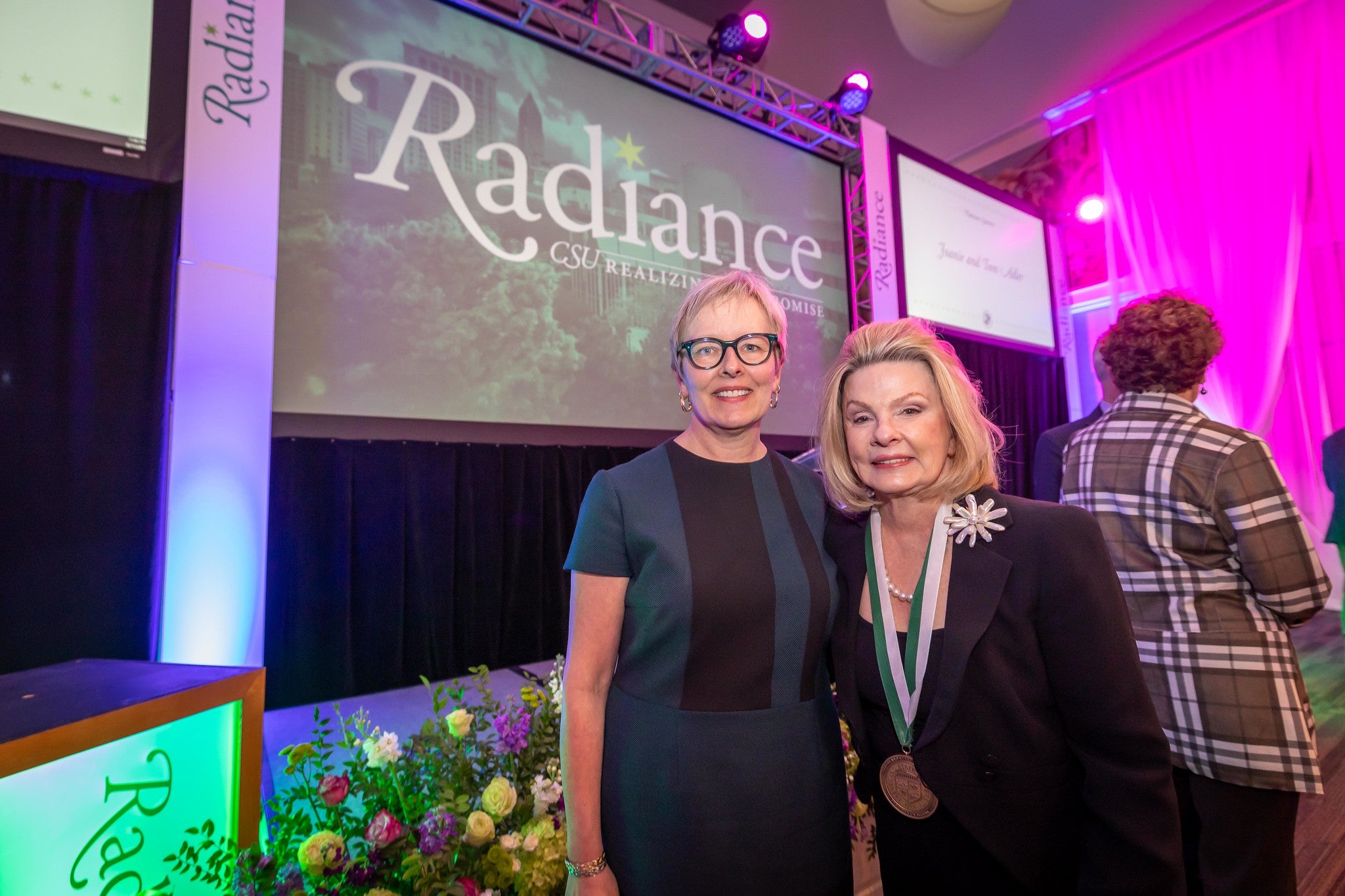 As a part of the event, Nancy McCann, president of both the John P. Murphy and Kulas Foundations received the President's Medal, the university highest non-academic recognition. McCann served on the CSU Foundation Board of Directors for nearly eight years and while she served as Radiance co-chair, the initiative's giving totals doubled.
She remains a fierce CSU supporter and advocate.
President Laura Bloomberg, Ph.D., CSU's newly appointed eight president, took the Radiance stage for the first time to honor McCann and to highlight the power of connection and how giving benefits both the recipient and the giver.
"When our students are successful — in the classroom, the lab, the studio, on the performance stage, or on the field — we all succeed," Dr. Bloomberg said. "When our students thrive, we thrive as a community."
About Nancy McCann
A native Clevelander, McCann developed a successful career with Higbee's and Forest City Enterprises, earning national repute for innovative "retail-tainment" marketing concepts. Later, McCann was pivotal in the development of Kent State University's Fashion Museum and School of Design.
As president and treasurer of the John P. Murphy Foundation and the Kulas Foundation, she supports the arts. As an eight-year member, former chair and current vice chair of the CSU Foundation Board of Directors, she also supports student success and educational excellence.
At CSU, she established the "Nancy W. McCann Endowed Music Scholarship" to support undergraduate and graduate students pursuing a music degree in the College of Liberal Arts and Social Sciences.
She has passionately led the Radiance campaign in the past and, as a member of the CSU Foundation Board of Directors, was integral to the success of the CSU's Leadership Cabinet's ENGAGE: The Campaign for Cleveland State University, which raised $114 million for student success initiatives.
"Each and every gift to Cleveland State University is also one of opportunity for a student," McCann said. "Supporting CSU means donors are supporting students' dreams, goals and aspirations. Radiance Scholarships empower students with tools and skills to fulfill them and compete on the World Stage."
To learn more about Radiance and the Cleveland State University Foundation, please visit www.supportcsu.org.