Posted on March 20, 2019 at 3:00 PM, updated March 20, 2019 at 3:00 PM Print
Featuring Keynote Speaker Dr. Richard Haass
Cleveland State University's Cleveland-Marshall College of Law, the City Club of Cleveland and the Cleveland Council on World Affairs is hosting "A World in Disarray: International Law, State Sovereignty and Interventions" Thursday, April 25. 
The event will feature speeches and panels from experts on law and world affairs for a day of discussion regarding foreign relations.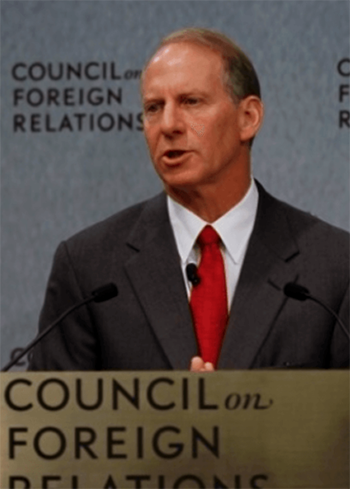 Delivering the keynote address is Dr. Richard Haass, the president of the Council on Foreign Relations. Haass will draw upon his best-selling book, "A World in Disarray," to explain the origins of the current global situation, the consequences and the choices that will shape the next chapter of world history.
Panelists for the day include Sandra Hodgkinson, Pete Moore, Michael Scharf, Jennifer Trahan, Carina Van Vliet and Paul Williams, who will discuss the topics "State Sovereignty, Interventions and Current Crises in Yemen and Syria" and "The United Nations, Sovereignty and Interventions."
This event, which is free and open to the public, begins at 9:30 a.m. in the Cleveland-Marshall College of Law atrium with coffee and registration. Speeches and panels will take place in the Moot Court Room and a boxed lunch will be available. 
Haass is a former Defense Department, State Department and National Security Council official who has worked for four U.S. presidents. A recipient of the State Department's Distinguished Honor Award, the Presidential Citizens Medal and the Tipperary International Peace Award, Dr. Haass is also the author or editor of 13 books on U.S. foreign policy and one book on management. A Rhodes scholar, he holds Master and Doctor of Philosophy degrees from Oxford University.
Hodgkinson is senior vice president of planning and chief of staff to the CEO at Leonardo DRS; Moore is the Marcus A. Hanna Associate Professor of Politics at Case Western Reserve University and serves on the editorial board of Middle East Report; Scharf is the Joseph C. Hostetler—BakerHostetler Professor of Law at Case Western Reserve University School of Law and since 2013 has served as dean of the Law Schoo; Trahan is a clinical professor at NYU's Center for Global Affairs; Van Villet is the chief executive officer of the Cleveland Council on World Affairs; and Williams holds the Rebecca I. Grazier Professorship in Law and International Relations at American University.
Click here for more information about the event, including its speakers and panelists.